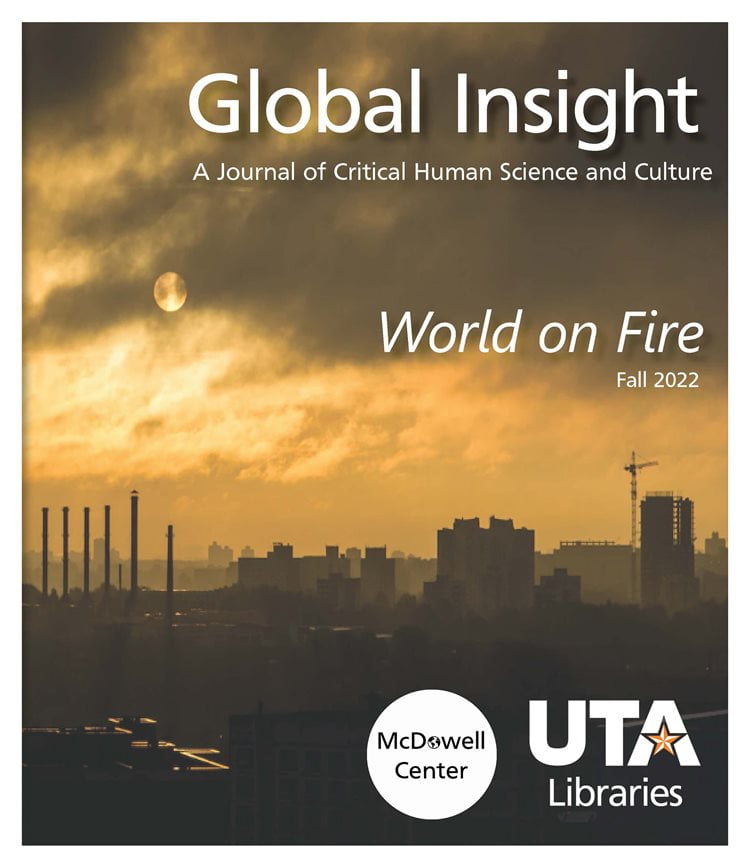 Read the Fall 2022 Issue
The McDowell Center published its third issue of Global Insight in Fall 2022 with the help of UTA Libraries and many talented contributors.
About the Journal
Global Insight: A Journal of Critical Human Science and Culture aims at firing the imagination of up-and-coming scholars by providing a venue for critical thinking and independent research. Our endeavor is to cultivate the capacity of undergraduate students for subtle and nuanced reasoning as well as nurture a passion for ideas and an appreciation for the social, political, cultural, linguistic, ethical, environmental, and historical dimensions of important issues facing our global society today.
Contributors should use liberal arts approaches such as inquiry, dialogue, and analysis to address the issues of politics and culture, science and technology, or related fields. Topics range from industrialization and urbanization to agriculture and energy; health and health risks to international relations and foreign policy; international trade, finance, capitalism, globalization, and migration; or public issues such as race, class, gender, and labor, etc.
Questions?
Email Editor-in-Chief, Dr. Lonny Harrison at lonnyharrison@uta.edu
Ready to Submit?
Contributors must be undergraduate students from any college at The University of Texas at Arlington. Submissions will be subject to double-blind peer review. The journal will be available to a wide, international audience in an online platform via academic hosts and vendors as well as a limited print run.