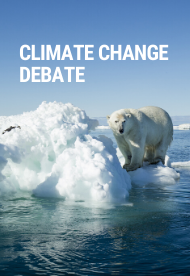 Climate Change Debate
Monday, April 20, 2020
12:00-1:30pm
Online Broadcast
The McDowell Center, in partnership with UTA Libraries, presents an exciting debate that asks the question, "Is climate change fact or fiction?" Two student teams will explore scientific data and political rhetoric from both sides of the issue in a competition to win $250. Tune in to watch the live broadcast on Teams, and follow our debate on Twitter using the hashtag #UTAClimateDebate.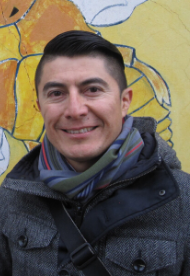 A Bilingual Poetry Reading by Balam Rodrigo
Thursday, November 21, 2019
12:30pm
CPB 303
Mexican poet, Balam Rodrigo presents readings from his newest collection of poems, Libro centroamericano de los muertos. His award-winning poems depict the daily challenges faced by Central Americans crossing the southern border of Mexico on their journey to the United States.
Balam Rodrigo is the author of over twenty books of poetry. Some of his poems have been translated into English, Portuguese, Zapotec, Polish, and French. They appear in anthologies, magazines, and newspapers of Mexico, as well as in publications of the Dominican Republic, Colombia, Argentina, Chile, the United States, Guatemala, Honduras, Portugal, Germany, Poland, and France. His work has received more than forty international, national, regional, and state awards, among others: Young Mexico City Poetry Prize 2006, Efrain Huerta National Poetry Prize 2011, Sor Juanes Inés de la Cruz International Literature Contest 2012, National Prize of Poetry Rosario Castellanos 2013 and International Prize of Poetry Jaime Sabines 2014.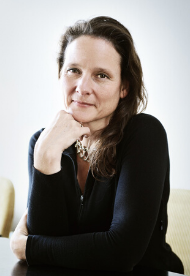 The Red Soul documentary screening and Q&A with director, Jessica Gorter
Monday, November 4, 2019
4pm
Trimble Hall 200
This year's Russian Documentary Showcase features an exclusive screening of The Red Soul, a film about attitudes towards Stalin and Stalinism in Russia today. A Q&A session with the film's director, Jessica Gorter, will follow the movie.
About the film: Why is it that so many Russians defend Stalin as a great leader and a hero? The Red Soul lays bare the Russian psyche of today and shows a world full of contradictions. In a country where hardly any family escaped the hunger, fear, and violence resulting from Stalin's terror, no one has ever been convicted for the crime committed under his regime. Is Stalin a hero who led the Soviet Union to victory? Or can he be held responsible for the millions of victims who died during his reign? Even now, more than 50 years after the death of Joseph Stalin, Russians are still deeply divided over how to deal with the memories of this painful past.
This event is presented by the McDowell Center, UTA's Department of Modern Languages, and Russian Cultural Center - Our Texas.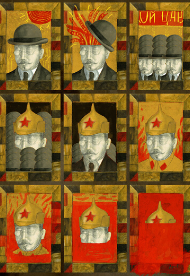 In Red and Black, an exhibition of illustrations by Igor Karash
September 9 - October 2, 2019
UC Art Gallery
Inspired by the Red Terror in Soviet Russia, a campaign of mass arrests and executions conducted by the Bolshevik government in the 1900s, Igor Karash's art blends satirical graphics with dark, grotesque, absurdist visions.
The exhibit focuses on anti-totalitarian and anti-dictatorship themes and how they relate to past and current events. It aims to introduce a younger generation to the concept of dictatorship.
In Red and Black is made possible through a collaboration between the Russian Cultural Center art gallery in Houston, TX, the McDowell Center, the Department of History, and the Department of Modern Languages.