Married couple completes academic journey with Ph.D. degrees in chemistry
The road to earning a doctoral degree is never an easy one, and doing so while also raising a child presents even greater challenges. But for Ravi Singh and Moumita Singha Roy, while the journey wasn't easy, they knew they could always depend on each...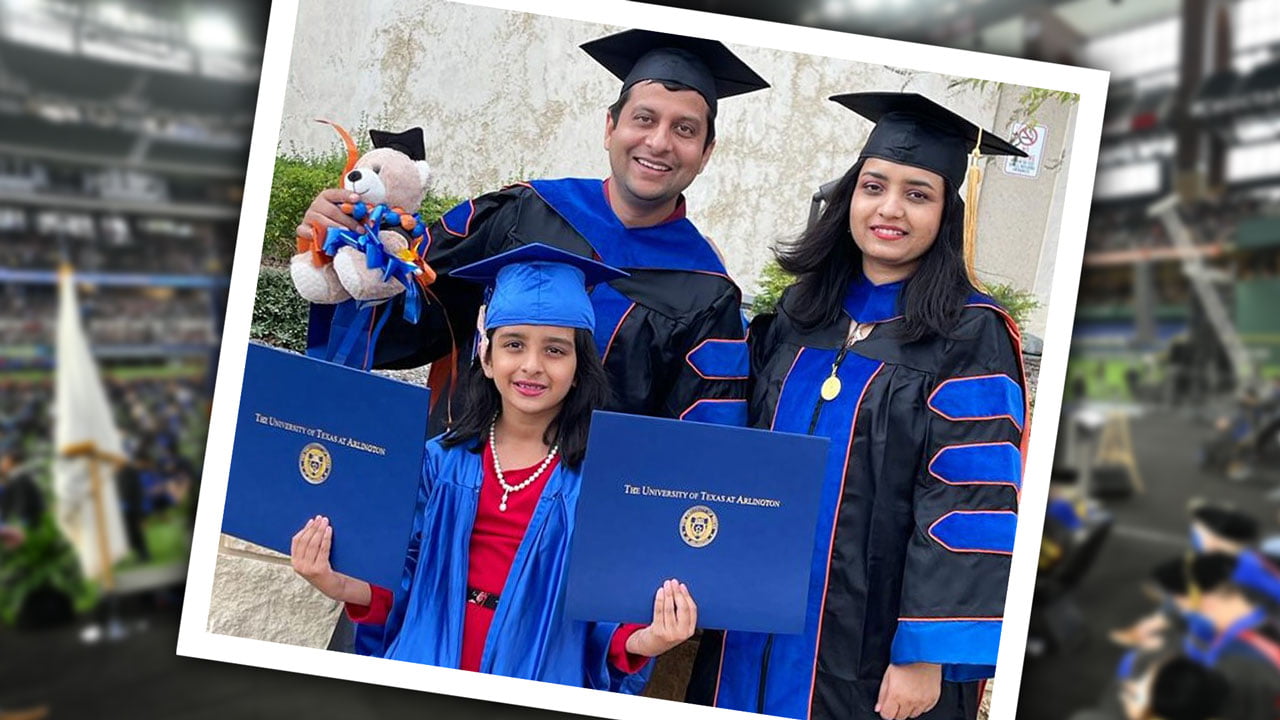 The road to earning a doctoral degree is never an easy one, and doing so while also raising a child presents even greater challenges. But for Ravi Singh and Moumita Singha Roy, while the journey wasn't easy, they knew they could always depend on each other during the rough patches.
Ravi and Moumita met and married while working in their native India. They immigrated to the United States and selected The University of Texas at Arlington for their Ph.D. studies in chemistry. They each chose the total synthesis of natural products as the focus of their dissertations. Ravi started first while Moumita cared for their young daughter, Akshita. Ravi earned his Ph.D. in 2019.
After that, Ravi started working in South San Francisco, California, and caring for Akshita while Moumita stayed at UTA to complete her Ph.D., which she did this month. Because he began working right after finishing his Ph.D., Ravi hadn't yet participated in commencement, but he returned to Arlington last week so that he and Moumita could both walk across the stage. The couple took part in the Fall 2021 College of Science Commencement ceremony on December 17 at Globe Life Field, with 7-year-old Akshita in attendance.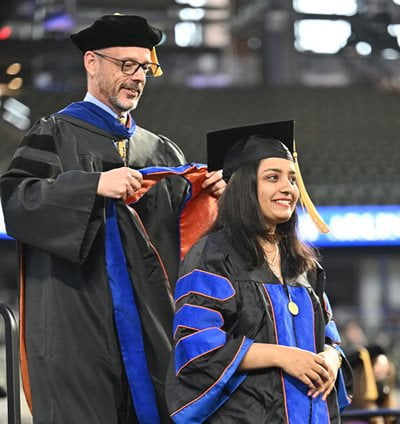 "It was extremely challenging at times," Ravi said of he and Moumita's time as doctoral students. "Whenever we needed support, each of us made sure to be there and be supportive."
"The whole Ph.D. journey was not easy, and we went through many challenges," Moumita said. "But there was always continued support, endless love and sacrifices from my husband Ravi and my daughter Akshita."
Now that they have achieved their goals of earning doctoral degrees, the couple is ready to start the next stage of their life with their daughter, in South San Francisco. Ravi will continue his job as a scientist at Sutro Biopharma working in medicinal chemistry. The company's primary focus is to develop next generation cancer and autoimmune therapeutics. Moumita recently accepted a position as a scientist at R2M Pharma, a pharmaceutical company which develops quality molecules for evaluation in clinical trials aimed at discovering new drugs for patients in need.
The couple's story of hard work and perseverance began in their native India. Ravi was born in a small village near Varanasi in the northern state of Uttar Pradesh. Moumita's hometown is a village named Nahata, 90 miles from Kolkata, capital of the state of West Bengal.
Ravi decided to study chemistry and attended Purvanchal University in Jaunpur, where he earned a bachelor's degree in chemistry and a master's degree in organic chemistry. Moumita also chose to study chemistry and earned a bachelor's degree in chemistry from Calcutta University and a master's degree in organic chemistry from Guru Ghasidas University in Bilaspur.
They each got jobs synthesizing organic molecules at TCG Lifesciences Limited in Kolkata, a contract research and manufacturing services company in the area of drug discovery and development. It was while working at TCG that Ravi and Moumita met and, a year later, started dating. On February 24, 2011, they were married.
The couple were happy but wanted to learn more about other aspects of medicinal chemistry, such as the design and biochemical effects of a drug. They decided to seek Ph.D. degrees, and when they researched opportunities in the United States, they were drawn to UTA. Ravi moved to Arlington and started Ph.D. work in Fall 2014, while Moumita, who was pregnant, remained in India to await the birth of their daughter.
A former colleague, Jayanta Das, who earned a Ph.D. in chemistry from UTA in 2014, told Ravi about his faculty advisor, Carl Lovely, distinguished professor of chemistry and biochemistry. Das described the research focus of Lovely's lab, which is synthetic organic chemistry and the construction of new organic molecules with new properties using new or improved methods. He also recommended Ravi to Lovely.
"It was very quickly apparent that Ravi had outstanding laboratory skills and was very soon up and running on his projects," Lovely said.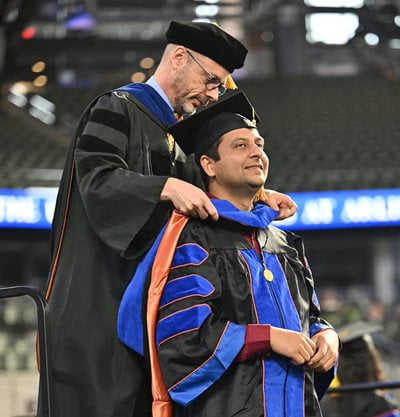 "UTA's chemistry department is full of great professors, and we both had several options to choose from when it comes to pick the Ph.D. advisor," Ravi said. "I will rank choosing Dr. Lovely as my advisor as one of the best decisions I have made. I learned a lot from his experience. Not only is he a great mentor, but also an exceptional human being."
Shortly after the couple's daughter was born in October 2014, Ravi was able to travel to India to see his wife and new baby. He returned to UTA to continue his doctoral work while Moumita focused on taking care of Akshita. A couple of years later, Moumita was ready to begin a Ph.D. program herself.
"At some point, Ravi told me that Moumita was also an organic chemist and that she wanted to do a Ph.D. too," Lovely said. "He tried to convince me that she was actually better than he was – of course I put this down to Ravi just wanting her to be admitted to the graduate program. In actuality it turned out to be true! Moumita was admitted and ultimately joined my group. I have to confess, I was a little bit worried about having a married couple in the same lab, but as it turned out they worked beautifully together. When they were working, they practically ignored one another."
"When I talked to Dr. Lovely, I found that my interests exactly matched with his research," Moumita said. "I joined his lab in 2017 and I gained the best possible research experience. I wish to express my appreciation and gratitude to Dr. Lovely for his patience, supervision, and encouragement throughout my graduate studies. His knowledge, acquaintance, intelligence, and advice helped me develop myself into a better scientist."
Lovely praised the couple for their hard work and for their contributions in the lab.
"They have been wonderful students," he said. "Each of them has completed a total synthesis of a marine natural product and they have developed methodologies which will keep our lab busy for the next few years exploring these methods and applying them to synthetic problems."
Now that the long and arduous journey to earning their doctoral degrees is complete, Moumita and Ravi are looking forward to continuing their careers and to raising their daughter – and supporting her future educational goals, when the time comes.
"Our daughter was born in October 2014 when I was in my first semester at UTA," Ravi said. "Moumita supported me at that time the most and allowed me to focus on my classes. Later, when it was my turn to support her in the final year of her Ph.D., I took the opportunity and decided to take care of our daughter while working a full-time job in California for a year.
"We should also give credit to our daughter's cooperation and support. In fact, we both agreed to award our daughter a doctoral degree from our end, and we're so glad she was able to join us for the commencement ceremony to celebrate this moment. So now, as we both have our Ph.D. degrees and our daughter being more independent, we want to dedicate our time to the betterment of people's lives by continuing to work in the field of medicinal chemistry to fulfill the unmet medical needs."
--
The UTA College of Science, a Texas Tier One and Carnegie R1 research institution, is preparing the next generation of leaders in science through innovative education and hands-on research and offers programs in Biology, Chemistry & Biochemistry, Data Science, Earth & Environmental Sciences, Health Professions, Mathematics, Physics and Psychology. To support educational and research efforts visit the giving page, or if you're a prospective student interested in beginning your #MaverickScience journey visit our future students page.