DISCOVER 2022 Student Research Symposium Coming Soon
The College of Science will salute the research excellence of its students during the 2022 Discover Student Research Symposium, culminating with an in-person poster session and awards ceremony on April 22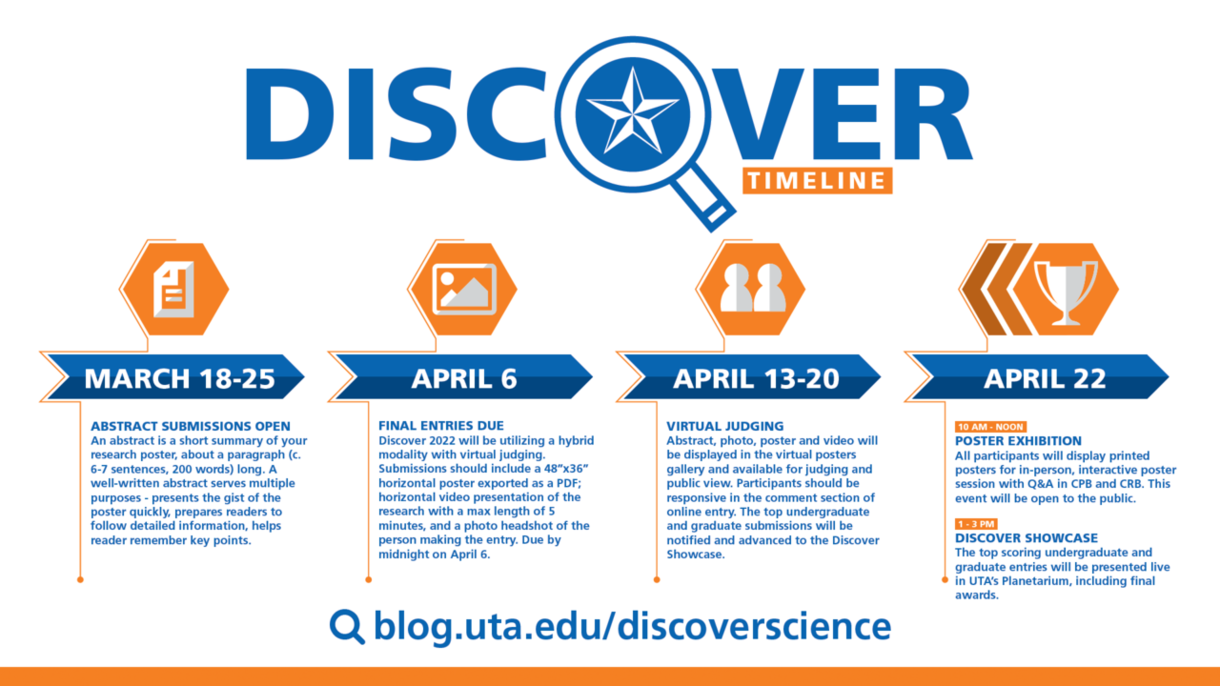 The College of Science will salute the research excellence of its students during the 2022 Discover Student Research Symposium, culminating with an in-person poster session and awards ceremony on April 22.
Discover will put the finishing touches on Science Week, which will feature a full week packed with seminars, career panels and signature events
The Discover symposium, which is open to all College of Science undergraduate and graduate students, is a chance for students to present their research projects both in a virtual poster format and live, in-person poster session. The posters will be judged by a panel of College of Science faculty and alumni, and prizes will be awarded to the top entries during a live showcase scheduled for Friday, April 22 in the UTA Planetarium.
Similar to last year's completely virtual edition, the initial poster presentation and judging process will take place online, utilizing the publicly accessible Discover site at blog.uta.edu/discoverscience - complete with abstracts, digital posters and a video presentation of the research.
Additionally, all presenters and members of the public will be invited to an in-person exhibition of posters in the UTA Planetarium, Chemistry and Physics Building, and Chemistry Research Building on Friday, April 22, from 10 a.m. to noon. The top undergraduate and graduate posters from the virtual judging period will be invited to present in front of a live audience, Friday, April 22, from 1-3 p.m., as well as receive final awards from the steering committee.
Discover Timeline :
March 18-25 – Abstract submission period March 30-April 6 – Final posters/videos and headshot submission period; ends at 12 a.m. April 6 April 13-20 – Virtual judging period April 22 – Discover Showcase (UTA Planetarium, CPB and CRB) - 10 a.m.-12 p.m. – All Submission Poster Exhibition (CPB and CRB) - 1-3 p.m. – Showcase: Live presentations by the top 6 undergraduate and top 6 graduate entries, followed by an awards ceremony in the UTA Planetarium Theater
Each year the College puts a spotlight on the tremendous accomplishments of our faculty, students and alumni during Science Week. For 2022, the highlights will include:
» A Distinguished Women in Science talk by Lori Glaze, COS alumna (B.A., M.S. in Physics) and director of NASA's Science Mission Directorate's Planetary Science Division
» A panel featuring North Texas' IF/THEN Ambassadors, comprised of female STEM professionals from numerous industries, who serve as high-profile role models for girls and young women, including UTA's own Senior Associate Dean Dr. Minerva Cordero » Data science, medical, dental, and geoscience career Q&A panels featuring COS alumni, faculty, and special guests » DFW Tap Talks: Science Distilled event » Communicating Science Workshop for students and faculty » NASA in Your Neighborhood event » Earth Day Community Cleanup at Randol Mill Park with Arlington Conservation Council (Saturday, April 23) » Departmental colloquia/seminars » "Voices" live podcasts featuring COS faculty
Full details with times, dates and locations of all Science Week events will be posted soon
--
The UTA College of Science, a Texas Tier One and Carnegie R1 research institution, is preparing the next generation of leaders in science through innovative education and hands-on research and offers programs in Biology, Chemistry & Biochemistry, Data Science, Earth & Environmental Sciences, Health Professions, Mathematics, Physics and Psychology. To support educational and research efforts visit the giving page, or if you're a prospective student interested in beginning your #MaverickScience journey visit our future students page.