Graduating senior overcame obstacles and found passion for dentistry
Katherine Nguyen feels she is well-prepared for dental school and looks forward to helping patients achieve dental health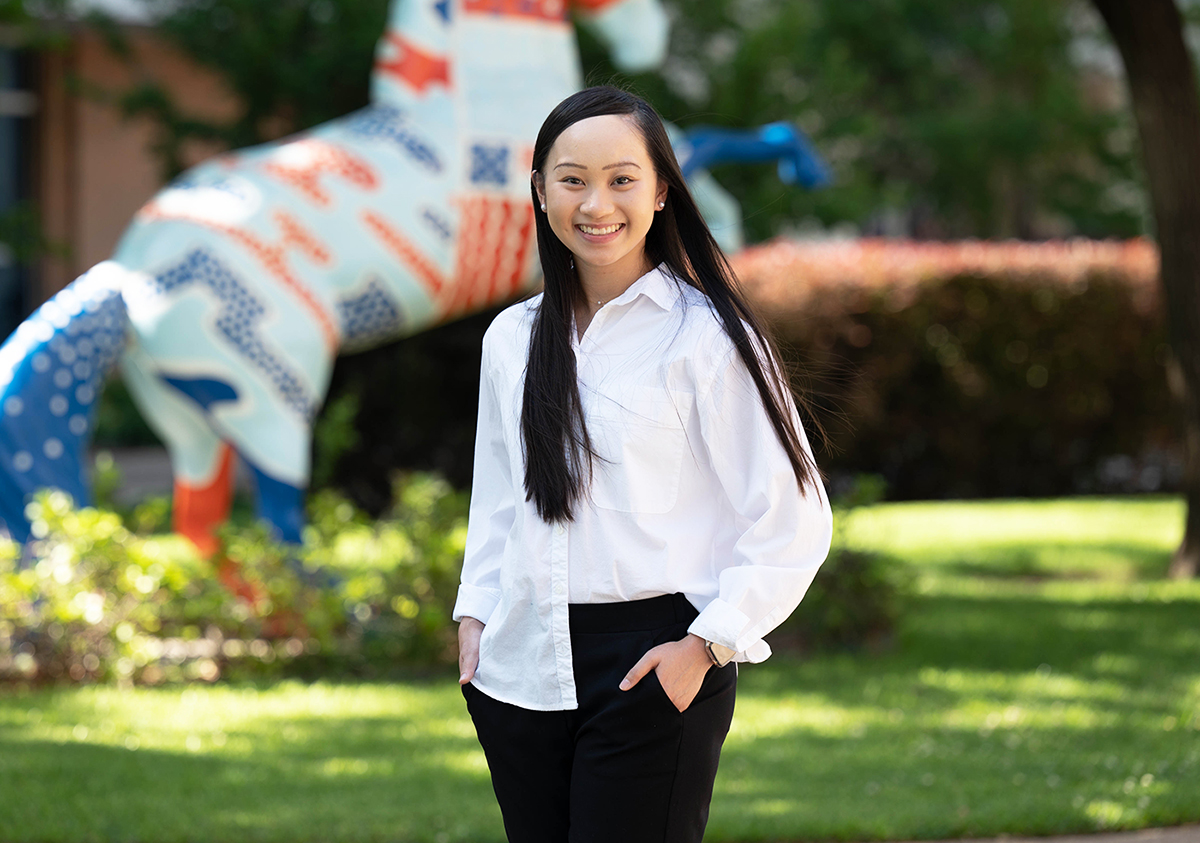 In addition to the staggering toll Covid-19 has taken on people's lives and health, it has wrought a tremendous amount of economic turmoil as well. Katherine Nguyen and her family are among the millions who had to deal with its destabilizing financial effects.
When Nguyen's family experienced financial hardship caused by the pandemic, she was unsure if she would be able to continue her education at The University of Texas at Arlington. But her hard work and academic diligence paid off and helped her attain the resources she needed to complete her educational journey.
Last year Nguyen, a senior biology major who plans to go to dental school, applied for and received the Julia and Dale Martin Pre-Dental Scholarship, which is awarded to pre-dental students in the College of Science. The funds helped pay for her final year of college, and Nguyen will participate in the College of Science Spring 2022 Commencement ceremony on May 13 at College Park Center.
"The Julia and Dale Martin Pre-Dental Scholarship could not have come at a more perfect time in my life," she said. "When I received the award, I was left speechless and felt extremely appreciative that I was recognized for all my hard work in wanting to further pursue dentistry. It has left me honored and with much gratitude that it has allowed my family to experience some financial relief and help me to achieve my career goals."
She plans to take a gap year during which she will take the Dental Admissions Test with the intention of entering dental school the following fall.
E. Dale Martin, D.D.S. (B.A. Chemistry '78), a distinguished alumnus of UTA who has practiced pediatric dentistry for more than 35 years, created the scholarship with his wife Julia to benefit pre-dental students and said Nguyen is most deserving of the award.
"We couldn't be more proud than to have Ms. Nguyen as an awardee of our scholarship," he said. "She rightfully joins a long and illustrious line of extremely talented Mavericks benefitting from what a UT Arlington education prepares us to achieve."
Nguyen was born and raised in Arlington and graduated from Mansfield Summit High School. She wanted an affordable school that was close to home and found UTA to be the perfect choice. She chose biology for her major because while she knew she wanted to pursue a career in healthcare, she wasn't yet sure in which field she wanted to specialize.
"I selected my major to be biology as it was broad enough to provide me with a good foundation into any field of healthcare, but also it was specific enough that I could solely focus on the science courses needed to become a future doctor," she said.
During freshman orientation, she attended a student involvement fair which provided information about student groups, volunteer opportunities, and more. She learned about the UTA Pre-Dental Society, a student organization which provides resources to educate students about the field of dentistry.
"Through my involvement in the Pre-Dental Society, I became drawn to the artistic and scientific nature that dentistry provides in the field of healthcare," she said.
Like students everywhere, Nguyen struggled with the changes in education protocols necessitated by Covid-19 when the pandemic began in March 2020. Classes had to be moved online, and courses that normally would include a laboratory component had to be adjusted to do without.
"I knew that I had come too far into my education to allow this uncontrollable obstacle to prevent me from pursing my career goals," she said. "Therefore, I tried hard to adapt to new learning styles, maintained contact with my professors to seek additional help, and watched videos of experiments that had already been performed to better understand what my course would have done in a laboratory setting. I persevered through this hardship and, in fact, became successful with my online courses as well. Now, I can say that I am able to persevere through obstacles and find new ways to adjust to my academic needs to be successful."
Prior to the pandemic and this academic year, when in-person classes resumed, Nguyen was very active in campus activities. In addition to the Pre-Dental Society, she was a member of Mavericks for Medical Humanities, Circle K International, the Vietnamese Student Association, and Advancement of Females in Medicine, of which she was an officer.
She was also honored for her work in and out of the classroom. A frequent member of the Dean's List, she also received the Maverick Certificate of Distinction and earned Dental Health Arlington's SMILES Volunteer of the Year Award for pre-dental students. Dental Health Arlington (DHA) is a nonprofit, low-cost dental resource and Sealing Molars Improves the Lives of Every Student (SMILES) is a DHA program which educates elementary school students about the importance of dental health. Nguyen volunteered with the program once a week.
"I was humbled that Dental Health Arlington selected me to receive their SMILES Volunteer of the Year Award as I had no idea that this recognition even existed," Nguyen said. "As a student who aspires to become a dentist, I feel that this award further solidifies my decision to pursue dentistry in that my contributions made each day have been recognized as impactful on others.
"I truly felt joy in volunteering my time to help educate patients on the importance of taking care of their oral health and helping the dental staff to ease their workload so that they could accommodate more patients. In turn, I feel that this award will bring me one step closer to achieving my goals in dentistry."
Nguyen says attending UTA was the best decision she could have made to further her education and that resources such as the Pre-Dental Society and pre-health advising have provided her with excellent preparation for dental school and her future career.
"UTA has prepared me well for my future in dentistry," she said. "Prior to my experiences at UTA, I had no knowledge about the requirements needed to become a great dentist. UTA's faculty and curriculum have successfully educated me with material that will be useful for my forthcoming career. With all of that, I feel more confident than ever before to follow my career goals."
--
The UTA College of Science, a Texas Tier One and Carnegie R1 research institution, is preparing the next generation of leaders in science through innovative education and hands-on research and offers programs in Biology, Chemistry & Biochemistry, Data Science, Earth & Environmental Sciences, Health Professions, Mathematics, Physics and Psychology. To support educational and research efforts visit the giving page, or if you're a prospective student interested in beginning your #MaverickScience journey visit our future students page.