Two UTA professors selected as Fulbright scholars
Kevin Schug and Ling Xu chosen for flagship international educational exchange program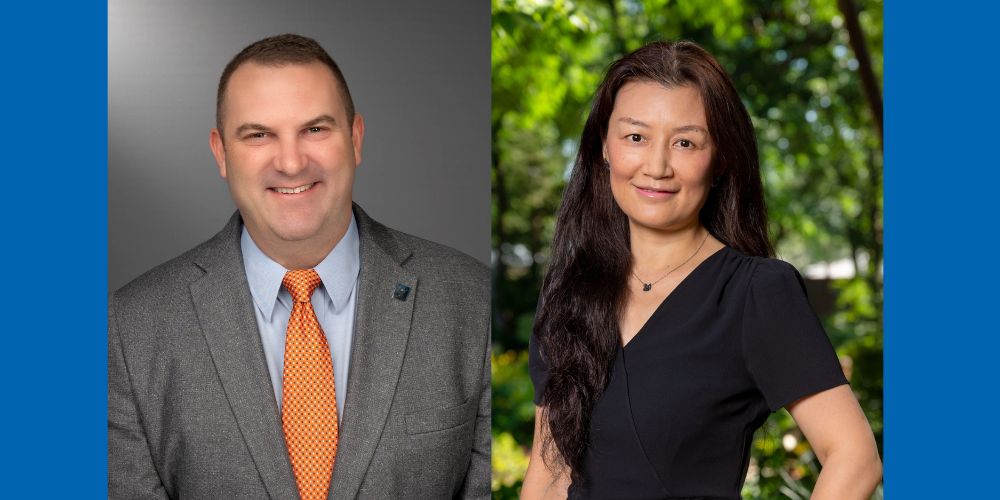 Two University of Texas at Arlington faculty members have received Fulbright U.S. Scholar Program awards from the U.S. Department of State and the Fulbright Foreign Scholarship Board.
Kevin Schug, Shimadzu Distinguished Professor of Analytical Chemistry in the Department of Chemistry and Biochemistry, will travel to Palacky University in Olomouc, Czech Republic, continuing a decades-long relationship that began during his days as a graduate student.
Ling Xu, associate professor in the School of Social Work, will use the award to travel to Taiwan and embark on 10-month project to raise awareness about the importance of dementia caregivers and examine the impact volunteers may have on families who are dealing with the disorder.
Schug and Xu are among the more than 800 honorees who will teach or conduct research abroad for the 2023-24 academic year through the Fulbright U.S. Scholar Program. Fulbrighters engage in cutting-edge research and expand their professional networks, often continuing research collaborations started abroad and laying the groundwork for forging future partnerships between institutions. Upon returning to their home countries, institutions, labs, and classrooms, they share their stories and often become active supporters of international exchange, inviting foreign scholars to campus and encouraging colleagues and students to go abroad.
Tamara L. Brown, UT Arlington provost and senior vice president for academic affairs, said the Fulbright award pays dividends for universities.
"It is the U.S. government's flagship international educational exchange program, so it's fitting that a diverse and global public research university like UTA will be well represented," Brown said. "Dr. Schug and Dr. Xu illustrate the academic excellence of our University, and what they bring back to our classroom and colleagues will be invaluable."
A longstanding relationship
Since joining UTA in 2005, Schug's research has focused on the theory and application of separation science and mass spectrometry for solving a variety of analytical and physical chemistry problems in the fields of environmental, pharmaceutical, biological and energy research.
He has a longstanding relationship with Palacky University, dating back to his postdoctoral days studying under Wolfgang Lindner at the University of Vienna in Austria. Lindner's laboratory engaged in a student and faculty exchange program with Palacky University. Even before that, though, Schug had worked with visiting scientists from Russia, Italy, Brazil and Kuwait during his doctoral studies at Virginia Tech, under the mentorship of Professor Harold McNair.
"Many of their students and faculty have visited my lab at UT Arlington, some multiple times," he said. "It is an honor for me to return the favor and represent UT Arlington at their institution through the Fulbright program, as well as to gain a better appreciation of how they educate their students."
A focus on dementia caregivers
Xu will travel to Taiwan, where she said the burden of caregiving for those with dementia isn't widely examined or understood.
"Many Asian countries face the challenges of an aging society and may not have the resources and investment for people with dementia," she said. "How to provide care to older adults with cognitive impairment and/or dementia will soon become a national concern in Taiwan."
In collaboration with the Tzu Chi Foundation, an international humanitarian nonprofit based in Taiwan, Xu will examine the feasibility of using volunteers as lay providers. She plans to recruit 15 young volunteers, likely between 18 and 30 years old, and match them with a dementia caregiver to test the potential of a volunteer caregiving model. They will receive training on how to take care of older adults with dementia and how to cope with the stress and burden caregivers experience.
Xu hopes that this volunteer model can develop into another source of help for caregivers.
"A lot of family caregivers are full-time workers who do not have a lot of time to care for their loved ones," she said. These volunteers can potentially serve as caregivers in the future in case there is a need. That is potential manpower in the bank and may help offset the projected decrease in the number of family members who are willing and/or able to provide care to persons with dementia."
--

The UTA College of Science, a Texas Tier One and Carnegie R1 research institution, is preparing the next generation of leaders in science through innovative education and hands-on research and offers programs in Biology, Chemistry & Biochemistry, Data Science, Earth & Environmental Sciences, Health Professions, Mathematics, Physics and Psychology. To support educational and research efforts visit the giving page, or if you're a prospective student interested in beginning your #MaverickScience journey visit our future students page.