Physics doctoral student earns prestigious national research award
Navarro receives DOE Graduate Instrumentation Research Award for particle physics detector project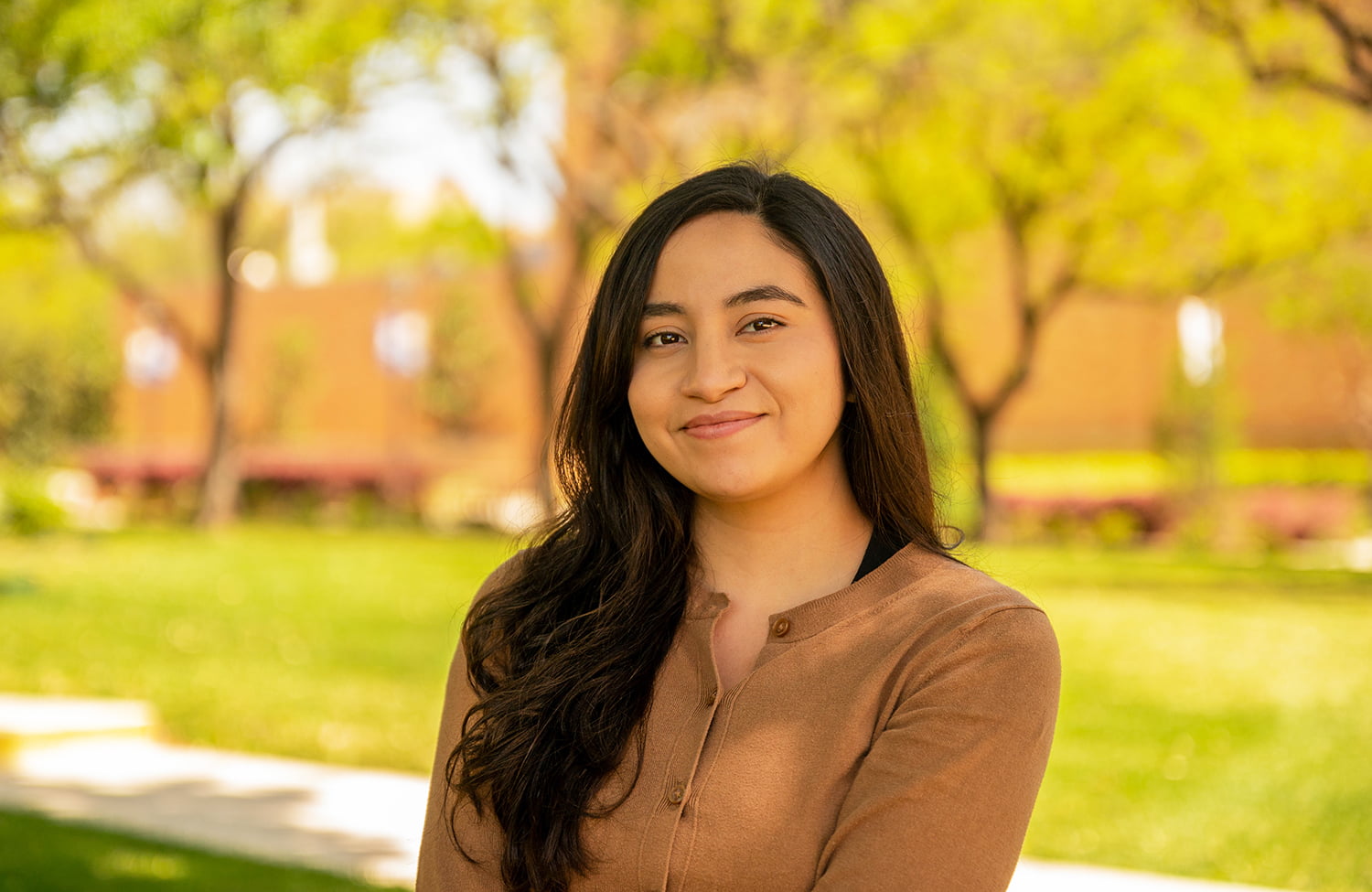 Karen Navarro took an interest in physics in high school and developed a passion for particle and nuclear physics as an undergraduate student. She is driven by the pursuit of unlocking the mysteries of the universe and finding out the forms of matter and energy of which everything is made.
Navarro, a third-year doctoral student at The University of Texas at Arlington, recently received a prestigious acknowledgement of her outstanding work in the field. She is one of only two recipients of the U.S. Department of Energy's 2023 Graduate Instrumentation Research Award (GIRA).
The GIRA program, created in 2018, provides two years of financial support for Ph.D. students' research projects. Its goals are to encourage and facilitate greater involvement of physics graduate students in the development of significant instrumentation; to boost recognition of instrumentation work as a vital part of Ph.D. training; and to foster the growth of future high energy physics instrumentation experts in the U.S. The award is given by the Coordinating Panel for Advanced Detectors (CPAD), which promotes and assists in the research and development of instrumentation and detectors for high energy physics experiments in the U.S.
"When I found out I received the GIRA award I think I was in shock for a while," Navarro said. "This is a very highly competitive fellowship and the chances of being chosen are low, especially when so many people are doing cutting-edge research and working on very fascinating projects. After I got over the shock I couldn't stop smiling. It definitely was a very good day."
In her doctoral studies, Navarro is part of a group working on research and development for a future phase of the NEXT (Neutrino Experiment with a Xenon Time projection chamber) program. NEXT is an international collaboration that searches for the neutrinoless double beta decay, a hypothetical radioactive process which, if observed, would prove the neutrino to be a particle that is its own antiparticle.
This would provide a precise measurement of their mass and, it is believed, would provide unique information about physics beyond the Standard Model. The current phase of NEXT, called NEXT-100, is presently being constructed by UTA scientists and their international collaborators in Canfranc, Spain.
A time projection chamber (TPC) is a particle detector which tracks and identifies charged particles. It uses a volume of liquid or gas to perform a three-dimensional reconstruction of a particle trajectory and its energy. The TPC was invented and developed by UTA professor of physics David Nygren in the 1970s when he worked at Lawrence Berkeley Laboratory.
The isotope Xenon-136 is used in the search for neutrinoless double beta decay. Xenon-136 decays into a barium ion plus two electrons and two neutrinos in a process called double beta decay. Neutrinoless double beta decay is the same process except no neutrinos are emitted.
"If we can observe this decay, it will tell us that two neutrinos annihilated one another, and hence neutrinos are their own antiparticle," Navarro said. "This has enormous implications as it would help us understand why there is more matter than antimatter, and really the reason for our existence."
Ben Jones, UTA associate professor of physics, is Navarro's faculty mentor. He said he was delighted to hear of Navarro's well-deserved recognition by CPAD and the DOE.
"I'm so pleased that the DOE has recognized Karen with this fellowship," Jones said. "She is an outstanding graduate student who has already made cutting-edge contributions to instrumentation development for nuclear physics. This fellowship will support her to take that work to the next level."
Navarro's doctoral work is focused on barium ion detection using single molecule fluorescence imaging, a technique that allows scientists to investigate the behavior of single molecules or small groups of molecules using high-power microscopes.
The UTA Neutrinos and Rare Event Searches group has pioneered the application of this technique to high pressure gases, in order to enable the imaging of barium ions made when Xenon-136 decays.
"If we tag the barium ion and read the energy of the two electrons and it matches with the energy we are looking for, then we have a made a zero-background measurement and we can be sure that we have discovered neutrinoless double beta decay," she said. "The way we are going to tag barium is by using custom organic molecules that only fluoresce or shine when they capture barium."
Navarro received the GIRA fellowship for a new project in which she will use micro- and nano-fabrication techniques to produce a photonic integrated chip that can collect and sense a barium ion over large surfaces.
"One of the goals behind this design is to make compact ion detectors that are selective, reliable, and scalable," she said. "These chips are a new avenue to explore for an enabling barium tagging design into a large-scale time projection chamber."
"Karen's project is a perfect example of UTA's unique and world-leading approach to advanced particle detector research," Jones said. "By combining advanced device fabrication techniques with photonic integrated circuits, organic chemistry, and radiofrequency ion transport, Karen is developing a totally new experimental method to attack a major unsolved problem in fundamental physics: the nature of the mass of the neutrino."
Navarro began her undergraduate work at UT El Paso and transferred to Texas Tech University, where she studied astrophysics. At Texas Tech she took a nuclear and particle physics class and learned about neutrinos. She knew then that she had found the subject on which she wanted to focus her graduate studies.
"I wanted to study neutrinos from the moment my professor began telling us about them," she said. "To me particle physics sits at the edge of everything we know. It's able to provide explanations about our knowledge of the early Universe and how matter and hence everything came to be. This is why I study particle physics."
Her professor told her about Jones and UTA's high energy and nuclear physics research program. Jones also gave a colloquium at Tech and talked about the NEXT program and barium tagging. Navarro contacted him and applied to the Ph.D. program at UTA. She received her bachelor's degree from Texas Tech in 2019 and joined the Neutrinos and Rare Event Searches lab at UTA in 2020.
"We are trying to understand what happened after the Big Bang that led to the creation of more matter," Navarro said. "Particle physics studies the fundamental particles and forces that make us and everything around us. This, to me, is the most exciting thing about working in neutrino research — the big questions we are trying to answer."
Navarro will officially accept the fellowship and present her project during CPAD's annual meeting at the SLAC National Accelerator Laboratory in November.
The UTA College of Science, a Texas Tier One and Carnegie R1 research institution, is preparing the next generation of leaders in science through innovative education and hands-on research and offers programs in Biology, Chemistry & Biochemistry, Data Science, Earth & Environmental Sciences, Health Professions, Mathematics, Physics and Psychology. To support educational and research efforts visit the giving page, or if you're a prospective student interested in beginning your #MaverickScience journey visit our future students page.