Public Health Major Helps Tri-C Food Pantry Through Experiential Course
The Bachelor of Science in Public Health prepares students to go into a variety of roles once they graduate, and one way they do this is through the experience-based Public Health Cumulative Experience. In this course, students intern with a public health agency, nonprofit, or other organization in the community, trying out the skills they've learned throughout their undergraduate program.
"We are really all about providing our students with real-word experiences to not only apply the knowledge and competency-based content we teach in classes, but to prepare them for a career in public health. We want them to be successful, and this course really helps prepare them as a final step in the undergraduate program," said Becky Garner, the BS Public Health program director.
Students also have options to intern with organizations right here in The University of Texas at Arlington. One senior graduating this spring, Kayrin Wells-Jackson, is doing just that by working in the Tri-C Food Pantry. Wells-Jackson is working on awareness for the food pantry, reaching out and coordinating with various groups on campus to spread the word about how Tri-C can help those in need.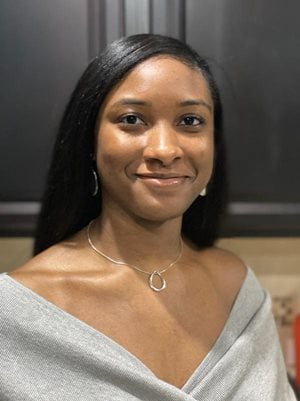 "It's been a rewarding learning experience, and it's nice to feel like you are doing something for the community. Seeing students pick up food and knowing that you are helping them, especially after the winter storm and with the pandemic, people are in need and it's a good feeling to know we can help them," shared Wells-Jackson.
Wells-Jackson says she become interested in the public health program because she wants to help prevent illness before it happens. After graduation, she plans to work and hopefully go on to get a master's degree. For now, she is focused on how she can help Tri-C Food Pantry.
"I just hope to be successful in spreading awareness so even more students can be served. If anyone is in need or wants more information they can visit their website or email utafoodpantry@gmail.com," said Wells-Jackson.
The Tri-C Food Pantry provides students with the opportunity to receive a mixture of non-perishable foods to supplement their monthly food costs. The Food Pantry is open to any UTA Student, Faculty or Staff member with a UTA I.D.