Kinesiology Associate Professor Receives NATA Foundation Award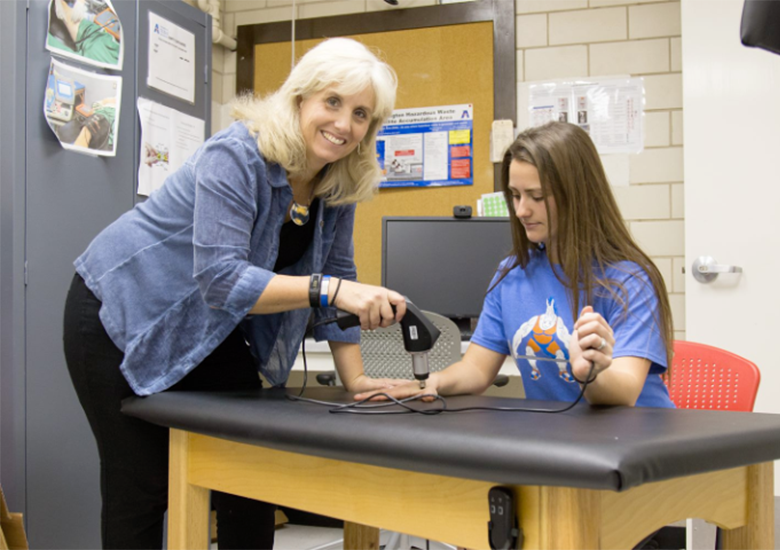 Congratulations to MSAT Associate Professor, Cindy Trowbridge, winner of the Lifetime Contribution Award from the National Athletic Training Association (NATA). This award recognizes an individual's sustained exemplary support and contribution to the advancement of the NATA Research & Education Foundation.
An active member within the NATA Foundation, Trowbridge dedicates her time, talent, and treasure to the athletic training profession.
"The National Athletic Training Association (NATA) Foundation Lifetime Contribution is awarded to an individual because of sustained support and contribution to the advancement of the NATA Research & Education Foundation," said Trowbridge. "I have been involved with the NATA Foundation for a little over 20 years in many capacities including Grant Reviewer, Regional Representative/District Chair, Scholarship Committee Chair, and Vice President of External Affairs, VP of District Relations, and VP of Development. The award is determined by the NATA Foundation Board after a nomination by a longtime colleague."
Trowbridge represents the NATA Foundation in many ways, from volunteering to being a member of several donor circles. She also established and funded an endowed Master's Research Grant which awards female students for research in athletic training.
"I was a NATA Foundation scholarship winner in 2001 when I was working on my doctorate degree," said Trowbridge. "I pledged to myself to pay back the NATA Foundation as a thank you for my award. I feel that I have accomplished that and much more. As a Board member, I was able to work with a talented group of people to ensure the NATA Foundation would exist for a long time to come by committing to various fundraising campaigns designed to secure our "rainy day" fund."
With her dedication to the athletic training field, she hopes to influence students to learn about the NATA Foundation and become involved in the organization and its mission just as she is. She believes her influence has made an impact as several alumni are involved with the foundation.
"This award means so much to me as my heart is rooted in the NATA Foundation and their support of student scholarships and research," Trowbridge said. "Much of the scientific basis for a variety of therapeutic and preventative measures developed out of research that was supported by the NATA Foundation."
Trowbridge's award was announced at the National Athletic Trainers' Association annual meeting during the NATA Foundation event on June 30th.