UTeach grad found her calling as physics teacher
Amanda Benson inspires students as she shares her love of physics with them
It wasn't always Amanda Benson's plan to study physics, but once she discovered and fell in love with the subject, she also found that she had a passion for helping others to understand it better.
That led her to UTeach Arlington, The University of Texas at Arlington's acclaimed secondary teacher preparation program, which equipped her with the tools she needed to answer what became her calling — teaching physics to high school students. Benson just finished her first year at Martin High School in Arlington, after starting her career with two years at Irving High School.
"In my humble opinion, UTeach is the best program out there for math and science teachers," Benson said. "I was able to get my physics bachelor's degree while taking classes on pedagogy and classroom management, along with teaching experience, all in four years. I was able to start student teaching the very first semester to get an idea if it was a good fit for me or not, and they put you in classrooms from elementary to high school so you can figure out what you enjoy most."
She grew up in Arlington and was homeschooled, as were her eight siblings. In 11th and 12th grades she took dual credit classes at UTA, and she enjoyed them so much that she decided to enroll full-time after completing 12th grade. "I loved the campus and the student body," she said. "It just felt like home."
Benson enrolled at UTA in 2015 with plans to major in engineering. As a freshman in her first semester she took a physics class taught by Barry Spurlock, associate professor of instruction, and "absolutely loved it," she said. Spurlock is known as a great "recruiter" and has inspired many a student to choose physics as their major. Benson took another physics class of Spurlock's the following semester, and by that time her mind had been made up to change majors.
"I never really found a fit for me until I found physics," she said.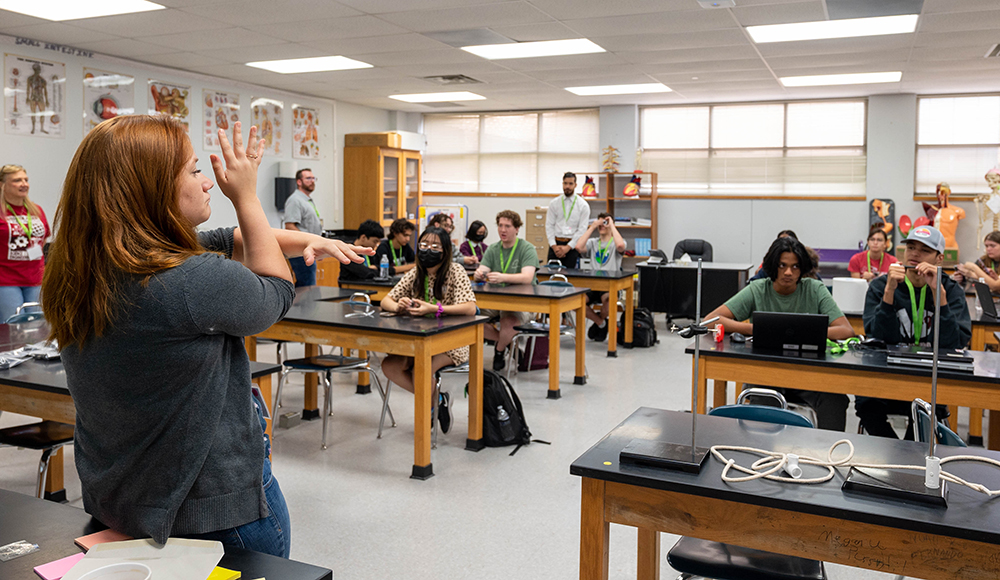 "As the first semester went by, Amanda got pulled in by physics," Spurlock said. "During the spring semester, over spring break, she built a cloud chamber out of a 10-gallon fish tank. She sent me a video she had taken of the tracks of cosmic ray muons moving through the cloud chamber. She seemed quite mesmerized by it, but then again it is quite mesmerizing."
Benson embraced physics with gusto. Together with close friend and fellow physics student Mikayla Streetman, she helped create a Women in Physics chapter at UTA. Benson served as treasurer and later as vice president of the organization, which encourages women to study physics and pursue careers in the field.
Benson also found that she had an innate ability to explain things to others when it came to physics. She started tutoring fellow students during class and soon found herself spending time helping in the department's free tutoring clinic.
"Her path to teaching physics may have begun in the Physics Clinic," Spurlock said. "I had a student that was about to graduate that was having some issues. There was a high demand for help in the clinic and as I was bouncing from student to student, Amanda started helping this student one-on-one. After that they kept working together through the semester. The student was very appreciative of the help, and I think Amanda enjoyed doing it."
After that, Benson decided to get involved in physics education research and began working with Ramon Lopez, distinguished professor of physics.
"I have a very high opinion of Amanda; she's just great," Lopez said. "We are very fortunate to have students like her decide to go into K-12 STEM teaching. She has a strong intellect, a great work ethic, and an excellent background in both physics and science education."
She didn't yet know about UTeach, but Lopez, one of the program's co-directors, filled her in on its merits.
"A classmate asked if I'd thought about teaching, and I said yeah but I really wanted my physics degree," Benson said. "I was doing research with Dr. Lopez and he said there's a program for that, where you can do both at once. I took the first UTeach class thinking I wouldn't actually do it, but then took the class and I loved it. They arranged it so I could get all my physics classes and all my education classes in, so I'd have a good handle on both the education and the physics, and I got to go and teach classes, so I loved it and I stayed."
Benson says Erin Philp, the UTeach program coordinator, made a huge difference in helping her juggle her physics classes with her UTeach courses and student teaching. "Erin was the person I knew I could go to when I was lost and confused," Benson said. "I could always go to her even if it wasn't about my classes. She always had my back."
"Amanda's success is no surprise," said Greg Hale, assistant dean of science and UTeach co-director. "She earned a prestigious National Science Foundation Robert Noyce scholarship. UTeach students don't generally have enough time beyond our program requirements to get involved in undergraduate research, but Amanda was an exception. She was so accomplished in her work with Dr. Lopez that we allowed her to skip our Research Methods course."
Because of UTeach Arlington's reputation for graduating excellent, well-prepared teachers, Benson already had five job offers by the time she graduated in May 2019 with her B.S. in Physics and teaching certification in science and math.
"That's what happens to everyone who graduates from UTeach; you get calls from school districts immediately," she said. "So many first-year teachers either have the content they need or they have the teaching experience. In UTeach you get both, and it puts you miles ahead of other new teachers."
She chose Irving High School, which was already home to a sizable number of UTeach Arlington graduates in its science and math departments. It also had a strong physics program, led by UTA alumnus William "Bill" Dawson, who taught Advanced Placement (AP) Physics. He received bachelor's degrees in physics and mathematics from UTA and over the years has remained an active supporter of UTA and the College of Science. Benson was assigned to the classroom directly next to his.
"Bill Dawson was my go-to for everything. The first year of teaching is very stressful and Dawson's calm demeanor was very good for me," she said. "I'd be panicking about this or that and Dawson would say, 'Did the kids learn something valuable today? Yeah? Then you did a good job.' I would sit in on his class whenever I had a break to see how he ran his classroom. I learned from him that respecting your students gives you a better classroom environment than anything else you could do."
Halfway through that year, Dawson surprised Benson when he told her he was going to retire at year's end. His recommendation helped Benson take over his position as head of the Irving High AP Physics program.
"He was an amazing teacher, but honestly it wasn't his teaching techniques that made him amazing," Benson said. "It was the fact that Bill Dawson believed in his students. When he talked about them you saw that they were his pride and joy. I think that's really why he was so excellent at his job. When he showed his students he believed in them, they believed in themselves and turned out successful. "Teaching at Irving High School was very literally Bill Dawson's life. When his retirement was announced, Twitter exploded with his former students showing their gratitude for him. If I turn out to be half the teacher he was, I'll consider myself successful."
Benson loved her second year at Irving High and thrived as head of the AP Physics program. The only drawback was the long commute from her home in Arlington. When she checked with her UTA connections in spring 2021 to see if they knew of any jobs open closer to home, Spurlock told her that an AP Physics position was opening up at Arlington Martin High School. Jay Atman, a friend of Spurlock's and also a UTA physics alumnus, was stepping down after 25 years at Martin.
Like Dawson, Atman is beloved by his students for going above and beyond to help them learn. For years he hosted after school tutoring sessions, first on campus and then at a nearby Jack in the Box restaurant. In his final year he led Martin's academic team to the Class 6A UIL state championship in science. Spurlock introduced Benson to Atman and recommended her, which helped her get the job.
In March she brought her AP Physics students to UTA to meet with physics faculty and students, tour labs and learn about what the Department of Physics has to offer. With her first year at Martin now completed, Benson says being there feels like the perfect fit.
"I love teaching physics; I find the job very fulfilling," she said. "I really enjoy teaching regular physics and seeing kids come in thinking there's no way they can do physics, and showing them that they already know so much, how physics is in their everyday life, and how to use it. Every high schooler's favorite complaint is, 'We're not going to use this.' So that's my favorite answer, 'You use it every day.' I love to show them how physics affects them in their daily life. I find it very satisfying when they come to school all excited and say, 'Miss Benson, I saw physics today!' I love that; it makes my day.
"I think I found the right spot. I feel at home where I am and I feel I found the right profession for me."
--
The UTA College of Science, a Texas Tier One and Carnegie R1 research institution, is preparing the next generation of leaders in science through innovative education and hands-on research and offers programs in Biology, Chemistry & Biochemistry, Data Science, Earth & Environmental Sciences, Health Professions, Mathematics, Physics and Psychology. To support educational and research efforts visit the giving page, or if you're a prospective student interested in beginning your #MaverickScience journey visit our future students page.