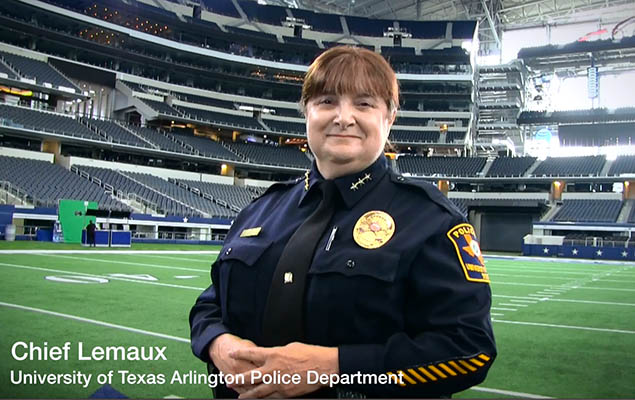 Join the UTA Police Department
Chief Kim Lemaux leads a progressive team that utilizes a wide array of strategies to protect our campus community. We are committed to the highest level of professionalism, integrity, and respect as we serve the UTA campus. In order to accomplish our mission, we aim to add the highest caliber applicants to our team.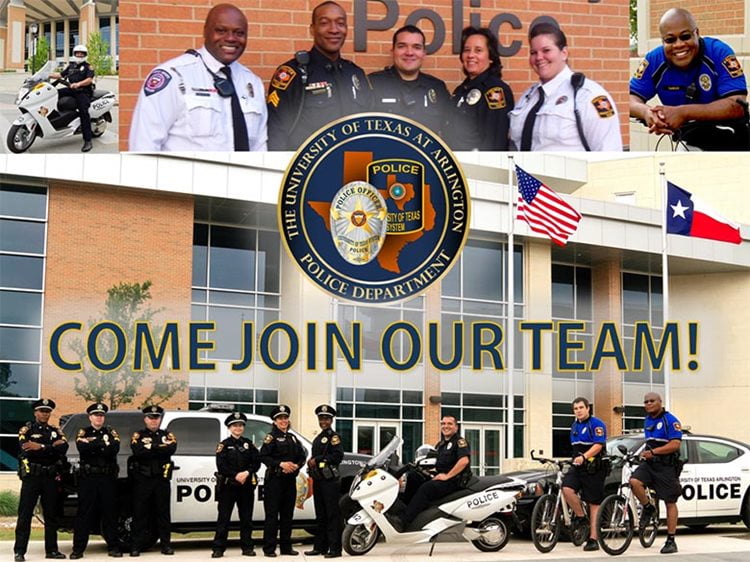 Are you up to the challenge?
The University is committed to providing equal employment and educational opportunities for all qualified persons without regard to race, color, national origin, religion, sex, age, veteran status, disability, or sexual orientation. We are further committed to hiring the best-qualified person to fill each available position and rewarding each employee based on his or her job performance. Get all of the details you need to apply for a position with the UTA Police Department through the information on this page or reach out to us so we can help you through this process.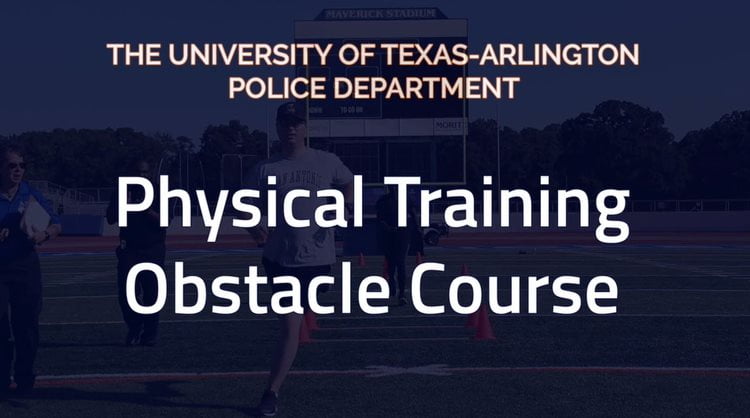 Physical Testing Video
This video will provide you with guidance on expectations for the physical test component of the police officer and police cadet positions.
UTA is committed to maintaining a learning and working environment that is free from discrimination based on sex in accordance with Title IX of the Higher Education Amendments of 1972 (Title IX), which prohibits discrimination on the basis of sex in educational programs or activities; Title VII of the Civil Rights Act of 1964 (Title VII), which prohibits sex discrimination in employment; and the Campus Sexual Violence Elimination Act. Sexual misconduct, as defined in this policy, is a form of sex discrimination and will not be tolerated. Sexual misconduct, includes sexual harassment, sexual violence, sexual assault, stalking, domestic violence and/or dating violence. Individuals who engage in sexual misconduct and other inappropriate conduct of a sexual nature will be subject to disciplinary action.
UTA will take prompt disciplinary action against any individuals or organizations on this campus who violate this policy (
HOP Section ADM 5-513
). UTA encourages any student, faculty, staff or visitor to promptly report violations of this policy to an individual identified in "
Section C.1
." of this policy.
Title IX Coordinator
, Michelle Willbanks, (817) 272-4585, 841 W. Mitchell St.
Deputy Title IX Coordinator (for students)
is the Assistant Vice President for Student Affairs; (817) 272-0132; E.H. Hereford University Center, Lower Level, B120
Deputy Title IX Coordinator (for staff, visitors and contractors)
is the Executive Director of Equal Opportunity Services, (817) 272-2106, 701 S. Davis, Office & Classroom Bldg., Ste. 104
Deputy Title IX Coordinator (for faculty)
is the Vice Provost, (817) 272-2103, 701 S. Nedderman Drive, University Admin Building, Ste. 300