New Students
Welcome and congratulations on your admittance to The University of Texas at Arlington!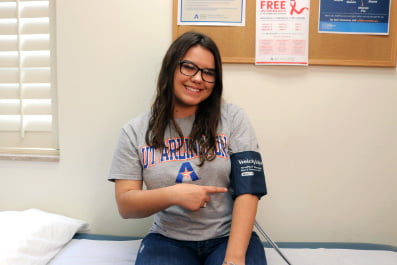 New Students
Our mission is to support your academic success by providing excellent health care and promoting wellness. Whether you are new to the University as a freshman, transfer, international or graduate student or have been on campus for a while, we hope you will find your health and wellness needs met at UTA Health Services.
TB SCREENING REQUIREMENT
All incoming international students who are new to UTA are required to complete TB screening prior to attending classes on campus. Health Services accepts both T-Spot and Quantiferon Gold blood tests completed in the United States within the last 12 months. Mantoux/PPD/Tuberculin (TB) skin test results are not accepted.
TB Screening Requirements
Tuberculosis (TB) is caused by a bacterium called Mycobacterium tuberculosis. TB bacteria are spread through the air from one person to another. The bacteria usually attack the lungs, but TB bacteria can attack any part of the body such as the kidney, spine, and brain. Not everyone infected with TB bacteria becomes sick. As a result, two TB-related conditions exist: latent TB infection (LTBI) and TB disease. If not treated properly, TB disease can be fatal.
Learn More
TB testing conducted at UTA Health Services after January 1, 2023 is covered by UT SHIP. If TB test results are positive, a chest x-ray is required to be cleared for classes.
For students that waive UT SHIP, the cost for TB testing is $66 and the cost for the chest x-ray is $59 at UTA Health Services.
Please note, health center holds are not registration holds. Students should be able to register for classes despite having TB testing/health center holds. If you are unable to register for classes, please contact your academic advisor to review other holds you may have on your account.
Students can schedule their TB testing appointment online at https://mavcare.uta.edu.
1. Sign on to the secure patient portal using your NetID and password.
2. Follow the prompts to schedule an appointment. TB testing appointments will be available weekdays, January 9 through January 20, 2023.
3. Complete the TB Outreach Packet in the Forms section of the patient portal to secure your appointment.

The cost of TB screening is $66.
If your TB screening results are positive, you must receive a chest x-ray before being cleared for classes.
The cost of the chest x-ray is $59.
The UT System Student Health Insurance Plan (UT SHIP) will cover TB screening received on or after the coverage plan start date.
Spring 2023 coverage start date: January 1, 2023
Summer 2023 coverage start date: May 15, 2023
Fall 2023 coverage start date: August 15, 2023
If you have already completed TB screening

in the United States within the last 12 months

, please submit your completed TB Form to the health center by email or fax.
Email: hsic@uta.edu
Fax: 817-272-3829
To be accepted, your documentation needs to be signed and stamped by the United States clinic you received the test from and must include the lab report.
TB screening-health center holds will be removed from your account after documentation has been reviewed and verified.
Mantoux/PPD/Tuberculin (TB) skin test results are not accepted.







Insurance
The University of Texas System contracts with Academic Health Plans to provide an affordable and comprehensive student health insurance plan (UT SHIP) to UTA students.