Health Services
Your on-campus choice for excellent health care.
Health Services
About Us
UT Arlington Health Services is a fully accredited ambulatory health care facility. We strive to provide eligible UTA students with quality, accessible, comprehensive, and cost-effective health care. Our services include a medical clinic, women's health, psychiatry, sports medicine, immunizations, lab testing, x-rays, pharmacy, student health insurance claims, health promotion, and substance use prevention.
Our Mission
To support academic success by providing excellent health care and promoting wellness.
Our Vision
To be recognized as leaders in providing exemplary college health care.
Our Values
Service, Respect, Collaboration, Inclusion, and Education
Stay Healthy and Protect UTA
We want to remind you of some best practices we can all uphold to maintain our commitment to the safety of our Maverick community. Stay vigilant and perform a health self-screening before coming to campus each day, get tested when needed, and stay up-to-date on UTA's protocols.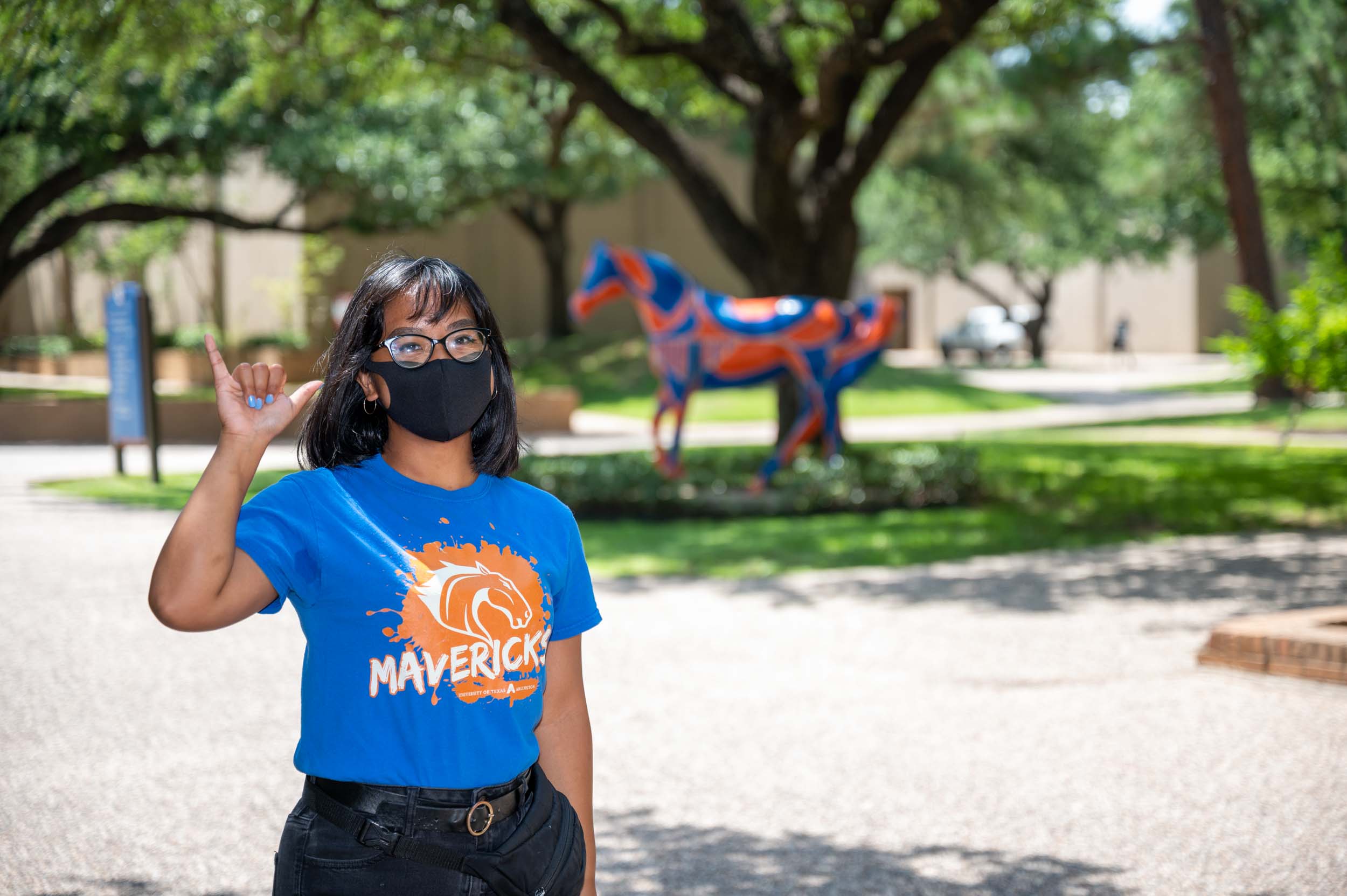 Required COVID-19 Testing
Beginning Monday, Sept. 13, students, faculty and staff coming to any UTA campus in any capacity will be selected at random for mandatory COVID‑19 testing.
The coronavirus (COVID-19) pandemic is a rapidly evolving and emerging situation. The University of Texas at Arlington will provide updated guidance and information, including actions the University is taking and the latest health, safety and travel recommendations based on information from UT System, Centers for Disease Control and Prevention (CDC) and U.S. Department of State.
More Info
Accreditations
UTA Health Services takes pride in the fact that we are accredited by two organizations. Achieving and maintaining accreditation is a symbol of high-quality healthcare. It ensures that an organization adopts the best practices in healthcare and complies with nationally recognized standards. It challenges us always to find better ways to serve you and it reminds us constantly that our first and most important responsibility is to see that you receive the best care we can possibly provide.
AAAHC Accreditation
UTA Health Services has maintained accreditation by the Accreditation Association for Ambulatory Health Care (AAAHC) since 2011. The accreditation survey occurs every three years and involves self-assessment by the organization, as well as a thorough review by AAAHC expert surveyors. AAAHC surveyors inspect facilities, interview staff and rigorously compare UTA Health Services' level of compliance with its standards of practice, which is then documented through a written report and an award of full accreditation, if earned. UTA Health Services is accredited through October 11, 2023.
COLA Lab Accreditation
The health center lab maintains accreditation by the Commission of Office Laboratory Accreditation (COLA), the premier clinical laboratory education, consultation, and accreditation organization. Our lab is the recipient of the COLA Laboratory Excellence Award. Laboratories earn this award by being compliant with all accreditation standards and criteria and with successful proficiency testing for three prior testing events. Lab accreditation surveys are conducted biennially. The health center lab is accredited through October 29, 2021.