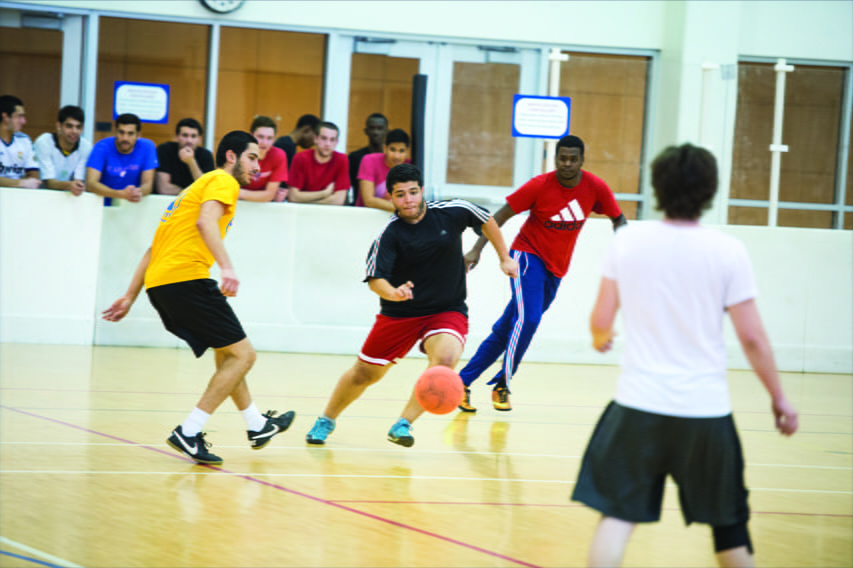 Intramural Sports
Intramural Sports include competitive and recreational sport leagues, tournaments, and events. Available sports change each semester and have different registration deadlines. All skill levels are welcome.
Registration

Registration is completed by logging into Fusion Play with your NetID and password. To participate in intramural sports, players must purchase the $10 Intramural Player Pass each semester. Captains will no longer pay $25 a team when registering for a sport.

Team Sports
• These sports consist of teams of 2-10 players (depending on the sport) that play a regular season and playoffs.
• If you want to play but don't have a team, you have two options:
◦ Create your own team
◦ Join a team that has already been created
• Teams register within leagues (men's, women's, co-rec, or open) and divisions (based on day of the week and time of game).
• To view your team's schedule, login to Fusion Play using your NetID and password.

Individual/Dual Sports
These sports are one-night events or tournaments. These events typically begin around 6:00pm. All current information (date, time, location, and current updates) can be found on Fusion Play.
Buy Player Pass
Spring 2023 - League Sports & Pre-Season Tournaments
| Sports | Registration Deadline | Start Date | Days of play | Entry Fee |
| --- | --- | --- | --- | --- |
| Basketball | Thursday, January 26 | Monday, January 30 | Mon, Tue, Wed | $10 Player Pass |
| Indoor Soccer | Thursday, February 2 | Tuesday, February 7 | Tue, Wed, Thu | $10 Player Pass |
| Indoor Cricket | Thursday, February 9 | Sunday, February 12 | Sun, Mon | $10 Player Pass |
| Sand Volleyball | Thursday, March 9 | Monday, March 20 | Mon, Thu | $10 Player Pass |
| 4v4 Flag Football | Thursday, March 23 | Monday, March 27 | Mon, Tue, Wed | $10 Player Pass |
| Slow Pitch Softball | Thursday, March 9 | Tuesday, March 21 | Tue, Wed, Thu | $10 Player Pass |
Spring 2023 - One Night Programs & Tournaments
| Sports | Registration Deadline | Start Date | Location | Entry Fee |
| --- | --- | --- | --- | --- |
| Table Tennis | Day of by 3pm | Thursday, January 19 | MAC Courts 3 & 4 | Free |
| FIFA 23 - Esports | Day of by 3pm | Thursday, February 2 | Online/In-Person | Free |
| Foosball | Day of by 3pm | Thursday, February 16 | MAC Games Room | Free |
| Spikeball | Day of by 3pm | Thursday, March 2 | MAC Sand Volleyball Courts | Free |
| Tennis | Day of by 3pm | Thursday, April 6 | MAC Tennis Courts | Free |
| Badminton | Day of by 3pm | Thursday, April 27 | MAC Courts 3 & 4 | Free |
| Battleship | Day of by 3pm | Monday, May 1 | MAC/PEB Pool | Free |
Spring 2023 - Online Events & Special Events
| Event | Date | Start Time | Location | Entry Fee |
| --- | --- | --- | --- | --- |
| Polar Bear Plunge | Tuesday, February 21 | 7:00 PM | MAC/PEB Pool | Free |
| The Iron Mav | Monday 3/6 - Friday 3/10 | 12:00 PM | MAC | Free |
| March Madness Bracket Challenge | Tuesday 3/14 - Friday 4/3 | N/A | Online | Free |
| Rec Recess | Wed 3/8, 3/22, 4/5, 4/19 | 4:30 PM | Brazos Park | Free |
| Bed Races | Wednesday, March 29 | 7:30 PM | Maverick Stadium | $40 per team |