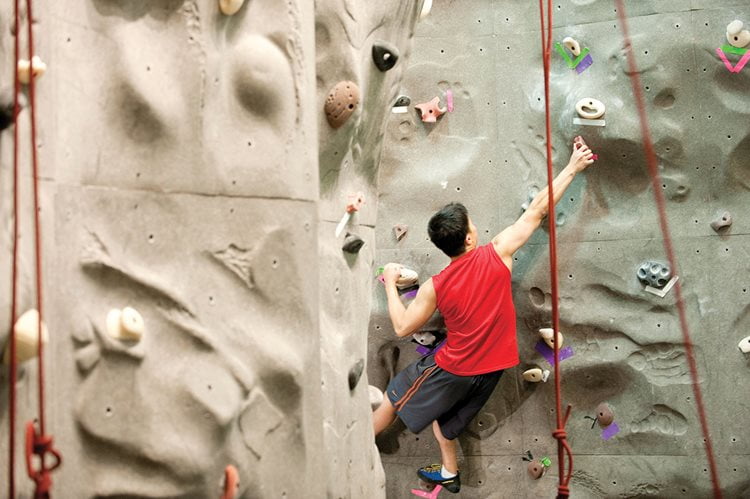 Climbing Wall
The climbing wall is an exciting and fun alternative to traditional exercise. The rock is a simulated rock formation affixed with numerous hand and foot holds that provides mental & physical challenges to build strength, endurance, and self-confidence. Essential equipment, including seat harness, belay device, climbing rope, climbing shoes and chalk bags are provided.
Rules
Below are rules of the Climbing Wall to ensure safety and proper use:
A climbing wall attendant must be present to climb on the wall.
Do not step on climbing rope or climbing equipment.
Climbers pockets must be empty.
Knots and harnesses must be checked by a climbing wall attendant.
Only a figure 8 knot can be used to tie climbers on to the rope.
Only a locking D carabiner is used to connect the belay device to the belayer's harness.
Before climbing the climber says "Belay On" The belayer replies "On Belay" Climber says "Climbing" Belayer replies "Climb On."
Climbers should not step under or over an active belay.
Climbers are prohibited from contacting bolt hangers with either feet or hands. Bolt hangers are for carabiner attachment only.
Climbers are not permitted above eye level with the top of the wall.
Climbers on the bouldering wall are not permitted to have their feet above the second panel of the bouldering wall.
Climbers on the bouldering wall must climb with a spotter.
Climbers may not boulder above or below any other climbers.
All equipment used on the wall (except shoes) will be supplied by Campus Recreation.
No food or drinks allowed in the climbing wall room.
Campus Recreation reserves the right to remove any individual for violating the above safety policies or for any conduct that is viewed as unsafe or inappropriate.
Reservations
If you are interested in reserving this facility, please contact our Associate Director, Chris Muller.
Send an Email
Facility Hours
View the current hours of the MAC, Pools, Climbing Wall, and more.
View Facility Hours