Spring 2022 Senior Capstone Projects in Industrial, Manufacturing, and Systems Engineering
Spring 2022 Senior Capstone Projects in Industrial, Manufacturing, and Systems Engineering
Spring 2022 - Industrial Engineering Capstone Design
Siemens Missing Switchgear Parts
Siemens switchgear production process begins from the fabrication department till the assembly department.
The focus of our work will be in the switchgear assembly department, the front-end and back-end workstation, where we plan to reduce missing parts and downtime for mechanics waiting for replacement parts needed.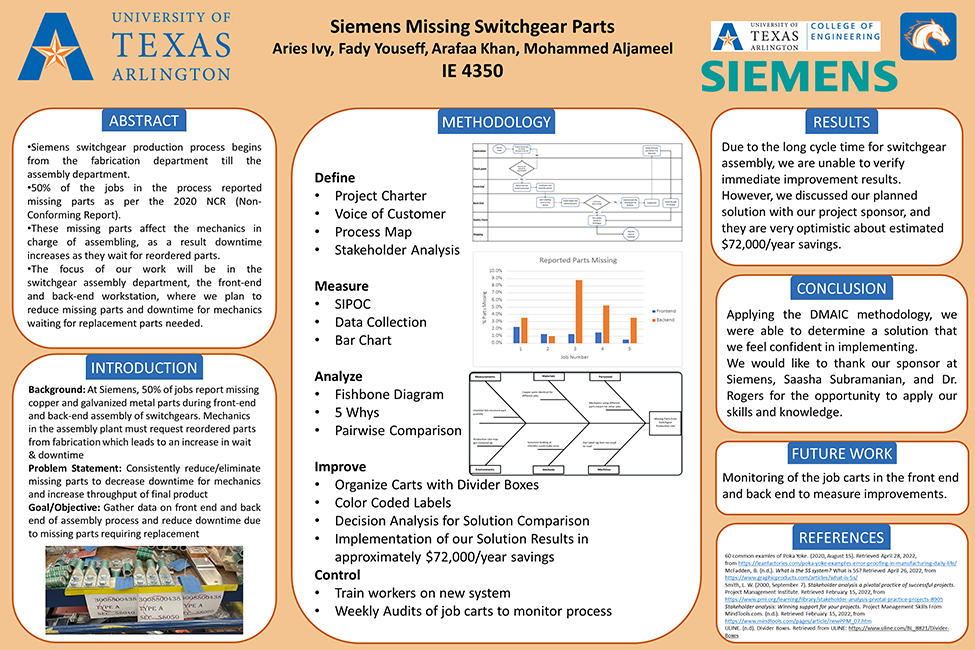 DFW Airport Catalyst Center
The Dallas Fort Worth International Airport is located in the Metroplex area, which is home to 24 of fortune 500 companies and 33 local colleges and universities. Due to DFW Airport being in the fastest growing region in the United States, they are in need of a new community-based lab where subject matter experts (SME's), contractors, and local university researchers/students can access an on-site laboratory. Our team will design the initial lab to have open work areas with quick prototyping tools for product innovation and design.
Waste Reduction & Inventory Control at National Door Industries
One of the many garage door parts produced by National Door Industries (NDI) are garage door window frames, which improve the aesthetic and functionality of garage doors. NDI's manufacturing process involves cutting a significant amount of material to make these frames, which produces a large amount of waste. Our Capstone project focuses on analyzing their pre-cut material sizes and minimizing them to reduce waste, while also implementing an inventory control system to better match levels of inventory with demand.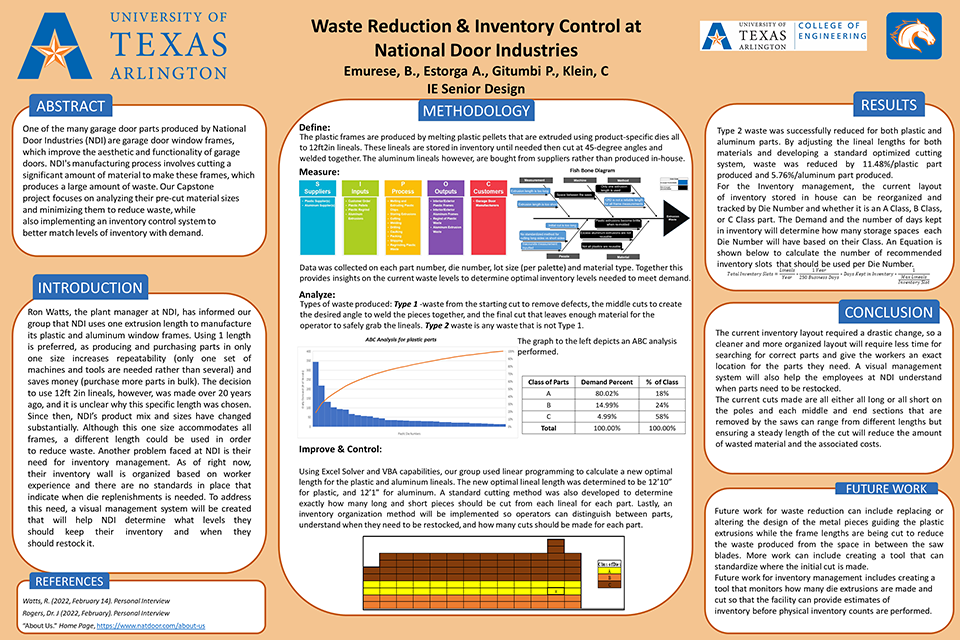 Calyan Wax Co.
Calyan Wax Co. is candle company based out of North Texas where they make candles from scratch using natural soy based wax and various fragrances infused. Due to their rapidly growing business and increased success and demand, they are currently in the brainstorming process of possible ways to improve their production to satisfy the demand and needs of the customers. This is quite important to them since not only are they a newer startup company in the process of continuously improving, but it is vital to their company mission that they grow production to meet demand and maximize revenue as 5% of their revenue is donated to vetted and trusted non-profit organizations specializing in serving survivors of trafficking.