Dialogues in Art: The Aesthetics of AI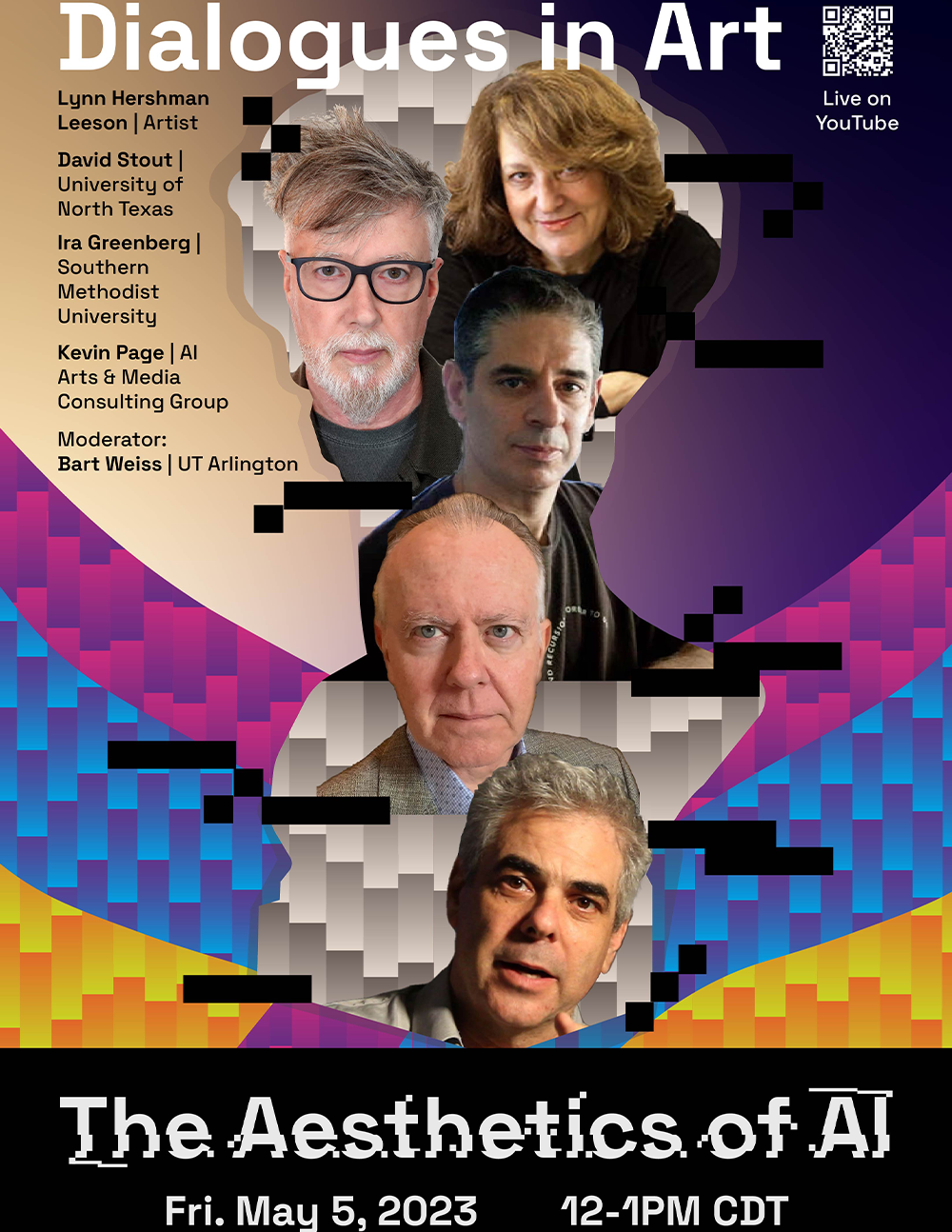 Dialogues in art
The Aesthetics of AI
Friday, May 5, 2023
1-2 pm CDT
This panel discussion on the impact and aesthetics of artificial intelligence as tools for artists will answer important questions for the art world. What makes a good AI project? How do you critique an AI work? How has the role of the artist evolved with AI? What is a good way to enter the AI space?
Moderator: Bart Weiss, Associate Professor, Cinematic Arts, UTA
Panelists:
Lynn Hershman Leeson, one of the most influential media artists widely recognized for her innovative work investigating the relationship between humans and technology, identity, surveillance, and the use of media as a tool of empowerment against censorship and political repression. She has made pioneering contributions to the fields of photography, video, film, performance, artificial intelligence, bio art, installation and interactive as well as net-based media art. Lynn Hershman Leeson is a recipient of a Siggraph Lifetime Achievement Award, Prix Ars Electronica Golden Nica, and a John Simon Guggenheim Memorial Foundation Fellowship. In 2017 she received a USA Artist Fellowship, the San Francisco Film Society's "Persistence of Vision" Award and will receive the College Art Association's Lifetime Achievement Award. In 2022, she was awarded a special mention from the Jury for her participation in the 59th International Art Exhibition of La Biennale di Venezia – The Milk of Dreams. In 2023, Pratt Institute of Art in NY awarded her with an Honorary Doctorate. Creative Capital awarded her with their Distinguished Artist Award in 2023. SFMOMA acquired the museum's first NFT from Hershman Leeson in 2023. Her six feature films – Strange Culture, Teknolust, Conceiving Ada, !Women Art Revolution: A Secret History, Tania Libre, and The Electronic Diaries are all in worldwide distribution and have screened at the Sundance Film Festival, Toronto Film Festival and The Berlin International Film Festival, among others.
Ira Greenberg,Director of the Center of Creative Computation and Professor at SMU, Meadows School of the Arts. With an eclectic background combining studio arts and computer science, Ira Greenberg has been a painter, 2D and 3D animator, print designer, web and interactive designer/developer, programmer, art director, creative director, managing director, art and computer science professor, and author. He wrote the first major language reference on the Processing programming language, Processing: Creative Coding and Computational Art, (Berkeley, CA: friends of ED, 2007) and two subsequent creative coding texts. Greenberg holds a B.F.A. from Cornell University and a M.F.A. from the University of Pennsylvania. Greenberg's research and teaching interests include generative NFT's, drawing and painting, aesthetics and computation, expressive programming, emergent forms, net-based art, artificial intelligence (and stupidity), physical computing and computer art pedagogy (and anything else that avoids meetings). One of his guilty pleasures is torturing defenseless arts and humanities students with trigonometry, algorithms and object-oriented programming.
David Stout is a visual artist, composer and performer exploring the cross-media synthesis and interdisciplinary approaches to new genres bridging the arts. He holds an inter-arts M.F.A. from the California Institute of the Arts where he studied with Ed Emshwiller, Jules Engel, Jim Pomeroy, Michael Scroggins and Bill Viola. His award-winning works include live-cinema performance, interactive video installation, electro-acoustic music composition and immersive telematic video events that emphasize multi-screen projection as an extension of performer, audience and architecture. Since 2002 he has worked closely with creative partner, Cory Metcalf to examine the aesthetic possibilities for evolutionary generative systems, artificial life networks and simulation environments. The pair, who began their seminal collaboration in Santa Fe, New Mexico, are renown as founding members of the critically acclaimed interactive media ensemble, NoiseFold, which first premiered at the Festival Internationale d'Art Video in Casablanca, Morocco in spring 2006. David's ongoing collaborations with dancers, instrumentalists, computer programmers, composers and filmmakers include recent projects with cellist, Frances Marie Uitti, The Netherlands, guitarist; Janet Feder, USA; and Trio Kaze, Germany. Stout previously founded the MOV-iN Gallery and the Installation, Performance & Interactivity project, IPI, at the College of Santa Fe.
Kevin W. Page is the CEO at Ai Arts & Media Consulting who has been in the media and entertainment business for more than 3 decades. Ai Cinematics is the producer of bleeding edge, micro-length Ai-empowered theatrical feature films and other content forms. They combine traditional 2D and 3D filmmaking workflows with a daisy-chain of artificial intelligence models ("Ai") to create completely unique entertainment and fine art products that are then distributed directly on the blockchain as 1/1 NFTs and through traditional media channels.As an actor, Page has appeared in over 80 television episodes and feature films, including: RoboCop, SEINFELD, DALLAS, WISHBONE, Friday Night Lights, and THE SON (with Pierce Brosnan).