Thermoplastic Paper DIS 2023
Faculty research on glass and thermoplastic presented at DIS conference

Art & Art History Department faculty members Justin Ginsberg and Jeremy Scidmore co-authored a paper with Dr. Cesar Torres (Assistant Professor of Computer Science and Engineering) and Nasir Rakib (PhD candidate in Computer Science and Engineering) titled Thermoplastic Kilnforms: Extending Glass Kilnforming Techniques to Thermoplastic Materials using Ontology-Driven Design.

The paper was presented at the DIS 2023 (Designing Interactive Systems) conference, which was held at Carnegie Mellon University from July 10th – 14th , 2023.

726 papers were submitted, and after a rigorous peer review process, 24% were accepted for publication in the proceedings.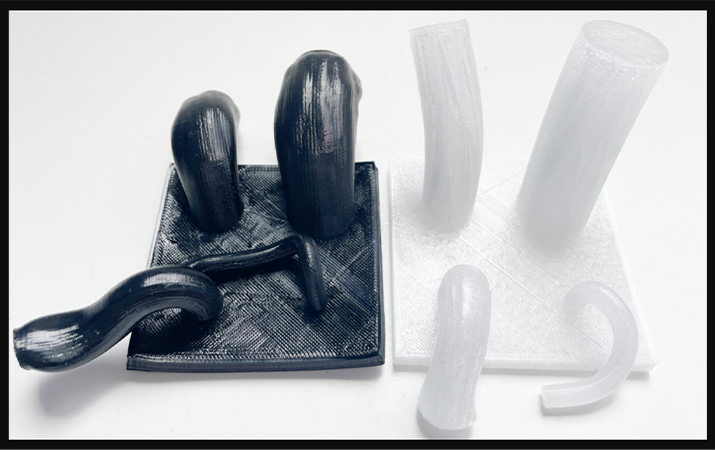 Paper abstract:
The ecology of thermoplastic materials is rapidly evolving, enabling an exciting landscape of functional, aesthetic, and interactive forms. Despite their utility in fused filament fabrication (FFF), an even larger and untapped design space exists for thermoplastics. In this work, we introduce a design method that leverages similarities with a more mature medium (glass) to guide a material-centered exploration of a new medium (thermoplastics). Through a collaboration between domain experts in thermoplastics and glass, we synthesized an ontology of kilnforming techniques and developed an annotated portfolio of thermoplastic kilnforms that capture generative design directions for altering the phenomenological qualities of plastic, prototyping metamaterials, and composite forms, and engaging with other material practices. We discuss how material parallels can continue to expand the role of thermoplastics as a design material and how ontology-driven design can serve as a means of localizing, questioning, and generating material knowledge. Read full paper
Watch Video Here: https://www.youtube.com/watch?v=-X5NjEjfFFA