As you prepare to graduate, meet with your Advisor to confirm final coursework needed to graduate. Once you and your academic advisor have determined that you will meet the requirements for graduation, then you will need to apply for graduation online. All academic requirements and financial obligations must be complete in order to confer your degree and receive your diploma.
CURRENT GRADUATION APPLICANTS
For questions about the graduation application process, please check in with your program's graduation contact. If you experience difficulty accessing or submitting the Application for Graduation, contact your graduation counselor at gradteam@uta.edu.
COMMENCEMENT
Students are typically allowed to participate in their commencement ceremony if they apply for graduation by the deadline and if they have completed all of the requirements for their degree program or will have completed all of those requirements by the end of the graduation term.
A student's academic school or college does have the right, however, to prohibit a student from attending his/her commencement ceremony based on school or college criteria used for determining who is and is not eligible to "walk" in their commencement ceremony each term. Please consult the office of your school or college if you have any questions about your graduation eligibility.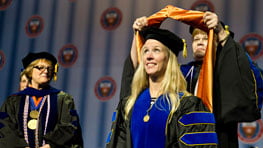 Commencement Ceremony
Find out everything you need to know about the commencement ceremony by visiting the commencement website.