Freshmen Students
Follow these steps to complete your application for admissions as a freshmen.
Application Priority Dates
Fall: February 14
Spring: October 15
Summer: April 1
Applications are accepted after the priority dates. Please submit the application and required documents by the priority date for guaranteed consideration.
Admissions Applications
UTA accepts applications through ApplyTexas and The Common Application.


Download Freshmen Admissions Checklist
Scholarship & Financial Aid Deadlines
Presidential Scholarship: December 1
Federal Student Aid: January 15
Maverick Academic Scholarship: February 14
Please note that some deadlines are earlier than application priority dates. You must submit your admissions application, along with all required documents to be considered for these scholarships.




Learn More about Scholarships and Financial Aid
Eligibility Requirements for First Time Freshmen Students
| Rank in High School Graduating Class | Minimum SAT Score | Minimum ACT Score |
| --- | --- | --- |
| Top Quarter | No Minimum | No Minimum |
| Second Quarter | 1130 | 22 |
| Third Quarter | Individual Review | Individual Review |
| Fourth Quarter | Individual Review | Individual Review |
The SAT score is calculated by combining the highest evidence based Reading, Writing, and Math score. The ACT is the composite score, which includes the English, Reading, Math, and Science sections. UTA does not require an essay.
Test Score Optional
Please be advised that UTA is test score optional for admission through summer 2023. If you apply for admission without these test scores your application will be evaluated based on high school records such as GPA, class rank, courses taken and other relevant criteria. However, test scores can help in determining admissions decisions and scholarship opportunities.
Non-Traditional Secondary Education (Non-Ranking High Schools, Homeschool & GED)
In accordance with Texas Senate Bill 1543, if you present evidence of the completion of a nontraditional secondary education without an official class rank, UTA will assign a class rank for you. This assigned class rank will be comparable to the average class rank of other applicants with equivalent SAT or ACT scores. Once the rank has been assigned, students must meet requirements above. UTA requires official transcript or proof of GED to show completion of a non traditional secondary degree.
How to Apply
Follow these steps to complete your admissions application.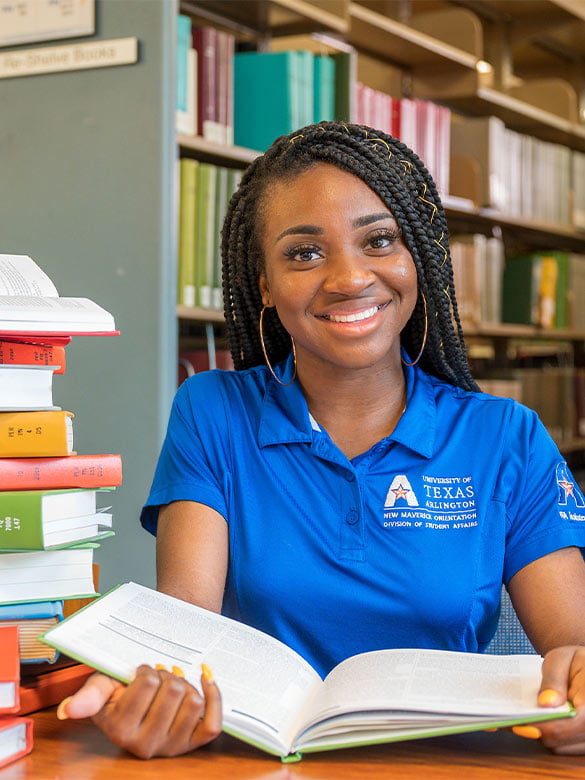 National Merit Scholarship
National Merit students establish excellence with their personal and career goals. As a National Merit recipient, you will receive world-class support to help define your future. This financial award of $30,500 per year fully covers tuition and fees, on-campus housing, and includes a stipend for books, supplies, and other educational expenses for fall and spring semesters.
Freshmen Admission Programs
Residency
Under Texas state law, applicant or enrolled student is classified as a Texas resident, a nonresident, or a international student. View residency information or contact undergraduate residency.