MERIT-BASED SCHOLARSHIPS FOR NEW, UNDERGRADUATE STUDENTS
UTA offers over $40 million in scholarships each academic year for students. At UTA, our students and their needs come first. This generous scholarship program is used to reward academic excellence and to improve college access.
The priority deadline to be considered for the Presidential Honors Scholarship and Presidential Scholarship for Fall 2023 is December 1, 2022. The scholarship deadline for the Maverick Academic Scholarships is February 14, 2023. The deadline for the Transfer Scholarships with a value of $2,000 to $5,000 annually is February 14, 2023. Some students that meet that deadline may receive the $1,000 Transfer Scholarship because it is awarded based on their academic transfer profile. The final deadline for the Transfer Scholarships with a value of $1,000 annually is July 3, 2023.
Students must turn-in all documents required by UTA Admissions before the scholarship deadline to be considered. All students are automatically considered for these scholarships. There is no additional application needed. All scholarships listed below are available to students that are admitted for the Summer 2023 and Fall 2023 semesters. Students starting at UTA in the Spring are not eligible for these scholarships.
Note: The Scholarships Office does not offer scholarships for incoming graduate students, accelerated online students, or students in the Coordinated Admission Program (CAP). Please visit Mav ScholarShop for additional merit and need-based scholarships available at the university. We recommend searching and applying through Mav ScholarShop, visiting our Outside Scholarships page, and to reach out directly to the department over your program of study to learn more about scholarship opportunities.
National Merit Scholarship
Offer: Up to $32,500 annually
Offer: Up to $130,000 over four years*
Submit National Merit Certification & Proof of UTA as College of First Choice to the Scholarships Office.
Transfer Scholarship

Offer: Up to $2,000 - $5,000 annually
Offer: Up to $4,000 - $10,000 over two years*
Deadline: February 14, 2023
Offer: $1,000 annually
Offer: Up to $2,000 over two years*
Deadline: July 3, 2023
*Based on meeting renewal requirements every year.
Start Your Scholarship Search Here!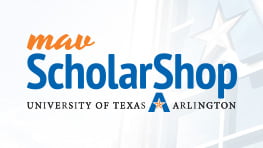 As a current or newly-admitted UTA student, Mav ScholarShop gives you access to apply for more than six million dollars in scholarship opportunities! Your automatically-created profile will be matched nightly with open scholarship opportunities across campus.
Log in now to start your search!