Black History Month –Tristan and Adrienne Williams
The University of Texas at Arlington Alumni, Tristan and Adrienne Williams are part of the Distinguished Alumni we are honoring during Black History Month. Tristan earned a bachelor of business administration in management from UTA in 2008 and a MBA from Texas Southern University in 2021. Adrienne, his wife, earned a bachelor's degree in organizational communication in 2010. Tristan and Adrienne are Co-owners of Island Breeze Car Wash & Auto Services and Pleasantville LLC. Tristan is also the Co-founder of Vue Lidz; while working as a Board Director and treasurer for South Belt Chambers of Commerce; and teaching as an adjunct professor at Texas Southern University. Adrienne works as the Vice President of Human Resources for Island Breeze, Human Resources Consultant for Pleasantville LLC and the Human Resources Manager for Tenaris.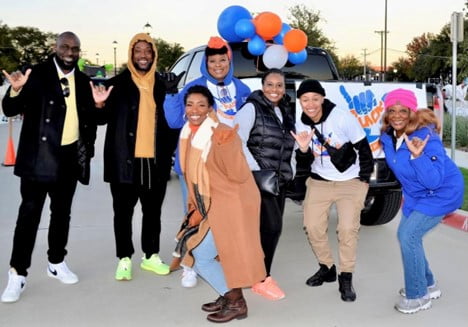 2022 UTA Homecoming
Since graduating from UTA, what has been your greatest accomplishment?
Our greatest accomplishment is our family. We have three kids, two girls and one boy. We have worked hard since graduating in various corporations and now we are running multiple businesses in the Houston area to leave a legacy for our family.
What has been your biggest challenge since graduating?
Our biggest challenge since graduating is balance. Balance in terms of work life priorities, being true to who we are, and workspaces that aren't created for people like us to succeed.
Do you take part in any initiatives, community service, or projects that make you proud?
We have volunteered and worked with United Way, The South Belt Chambers of Commerce, Black Alumni of UTA and other organizations.
What advice would you give to young black students entering higher education?
The advice we would give to young black students is enjoy the whole college experience. Get involved in campus activities that are outside your comfort zone, those experiences will help you be more of a seasoned professional in any workplace.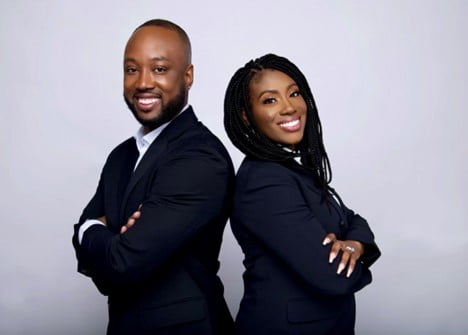 Headshots
What goals do you have for yourself or your career?
Personal Goals: Personally, we try daily to be the best version of ourselves spiritually and mentally. We feel that if we're the best version of ourselves, value will be added to our family lives abundantly.
Career Goals: We really don't have any aspiration for career goals. We're not knocking anyone who has career goals, it's just not in our long-term plans. Our goal/vision is continuing to build an empire, leaving a legacy for family!
Did you feel welcome at UTA? What made you feel included?
We felt very welcome at UTA as there was a decent representation of the world at the university. With Adrienne growing up in the military and traveling the world with her parents. And Tristan was apart of the first Trinidadian generation in his family to go to College in the US, that representation of world made UTA very welcoming.
What traditions do you celebrate or honor during black history month?
Our current family tradition is to teach our three kids about being thankful/grateful and paying homage to our ancestors who paved the way for us. We share stories about growing up with our elders who went through things such as Jim crow, civil rights movement, and even slavery. We also challenge our kids to provide their own prospective/experiences on being black in America. Through those conversations we hope for them to gain understanding and coach them through how to resolve those issues.
What are any goals you have for the black community?
Keep encouraging our youth that they are so important! One of the goals for our community is truly ensuring our youth understand the importance of black culture and how we have made numerous contributions to society. As we continue to add those contributions, keep promoting black excellence making all black people around the world proud!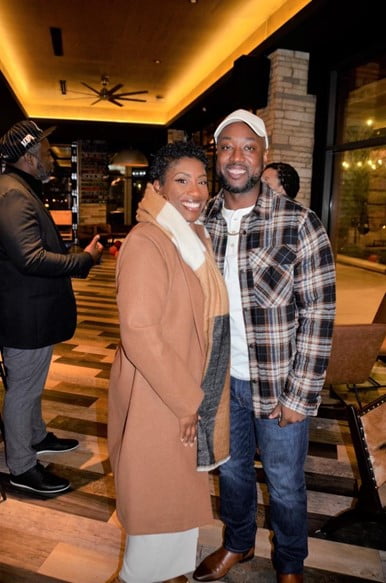 UTA Black alumni event
Please share three fun facts about yourself:
Adrienne Fun Facts:
Adrienne can sing & play the saxophone
Enjoys crafting and photograph
Oldest of 4
Tristan Fun Facts:
Trinidadian decent
Apart of the greatest Fraternity in world: Omega Psi Phi
Can play the steel pan instrument & bowed string instrument cello
If you met at UTA, please let us know how you met and brief synopsis of your love story.
Adrienne and I met at a mutual friend's birthday dinner in June of 2008. We got engaged in 2011 and married in April 2012. We will be celebrating 11 years of marriage this year in April!