Black History Month – Roslyn London Brown
The UTA College of Business celebrates Black History Month by recognizing the success and accomplishments of our Black Alumni. Roslyn London Brown earned a bachelor of business administration in management from UTA. Now, she is working as an Adjunct Professor of Developmental English at Collin College. Presented below are her contributions, accolades, professional goals, and achievements. 
Since graduating from UTA, what has been your greatest accomplishment?
I was selected as a National Trainer/Presenter for the Success for All Reading Wings Program.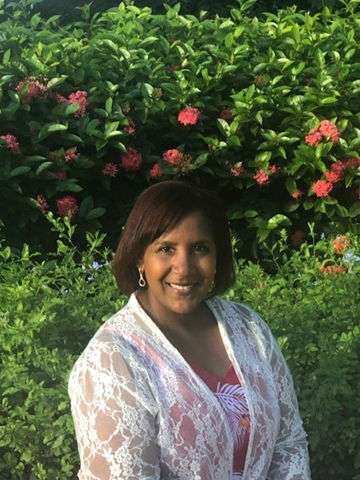 Roslyn headshot
What has been your biggest challenge since graduating?
My biggest challenge is work/life balance.
Do you take part in any new initiatives, community service, or projects that make you proud?
I donate and create food bags for the homeless with my Life Group.
What advice would you give to young black students entering into higher education? Or for those on the fence about higher education.
I would advise young black students to try higher education even if you don't like school that much. The life lessons and benefits of an education are immeasurable.
What goals do you have for yourself or career?
My main goal at the moment is to write a book. I have a continuous goal of making an impact on my students.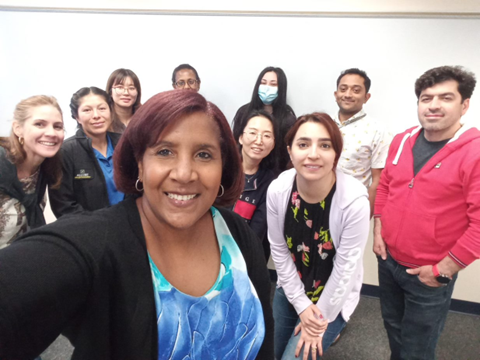 Roslyn with students at Collin College
Did you feel welcome at UTA? What made you feel included?
Yes, I felt welcomed at UTA. I attended campus events and joined a group.
What traditions do you celebrate or honor during black history month?
I honor black history month by sharing black history with my students and supporting events at my workplace.
What are any goals you have for the black community?
One goal that I have for the black community is to continue the fight for equality, especially by using your voice to vote.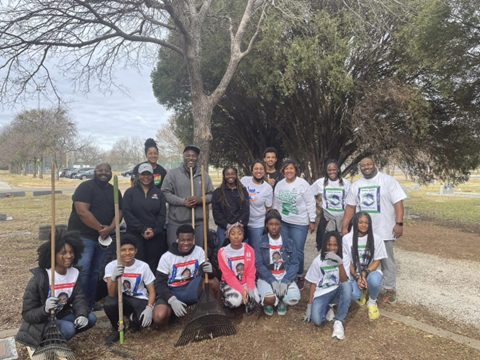 MLK volunteer event with UTA Black Alumni Chapter in January 2023
Please share three fun facts about yourself:
I took piano lessons from the same teacher as Jamie Foxx and Jamie sang at my wedding.
I modeled in a hair show once.
I snorkeled in the Atlantic Ocean.