Techniques To Conquer Public Speaking
Dr. Daniel Usera is a Clinical Associate Professor of Marketing at the University of Texas at Arlington, with more than 10 years of experience in the classroom instructing students. He constantly practices and devises new techniques in the classroom to engage his audience.
Audience engagement techniques are tools that speakers can deploy to create an interactive environment for listeners, transforming the audience from passive listeners to active participants.
Speaking Techniques
In his recently published article, Dr. Usera introduced five techniques for speakers including polling, discussion, recitation, imagination, and reflection.
Polling allows the audience to respond to the speaker's questions or comments all at once.
Discussion starts when the speaker asks the audience a common question and asks them to respond to the speaker and each other.
Recitation is when the speaker instructs the audience to recite a phrase or word together.
Imagination is when the speaker asks the audience to imagine themselves in a hypothetical situation.
Reflection is used for scenarios the audience has largely experienced.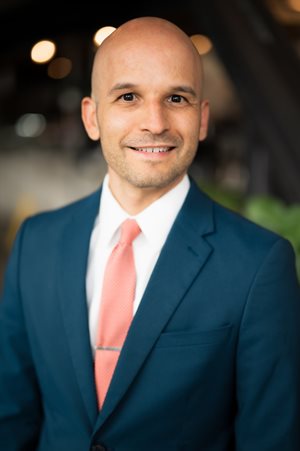 Dr. Daniel Usera Headshot
Virtual and In-person Application
Dr. Usera mentioned that he uses these techniques in the classroom. "I was inspired by the education literature on active learning which emphasizes having students do hands-on activities during instruction to move them away from passive learning states. Sometimes, I teach four-hour class sessions and they always go by quickly thanks to my mixture of active learning and lecturing."
Online learning has created a different dynamic for students and audiences. The in-person and virtual options are challenging for speakers in different ways. There is space for Dr. Usera's techniques on both platforms.
"What's true for both in-person and virtual presenting is that the audience engagement techniques can still be used to keep your audience engaged and listening. The techniques and how you use them will vary by the medium." stated Dr. Usera.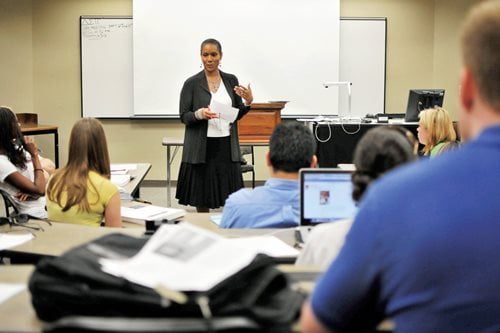 Dr. Bell lecturing HR diversity course
Future Application, Expansion, and Impact
When asked about the intention of this published research and the potential for expansion, Dr. Usera responded, "Initially, I was going to propose a theory of audience engagement in public speaking. As I began writing it for a journal, I realized that there is an important concept that I still need to further clarify before the theory will be ready for publication."
Dr. Usera talked about the potential impact on the business community with two different points. First, the article gives the reader a sense of how to engage an audience when presenting. Second, readers learn how public speaking shouldn't be considered a monologue by one person.
An analysis of 104 studies comparing active instruction and traditional lecturing found that student performance is higher with active instruction. Listening and struggling through a lecture between speaker and audience can be difficult. Audience engagement techniques can be used for active instruction and to recapture the audience's attention in any speaking situation.
This research continues the conversation on effective public speaking techniques, a topic he plans to expand on in the future.
"I am working on another paper highlighting Team Presentation Theory, which will be the first to systematically discuss strategies and propose solutions to common challenges to team presentations. I will then finally put my Theory of Audience Engagement to paper and publish," concludes Dr. Usera.
The research referenced in this article was written and published by Dr. Daniel Usera, titled "Audience Engagement Techniques in Oral Presentations." Dr. Usera is a Clinical Associate Professor in the Department of Marketing for the College of Business at The University of Texas at Arlington. The article was published on August 31, 2023, in the Business and Professional Communication Quarterly.
Access the full article here:  https://journals.sagepub.com/doi/10.1177/23294906231190575.