Registration Opens for Story-Themed Coding Camp for Kids, Teachers
$67,500 grant from Sid Richardson Foundation supports interactive workshop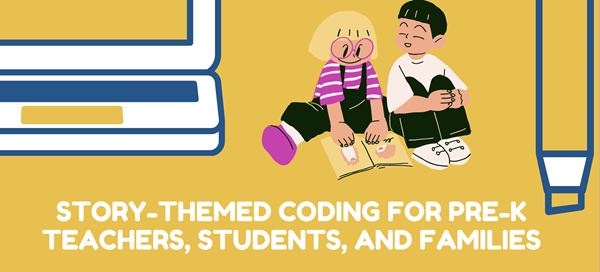 A special coding camp for children in Pre-Kindergarten or Kindergarten and teachers is open for registration. The workshop will help young learners develop coding and computational thinking skills using storybook-themed activities. The workshop is free and takes place July 24-28 at the Fort Worth Museum of Science and History. Kids can be registered athttps://bit.ly/utacodingcamp. Teachers can register at https://bit.ly/utastorycoding.
Children will participate daily from 11 a.m. – noon. Teachers who sign up will participate daily activities from 8:30 – 12:30 p.m., as well as monthly follow-ups in the fall. Teachers will also receive a $1,000 stipend. Registration is free for both groups but available on a limited basis.
The workshop is designed to give children the foundation for basic coding skills through books such as The Very Hungry Caterpillar by Eric Carle and Dragons Love Tacos by Adam Rubin. Each day's events will include read-alouds, anchor chart activity, story coding on coding sheets, story coding on a life-sized coding mat, and story coding with codable robots.
"Coding is one of the best tools to promote children's computational thinking," said Dr. Joohi Lee, one of the workshop leaders and a professor of early childhood and elementary mathematics education.
"It's a fun activity, but it also helps young learners develop their STEM skills both now and in the future. And for the teachers, it's like giving them the opportunity to do field-based testing with an activity they can later incorporate it their classrooms." The children will also practice literacy, such as reading and story re-telling; and math skills, such as rational counting, sequencing, and one-to-one correspondence. In addition, the organizers integrate songs, arts and crafts into the activities.
The camp is part of a research study led by Lee, along with three other faculty members in the College of Education — Dr. Robin Jocius and Dr. Kathryn Pole, who both teach literacy studies courses, and Dr. Candace Joswick, a mathematics educator. It is funded with a $67,500 grant from the Sid Richardson Foundation with support from the Fort Worth Museum of Science and History.
Central questions for the study include how children learn through story coding, how teachers can support students through story coding, and how story coding supports early childhood education.
"The research for coding stories in there, but the structure for how teachers can systematically use it in the classroom is not," Lee said.
She added that there is limited data about how story coding toys support the long-term trajectory of a young child's computational thinking skills.
"What we want to do is to build a structure of story-themed coding within a developmentally appropriate framework," said Lee. "There are a lot of commercialized children's products, like toys, already on the market for coding. Our question is how we as early childhood educators integrate these codable robots/toys in a meaningful way by integrating children's books to develop children's computational thinking?"