EE Makerspace Expansion
UTA's Electrical Engineering Department is expanding and improving its makerspace.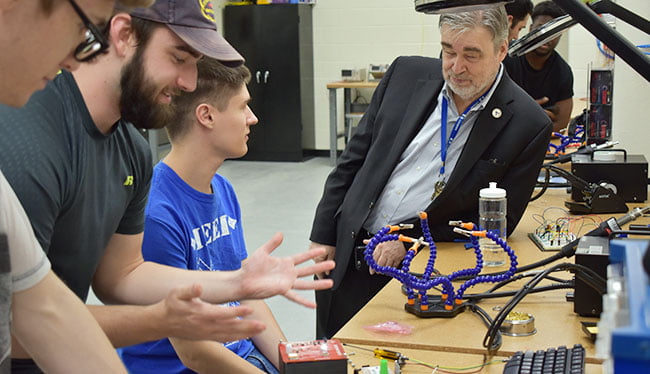 In support of its new "career-ready" curriculum, the Electrical Engineering Department is working to upgrade its current makerspace and create a "design corridor" for students to work on design projects and explore new ideas outside the lab during off hours.
Beginning in the Fall 2021 semester, the department will have equipment in place that will enable students to complete projects, develop prototypes for competitions and explore their entrepreneurial ideas. All lab spaces will become open labs for all EE students.
"This investment will bring unique and powerful capability to our students, providing them access to industrially-relevant equipment on par with more wealthy universities. Furthermore, it will ignite student organizations such as HKN/IEEE to support hands-on training and competitions and serve as a powerful resource to support our entrepreneurs and MavPitch groups. With additional investment from alumni and donors, we hope to make our department renowned for its infrastructure and student preparedness," said Department Chair Diana Huffaker.
The proposed design corridor occupies a space of 7,545 square feet with space for:
IEEE student meeting and tutoring services
Four workstations for project development
Printed circuit board mills and 3D printers
Three open lab/design rooms
A tool shop for design projects
Professional PCB mill and masking/stenciling stations
The department is working to obtain new equipment to replace obsolete machines with state-of-the art, high-frequency electronics and powerful computing systems to support industry standard software and expanded access for students to explore real-world projects associated with their design labs. This investment will expand the student experience with industry-relevant high-frequency processes into 4G/5G applications, satellite communications and RF power electronics. Given current interest in photonics, the department also will include photonics and sensor projects supporting Internet of Things, biosensing and energy harvesting.
Even with existing equipment, individual students use the space to solidify curriculum concepts, student organizations use it to prepare for regional competitions, and the department's Engineering Technician, Todd Kelley, organizes special training workshops for underclassmen and specialized clinics on topics such as design for manufacturing (i.e., costs, size, weight, power).
Your support of the Electrical Engineering Excellence Fund can help enhance these design spaces. To donate, please contact J. G. McLaughlin at mjgm@uta.edu or 817-272-5216 or donate online.