IDEAS Center helps students succeed
IDEAS Center named Star Award finalist by Texas Higher Education Coordinating Board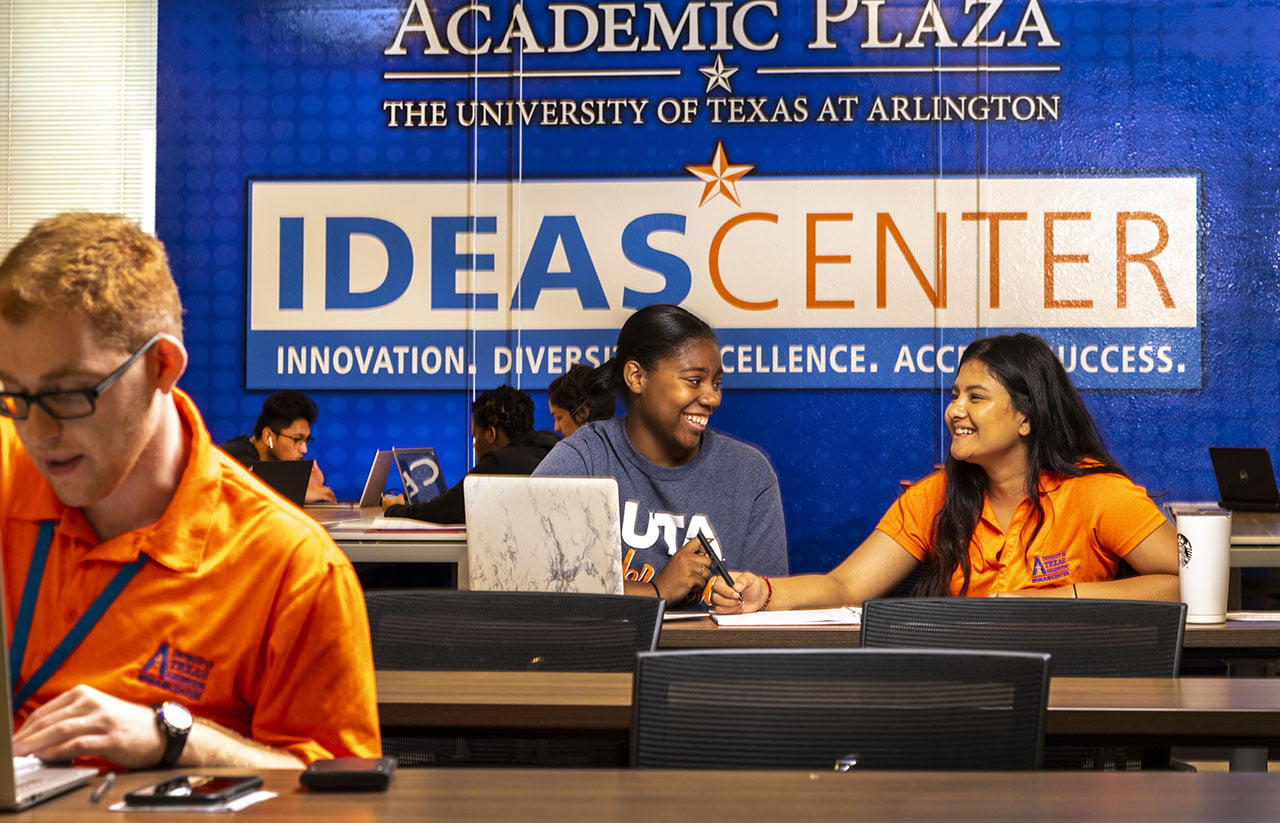 On the second floor of the Central Library at The University of Texas at Arlington, the IDEAS Center is a hub of activity, with students talking over laptops, scribbling in notebooks and sharing ideas and notes on whiteboards.
The IDEAS Center—which stands for Innovation, Diversity, Excellence, Access and Success—aims to support first-generation college students, transfer students, veterans, sophomores and students re-entering school after a break. It began in 2015 thanks to a grant from the Department of Education and diligent work from lead researcher Maria Martinez-Cosio, associate vice provost for faculty affairs. Now the IDEAS Center is receiving statewide recognition for its success in tutoring and mentoring students.
The Texas Higher Education Coordinating Board named the IDEAS Center as one of seven finalists for the 2019 Star Awards, which recognize programs for "exceptional contributions toward meeting one or more of the goals of the Texas higher education plan." There were 45 nominations this year. Winners will be announced Nov. 22 during the annual Star Awards luncheon.
These targeted student populations needed a place where they could find the support they need to grow," said Jennifer Luken Sutton, IDEAS Center director and co-principal investigator on the original grant. "We are honored to be recognized for our staff's hard work and the commitment to the center that has taken place over the past four years."
The IDEAS Center uses a peer-to-peer approach, offering free tutoring and mentoring to UTA students undergoing a transition to a four-year university. Along with peer educators, the IDEAS Center features online support services to students and faculty development to increase support in gateway courses.
This place transforms the student experience in terms of opening up their eyes to the experiences, the struggles and the needs of our different student populations," said Isaiah Ross, assistant director of the IDEAS Center. "I know that the good work that happens here is a testament to the people who put it together."
Carla Amaro-Jiménez, IDEAS Center faculty coordinator and co-principal investigator, said the center also supports UTA faculty.
"In the four years of the grant, we are very proud to have partnered with over 250 faculty from across campus for this work," she said. "Some faculty have attended our professional development sessions. Others have allowed us to embed peer educators in their classrooms. Some have even served as fellows and champions of this work in their departments and colleges.
Biomedical engineering graduate student Ngan Phan, a peer educator in the center, said the mentoring in the IDEAS Center can go beyond classwork.
"The IDEAS Center provides education and knowledge for students, not only about their coursework but also about college life in general," Phan said. "Some students don't know the resources the UTA campus has until somebody tells them. The IDEAS Center is here to help."
The Star Award program highlights universities for initiating successful programs in support of the goals of Texas' higher education plan, known as 60x30TX, which calls for at least 60% of young adults in Texas to have a certificate, associate, bachelor's or master's degree by 2030. Those goals are:
Increasing the post secondary educational attainment level of the state's 25- to 34-year-old population
Increasing the number of students completing a certificate, associate, bachelor's or master's degree from an institution of higher education in Texas
Increasing the number of programs with identified marketable skills at Texas public institutions of higher education
Implementing programs or cost efficiencies that help to ensure undergraduate student loan debt will not exceed 60% of first-year wages