Transforming the student experience
UTA to invest $500,000 for Open Educational Resources
The University of Texas at Arlington is investing $500,000 to fund open educational resources (OER) led by UTA Libraries in the 2019-20 academic year, the largest award by a public academic institution in the state of Texas specifically supporting OER initiatives.
The investment is intended to increase both the affordability of college and the success of UTA students. Open educational resources are free teaching and learning materials that are licensed to allow for revision and reuse. They can be textbooks, videos, quizzes, learning modules and more.
"The high cost of textbooks places a significant financial burden on university students," said Dr. Rebecca Karoff, Associate Vice Chancellor for Academic Affairs for the UT System. "UTA has been a statewide leader in enhancing access through open educational resources, and President Karbhari's inspiring commitment of funding for OER development will make college more affordable to first-generation students and positively impact student success."
Provost and Vice President for Academic Affairs Teik Lim celebrated the opportunities the investment creates.
"Open education has the power to transform the student experience, leading to even greater opportunities for one of the most diverse campus populations in the nation," Lim said. "We hope this investment from President Karbhari demonstrates UTA's commitment to OER and sets a positive example for other institutions in Texas and beyond."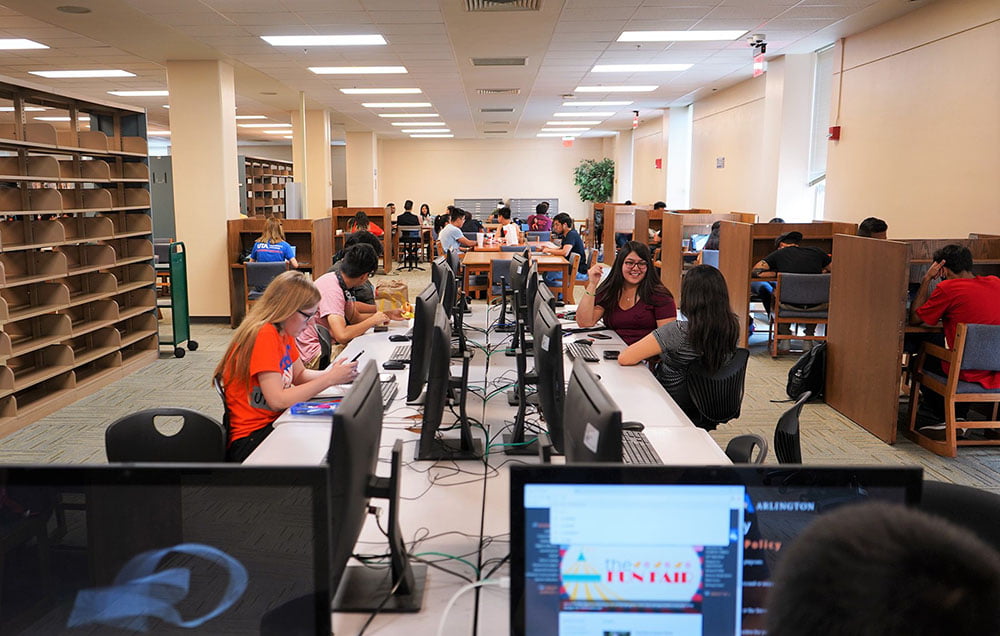 UTA Libraries has awarded 14 OER grants—ranging from $1,000 to $10,000—over the last three years through the UTA Coalition for Alternative Resources in Education for Students (UTA CARES) Grant Program. These grants provide financial support to educators adopting, modifying or creating free teaching and learning materials licensed for revision and reuse.
"UTA Libraries is honored by the president's investment in the OER program," said Rebecca Bichel, dean of UTA Libraries. "We are proud that UTA is paving the way for open education for our students and look forward to working with our campus partners to ensure students in every college and school can benefit from OER in the coming years."
Student feedback collected in courses impacted by the UTA CARES Grant Program in spring 2019 demonstrated overwhelming support for the program and expanded OER use at UTA, with 98% of students reporting that the quality of the UTA CARES materials were as good or better than traditional commercial materials. Responses also noted that the financial relief allowed them an equal opportunity to be successful in their courses.
"This new investment is affirmation and recognition of the impact our early OER adopters and creators have had over the last few years," said Michelle Reed, director of open educational resources for UTA Libraries. "Data from the grant program shows positive perceptions of OER, improved course grades and a strong desire from students for OER usage in other courses."
UTA CARES grant recipients and their projects are listed on the program website.
—Written by Alexandra Pirkle