High honor for electrical engineering professor
UTA expert in quantum optics and optical communications named Fellow of SPIE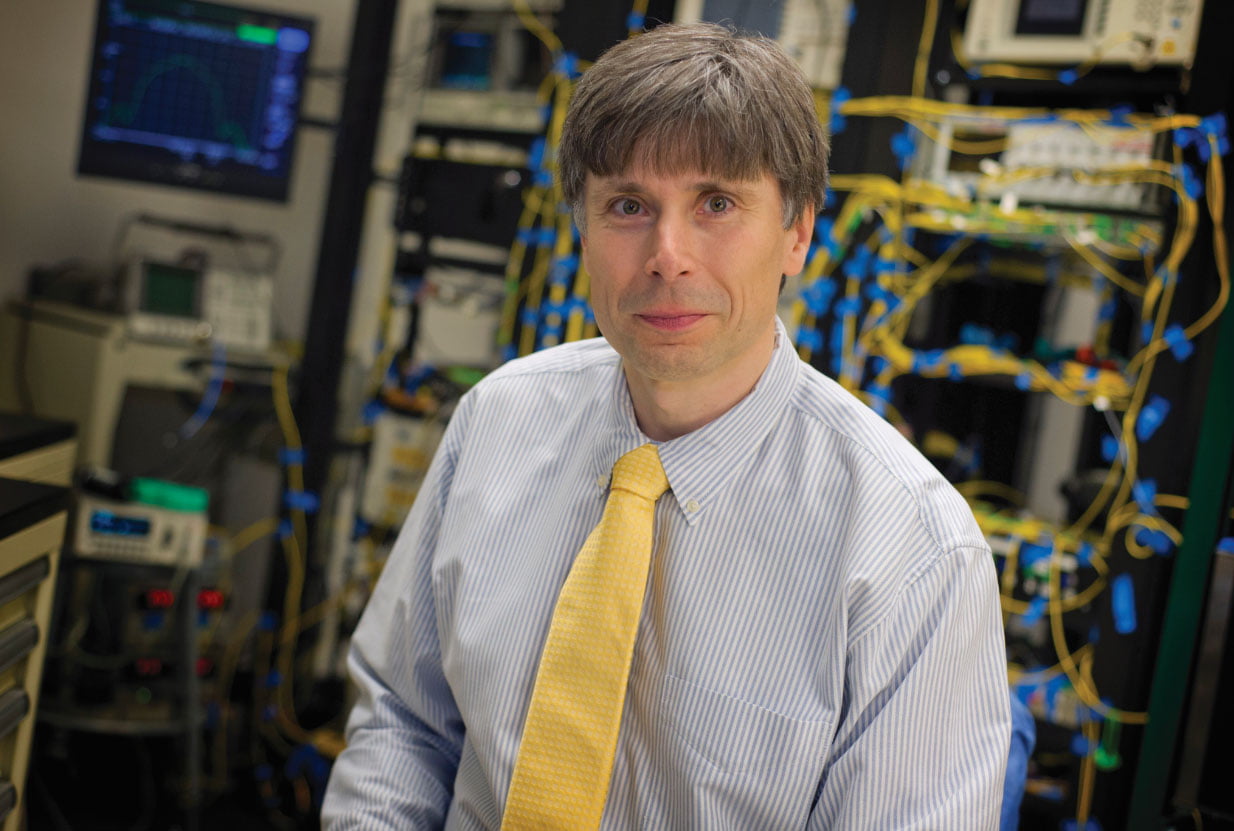 An expert in classical and quantum communications and professor of electrical engineering at The University of Texas at Arlington has been named a Fellow of the International Society for Optics and Photonics (SPIE).
Michael Vasilyev is one of 72 newly elected Fellows and was recognized for his "achievements in nonlinear-optical signal processing." He is the fourth current College of Engineering professor to be honored as a SPIE Fellow; the others are James Coleman, Robert Magnusson and Weidong Zhou.
The society, founded in 1955, has 20,000 members worldwide and serves 255,000 constituents from 183 countries.
Vasilyev said the honor recognizes the work of his students and collaborators on all-optical regenerators and phase-sensitive optical parametric amplifiers, which was published in leading optics and photonics journals such as Nature Communications.
"We have solved the fundamental problem of how to make these devices process more than one data channel at a time, which makes them relevant in practice," Vasilyev said. "The multi-channel capability can drastically reduce the cost, size and power consumption of data networks or be used for noiseless amplification of faint images."
Vasilyev, who has been at UTA since 2003, has written or contributed to more than 200 scientific papers, holds 10 U.S. and three international patents and was a recipient of the 2008 Defense Advanced Research Projects Agency Young Faculty Award. He also received the 2019 UTA Outstanding Research Achievement or Creative Accomplishment Award.
Peter Crouch, dean of the College of Engineering, said the recognition reflects the excellence of Vasilyev's work.
"Dr. Vasilyev's research bridges the gap between fundamental nonlinear and quantum optics on one side and practical high-speed communication systems on the other," Crouch said. "It is of great importance in increasing the capacity and security of data networks, as our society is critically dependent on data for its everyday functions and future progress."
UTA's Department of Electrical Engineering has a robust photonics portfolio, boasting several leading researchers in the field.
Coleman's work focuses on bringing light and electrical signals down to the integrated circuit.
Zhou works uses quantum sensors for detecting diseases and harmful gases in the air, as well as on-chip systems for use in health care applications.
Catrina Coleman works in the areas of photonic integration, semiconductor optoelectronic devices, diode lasers and mode-locked lasers.
Magnusson leads UTA's Nanophotonics Device Group, which pursues theoretical and experimental research in periodic nanostructures, nanolithography, nanophotonics, nanoelectronics, nanoplasmonics and optical bio- and chemical sensors.
Alice Sun uses lasers to build sensors that detect harmful gases in the air, as well as portable sensors that can be used in a doctor's office to non-invasively detect cancer and other diseases.
SPIE is a not-for-profit educational society organized to advance emerging light-based technologies through interdisciplinary information exchange, continuing education, publications, career development and advocacy.
— Written by Jeremy Agor, College of Engineering