UTA working with Navy on high-voltage insulators
UTA researcher working with Navy on high-voltage energy storage, pulsed power systems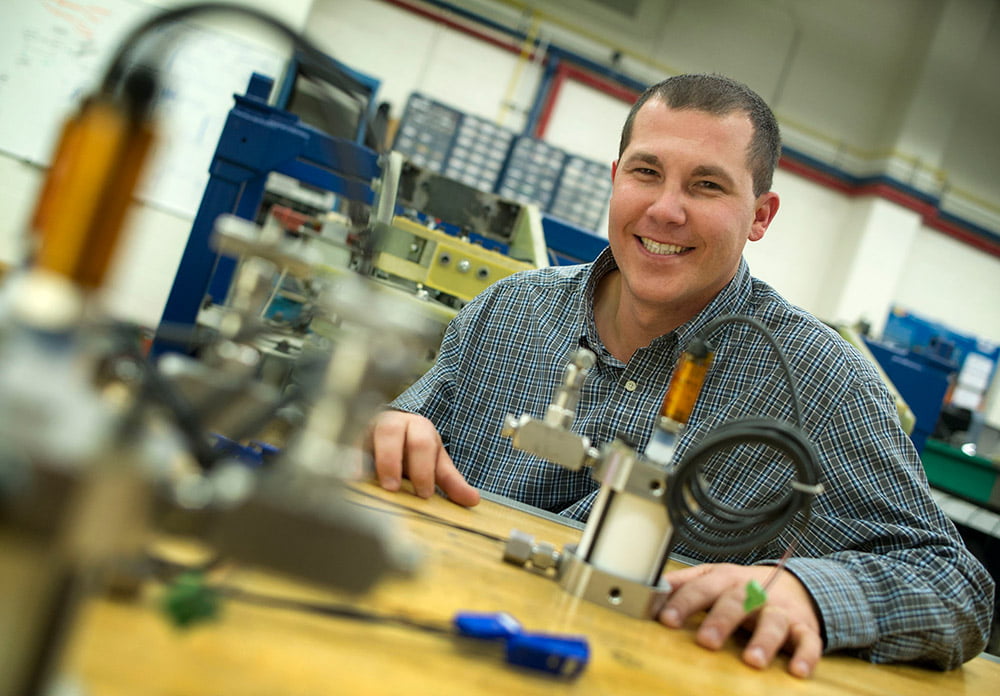 David Wetz, a professor of electrical engineering at The University of Texas at Arlington, has received a three-year, $799,000 grant from the Naval Surface Warfare Center–Dahlgren Division (NSWC-DD) to study the high-voltage dielectric insulation properties of epoxy and additively manufactured materials.
Wetz is working with the Navy team to investigate how these solid materials can be dielectrically altered to improve their insulation properties in compact high-voltage systems. There is a desire to replace traditional oil dielectrics with solid materials that are easier to work with and that have potential for reducing overall system size and weight.
"There is a lack of knowledge as to how epoxy and additively manufactured materials can be dielectrically modified to better work as high-voltage insulators," Wetz said. "If we can identify new ways to improve their dielectric properties in a controlled manner, we may be able to reduce the size and weight of the high-voltage systems they are insulating, making them more easily installed on mobile platforms."
Wetz will collaborate with a team of engineers at NSWC-DD to complete this research.
UTA has previously executed educational partnership agreements with NSWC-DD, signed in March 2019, as well as NSWC-Philadelphia (NSWC-PD), signed in September 2018. These agreements allow NSWC-DD and NSWC-PD to make their scientific, engineering, technology assets and subject matter experts available to University faculty to enhance both their research activities and the educational experience of UTA students. In turn, NSWC-DD and NSWC-PD, can involve UTA faculty and students in U.S. Navy research projects underway at the Philadelphia Division.
The grant is awarded through NAVSEA's Naval Engineering Education Consortium program, which employs project-based research at colleges and universities that targets the Navy's technology needs and cultivates a world-class naval engineering workforce via student participation.
"Dr. Wetz and the students working with him in the Pulsed Power and Energy Lab have established themselves as experts in the study of high-voltage energy storage and pulsed power systems," said Jonathan Bredow, chair of the Electrical Engineering Department. "This contract will help him to continue his strong relationship with the Navy in this critical technology area."
Wetz, who joined UTA in 2010, runs the UTA Pulsed Power and Energy Lab, which addresses issues concerning pulsed power systems as well as safety, thermal and lifetime challenges in batteries that are operated at higher-than-normal power rates to provide higher output, yet are in increasingly smaller packages. He has previously worked with NSWC-DD to study prime and intermediate energy storage devices used in compact high voltage power systems.
- Written by Jeremy Agor, College of Engineering