The show must go… online
UTA Department of Theatre Arts and Dance now streaming productions due to COVID-19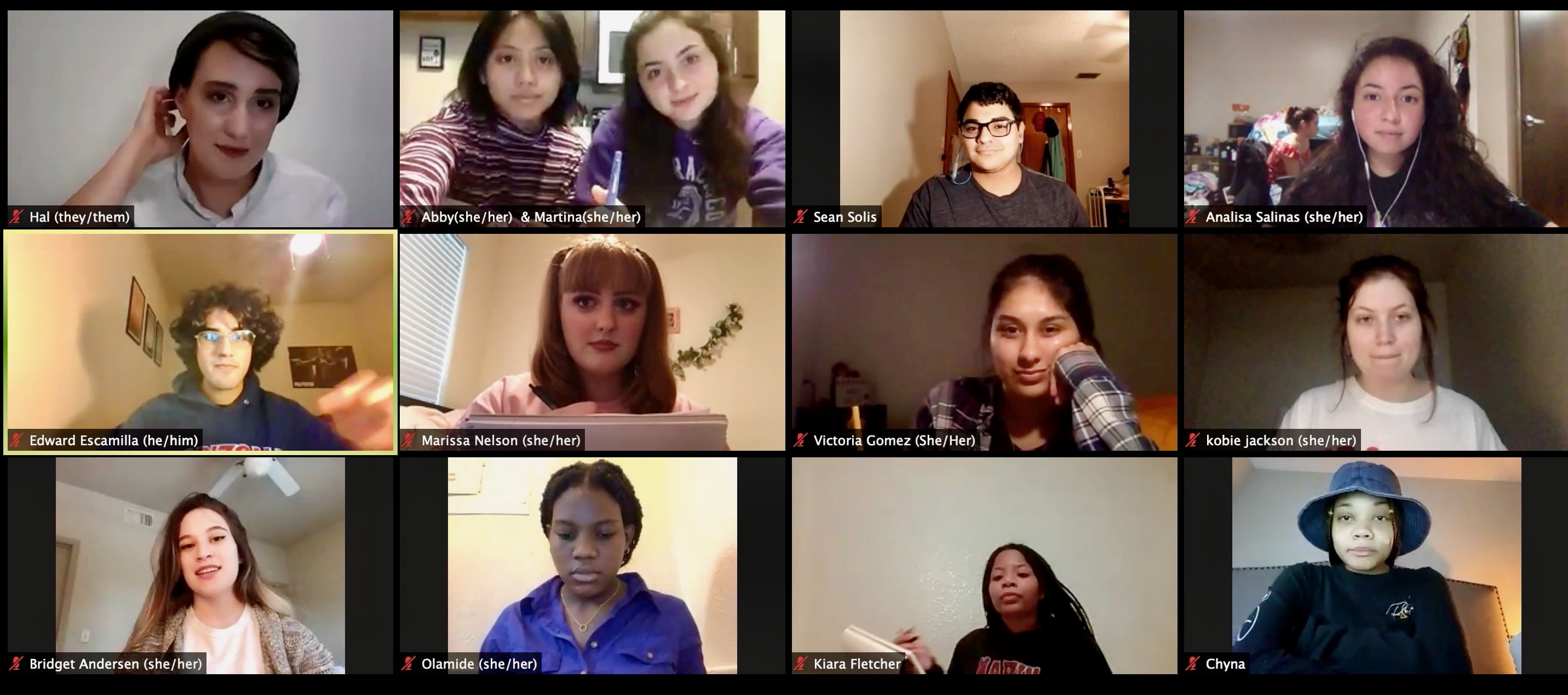 The COVID-19 pandemic has changed a lot in the arts and entertainment, including live performances.
But that's not stopping The University of Texas at Arlington's Theatre Arts program from carrying on, staging plays as well as dance and vocal performances that people can watch remotely.
Anne Healy, associate professor and interim chair of the Department of Theatre Arts and Dance, said the plan to stream student shows online is a "convergence of live theater and media."
"While we are sad our traditional format has changed, we are still very busy," Healy said. "These circumstances have set off a new paradigm, not just for UTA students but for the entire industry. Theater is reemerging across the country and here at UTA. Students are actively learning, connecting with changes in the industry and staying on the cutting edge of what's happening. The silver lining is that this opens up our work to people who would never get to come to our theater."
Maverick Theatre Company and Maverick Dance Company performances will be available to watch via video on demand for reasonable prices. Once tickets are purchased through ShowTix4U for the content, a viewer will have 48 hours to watch the performance within the dates listed for each production.
Emily Truelove, a UTA sophomore majoring in musical theater, said she understands that safety is a top priority but still feels lucky to be able to create art.
"Online streaming is the best option to keep audiences, actors and crews safe," Truelove said. "I am really looking forward to opening UTA's fall season, and for audiences to see that art is not only possible right now, but necessary and valid. We want everyone to experience what we've created."
Seven productions are currently scheduled for performances starting this month and into spring 2021. The performances will include original pieces written by UTA students centered on themes of diversity and inclusivity along with Broadway productions such as "Spring Awakening." The shows were selected in part because they easily could be modified for social distancing and online delivery.
"We want to proceed with productions in whatever way we can," Assistant Professor Austin Eyer said. "UTA students have a warm energy, and they have a great support for one another."
Eyer said the opportunities for innovation and collaboration, along with access for the public, have the Theatre Arts program hopeful that more people than ever will view one of their unique shows.
"The virtual setting has allowed us to collaborate with professional Broadway artists, which would not normally happen because of costs of getting people to UTA to work with students or they would be too busy to commit to the entire rehearsal process," Eyer said. "Now it's easier because everyone is virtual, they can join us from New York in their own living room each day. These artists have been excited to work on theatre again, since Broadway has been shut down since March. Our collaboration has been mutually beneficial for everyone."
The guest Broadway artists are helping UTA students with creative writing and creating music. Eyer is excited that they have been able to be at every rehearsal to workshop and mentor UTA students, allowing them to build skills that will last past this semester.
Analisa Salinas, a UTA sophomore majoring in musical theater, said the technical and logistical challenges have been unusual but worth the extra effort.
"We still have to keep our energy going at 100% and make the show as true and evocative as possible, even if we're not on stage or can't physically work with one another," Salinas said. "Streaming allows theater to be much more accessible, which I am very happy about, especially when it keeps everyone safe while still telling our stories."