High honor for photonics expert Zhou
UTA electrical engineering professor named fellow of the Optical Society
The Optical Society (OSA) has named an electrical engineering professor from The University of Texas at Arlington as a fellow.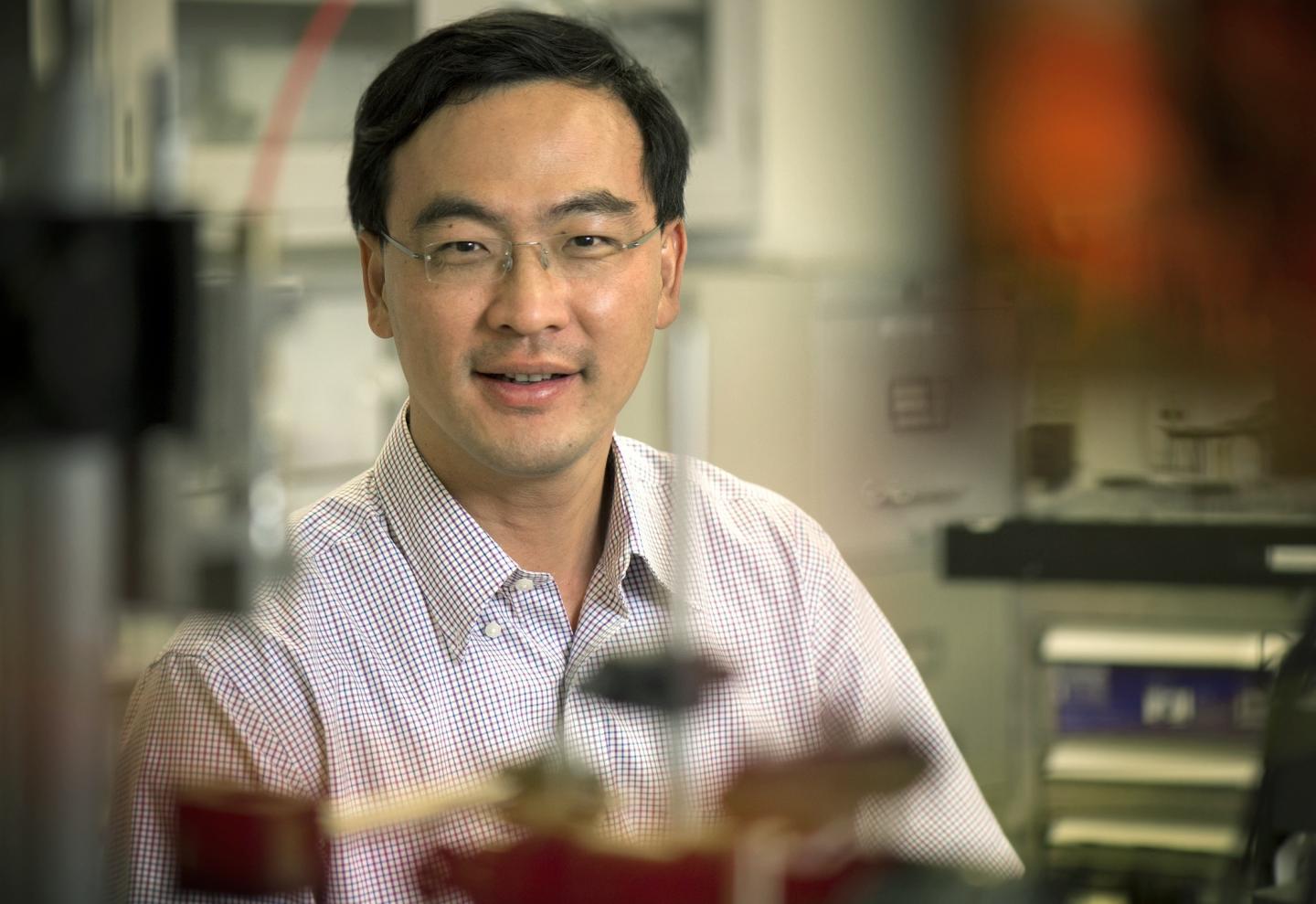 OSA, a professional association of individuals and companies with an interest in optics and photonics, recognized Weidong Zhou "for significant contributions to photonic crystal membrane lasers and hybrid nanomembrane optoelectronics."
He is the sixth UTA engineering professor named a fellow of OSA, joining Catrina Coleman, James Coleman, Diana Huffaker, Robert Magnusson and Michael Vasilyev.
"It is an honor to be named a fellow of OSA," Zhou said. "I am thankful to my colleagues, students and collaborators for their support of my research, and I am happy to be recognized for my contributions to the field of photonics."
Zhou's research involves:
using quantum sensors for detecting diseases and harmful gases in the air,

developing on-chip systems for use in health care applications, and

researching ways to create efficient, scalable lasers for silicon photonic integration in data centers and optical communications.
Zhou , who is also a fellow of the International Society for Optics and Photonics, has received several recent grants, including a Multidisciplinary Research Initiatives grant from the High Energy Laser Joint Technology Office in 2017 to develop a high-power semiconductor laser that is compact, efficient and power-scalable. A 2018 grant funds the development of an implantable optical probe that can be inserted in the brain and used to monitor brain function after traumatic injuries or surgeries, then be absorbed by the body.
Since joining UTA in 2004, Zhou's Nanophotonics Group has received more than $11 million in research grants.
The honor is well-deserved and representative of the quality of faculty in UTA's Electrical Engineering Department, said Diana Huffaker, the department's chair.
"Dr. Zhou has established a reputation as a fine researcher, and he is quite deserving of this honor," Huffaker said. "UTA is lucky to have some of the world's leading photonics experts among its faculty."
UTA's Department of Electrical Engineering has a robust photonics portfolio, boasting several leading researchers in the field. In addition to Zhou, its faculty includes:
James Coleman, who focuses on bringing light and electrical signals down to the integrated circuit.
Catrina Coleman, who works in the areas of photonic integration, semiconductor optoelectronic devices, diode lasers and mode-locked lasers.
Huffaker, whose research focuses on

advanced materials for optic and photonic devices, including advanced sensors, photovoltaics and nanoemitter/lasers with applications in space optics, infrared systems, consumer optics and quantum technologies.

Robert Magnusson, who leads UTA's Nanophotonics Device Group, which pursues theoretical and experimental research in periodic nanostructures, nanolithography, nanophotonics, nanoelectronics, nanoplasmonics and optical bio- and chemical sensors.
Alice Sun, who uses lasers to build sensors that detect harmful gases in the air, as well as portable sensors that can be used in a doctor's office to non-invasively detect cancer and other diseases.
Vasilyev, whose work focuses on

nonlinear-optical signal processing, including all-optical regenerators and phase-sensitive optical parametric amplifiers.
The OSA publishes journals and organizes conferences and exhibitions. In 2019 it had about 22,000 members—including some 300 companies—in more than 100 countries. The number of fellows is limited to no more than 10% of the total OSA membership and the number elected each year is limited to approximately 0.5% of the previous year's membership total.
- Written by Jeremy Agor, College of Engineering