Jazz Studies - Auditions Prepared Materials
The below excerpts may be used for the prepared material portion of your audition for scholarship or acceptance into the UT Arlington Jazz Studies Program. Other excerpts may also demonstrate your ability.
Please note: we discourage the use of all-region or all-state etudes for audition purposes. Performing a portion of a transcription (at least one chorus) of a recorded jazz solo on your instrument demonstrates your ability as a jazz performer much more clearly.
Saxes:
Trumpet:
Trombone and Bass Trombone:
Guitar:
Piano:
Bass:
Drums:
Questions on the suitability of your excerpt?
Timothy Ishii,
M.M. University of North Texas
Department of Music
Professor, Jazz Studies Area Coordinator
Area: Jazz Studies, Saxophone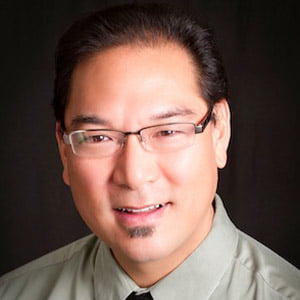 Bio: Tim Ishii has been Director of Jazz Studies at UT Arlington since 2004. Under his direction, the Jazz Orchestra has performed in Mexico City, Germany, Hawaii, Kansas, throughout Texas and the surrounding Dallas/Fort Worth Metroplex. In 2007 the Jazz Orchestra was selected to perform at the Texas Music Educators Conference in San Antonio, Texas and in 2009 the band was awarded the "Gene Hall" award as the Outstanding Collegiate Band at the University of North Texas/City of Addison Jazz Festival which included bands selected by taped audition from coast to coast. Tim is active as a clinician and has conducted numerous high school and college honor bands in Texas, Oklahoma, New Mexico, and Oregon. In December 2014, he appeared as guest artist with the Iolani High School Jazz Band (Honolulu, Hawaii) in Kobe, Japan performing at the Konan Boys High School Winter Jazz Festival and Konan Women's University. He is Past President of the Texas Jazz Educators Association and is Co-Music Director for the Hawaii Jazz Institute, a joint collaboration between the University of Texas at Arlington and the Iolani School in Honolulu, Hawaii. As part of the 2015 Hawaii Jazz Institute, the UT Arlington Jazz Orchestra performed aboard the USS Missouri battleship that is now docked at Pearl Harbor, Hawaii. In addition, Tim and the UT Arlington Jazz Faculty performed and provided educational enrichment at the 2015 Maui Jazz Festival. In May of 2016, Tim was invited to give big band clinics in Detmold, Germany at the Hochschule Fur Musik and also presented a master class to area saxophonists at the Haus Die Musik in Detmold. In October of 2016, Tim along with fellow UTA Jazz Faculty and students traveled to Stockholm, Sweden to finalize arrangements for a Study Abroad Exchange program with the Royal College of Music. The group also was invited to participate in the 2016 International Jazz Education Festival hosted by the Shanghai Conservatory of Music. In June of 2016, Tim, the UT Arlington Jazz Faculty, and Jazz Orchestra returned to Hawaii to work with students from the Honolulu area in the Hawaii Jazz Institute. Since 2016, the UT Arlington Jazz Area has continued outreach efforts in Hawaii, Sweden, Germany, and China. The UT Arlington Jazz Program is proud to sponsor the Eddie Gomez Trio in Residence each fall and spring semester. Tim maintains an active freelance and clinician schedule. Tim is an Artist/Clinician for Conn-Selmer and D'addario.