Master of Music in Music Performance
TOEFL
Applicants whose native language is not English must demonstrate proficiency in English by earning a score of at least 550 on the paper-based Test of English as a Foreign Language (TOEFL) or a score of at least 213 on the computer-based test, or a minimum score of 40 on the Test of Spoken English (TSE). The Internet-based TOEFL examination (TOEFL iBT) will be accepted as an alternative to the paper and computer-based TOEFL for admission purposes. Students taking TOEFL iBT must attain a minimum total test score of 79. Those who do not meet the English proficiency requirement must satisfactorily complete courses in the ESOL area, as approved by the program and the Graduate School.
To be considered for a Graduate Teaching Assistant position, a student must score 23 on the Speaking portion of the TOEFL iBT, 45 on the TSE, or 7 on the Speaking section of the IELTS.
Admissions
Audition
Applicants must audition in-person or submit a video with repertoire of at least college senior recital level as determined by area requirements.
Graduate Advisor
Dr. Andrew Eldridge,
D.M.A. Texas Christian University
Department of Music
Assistant Professor of Percussion and Graduate Advisor
Area: Percussion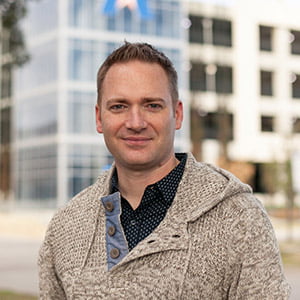 Bio: Dr. Andrew Eldridge is Coordinator of Percussion and Graduate Advisor at the University of Texas at Arlington. Prior to UTA, Andrew taught percussion and music theory at Texas Christian University, and taught percussion at Texas Wesleyan University. Andrew's musical interests lie at the intersection of percussion and electronics. His recent musical experiments combine live-looping acoustic percussion in Ableton Live controlled with midi controllers. Andrew also enjoys creating music with mobile music set-ups that are accessible to the general music lover. Under his direction, the UTA Percussion Ensemble was selected to present the New Literature Session at the 2017 Percussive Arts Society International Convention (PASIC). The ensemble also performed a Showcase Concert at the Texas Music Educators Association (TMEA) annual convention in February 2017. Andrew served as an instructor for the TCU drumline that received First Place and the prestigious Fred Sanford Award in the 2012 PASIC Indoor Drumline Competition. He was awarded Most Influential Teacher for 2011 while teaching as Director of Percussion / Assistant Band Director at Rockwall-Heath High School in Rockwall, Texas. Prior to UTA, Andrew taught theory at Texas Christian University and percussion at Texas Wesleyan University, and has also held full-time staff positions at Birdville High School, North Richland Hills, Texas; Kaufman High School, Kaufman, Texas; and Naaman Forest High School in the Garland Independent School District. Andrew serves on the Percussion Ensemble Committee for the Percussive Arts Society. He served a three-year term on the Lone Star Wind Orchestra Board of Directors, and has been performing with the group as a section percussionist since 2009. Andrew was selected to present a clinic on crowd-funding at the 2013 Midwest Clinic and 2014 Texas Music Educators Association annual convention. Most recently, he was selected to present a clinic called "Launching the MIDI Controller into the Music Curriculum" at the 2018 Texas Music Educators Association annual convention. An avid performer of new music, Andrew has individually commissioned and given the world premieres of music written for percussion by Dan Welcher, Kyle Kindred, Dwayne Rice, Martin Blessinger, Ryan George, and David Maslanka. The UTA Percussion Ensemble commissioned and gave the world premieres to music by Nathan Daughtrey, Francisco Perez, and Michael Varner. Additionally, he was a finalist in the 2012 and 2014 Southern California International Marimba Competition, a semi-finalist in the 2013 Great Plains International Marimba Competition, and awarded 2nd place in the 2002 PASIC International Multi-Percussion Competition. As an arranger, he wrote the drumline parts for the 2004 Fed-Ex Orange Bowl and 2006 Chick-fil-A Peach Bowl. Andrew holds a Doctor of Musical Arts degree in Percussion Performance from Texas Christian University, a Master of Music in Percussion Performance from the University of Illinois - Urbana-Champaign, and a Bachelor of Science in Music Education from Texas A&M University – Commerce. He proudly endorses Yamaha Percussion, Vic Firth Sticks and Mallets, Remo Drumheads, and Sabian Cymbals.
Admissions Standards
The Master of Music program is designed for the student who has a Bachelor's degree in music or its demonstrated equivalent. See the curriculum for the Master of Music Graduate Catalog

View Graduate Catalog