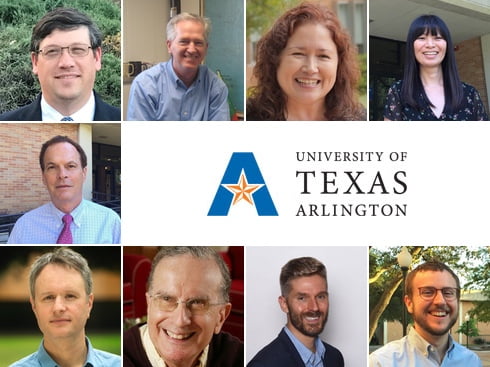 Meet Our Faculty and Staff
We are a community of scholars dedicated to the discovery and dissemination of knowledge, to our students, our peers, and the public. We are experts not only in our subject areas and techniques of inquiry, but also in effective, engaging pedagogy. We care deeply about and are committed to the success of our students in and out of our classrooms, and during and after their programs of study.
Faculty
Interests: American political institutions, judicial politics, state politics, and elections
Interests: American politics, judicial politics, and public opinion.
Interests: American politics, public administration
Christopher Chambers-Ju,
Ph.D.
Interests: Comparative politics, Latin America, political economy, education policy, labor politics.
Dr. Rebecca Deen
Associate Dean for Academic Affairs
Bio:: Dr. Rebecca Deen is an Associate Professor of Political Science and Associate Dean of the College of Liberal Arts at the University of Texas at Arlington. An expert in women in politics and civic engagement, the US presidency, and effective pedagogy, her current research investigates the relationship among civic engagement, political recruitment and volunteerism. She had held leadership positions with the American Political Science Association, chairing the Committee on the Status of Women in the Profession, the Committee on the Status of Asian American/Pacific Islanders in the Profession, and the Search Committee for the editors of PS, one of the Associations lead journals. Raised in southern Ohio, she is a graduate of Denison University (BA Political Science, minor in French) and The Ohio State University (MA, PhD). An active volunteer, she has served on the executive board of the PTA of each of her son's schools and the Lamar Band Booster Club, and on the AISD's Citizens Bond Oversight Committee. She is also on the Arlington Junior League's Community Advisory Board. In her free time, she enjoys spending time with her family, her cats, and her knitting – usually all at once.
Interests: Race and ethnicity politics, political representation, and political theory
Interests: American government, public opinion, campaigns and elections
Jack Brandon Philips,
Ph.D.
Interests: Public Administration, Public Policy, Nonprofits, Latinx Issues.
Interests: International relations, foreign policy analysis (decision-making, identity, emotions), Middle East, Israel, Turkey, politics of Jewish identity
Interests: Health policy, American political development, bureaucracy, social policy
Political Science Staff
Emeriti Faculty
Allan K. Butcher
Mark Cichock
Jill Clark
Jose Angel Gutierrez
Joseph Ignagni
Dale Story
Adjunct Faculty and Lecturers
Kimberly Caraway
Mark Cichock
Mike Farris
Gregg Gleichert
Bobby Gomez
Nikki Horn
Thomas Little
Olivia Llanes
Michael W. Morris
Brian Whitmore
Michael Williams
Staff
Kim Bell - Administrative Assistant II
Mary Ann Lewis - Administrative Assistant
Kimberly Caraway - Academic Advisor (Undergraduate)
Monica Mendoza - Student Assistant