CAPPA senior design project aims to reduce residential footprint
In the shadows of much larger construction projects like the Science and Engineering Innovation and Research Building and residence hall-dining hall-parking garage projects on the west side of campus, a smaller development is taking shape that molds student minds as they head out into the professional world.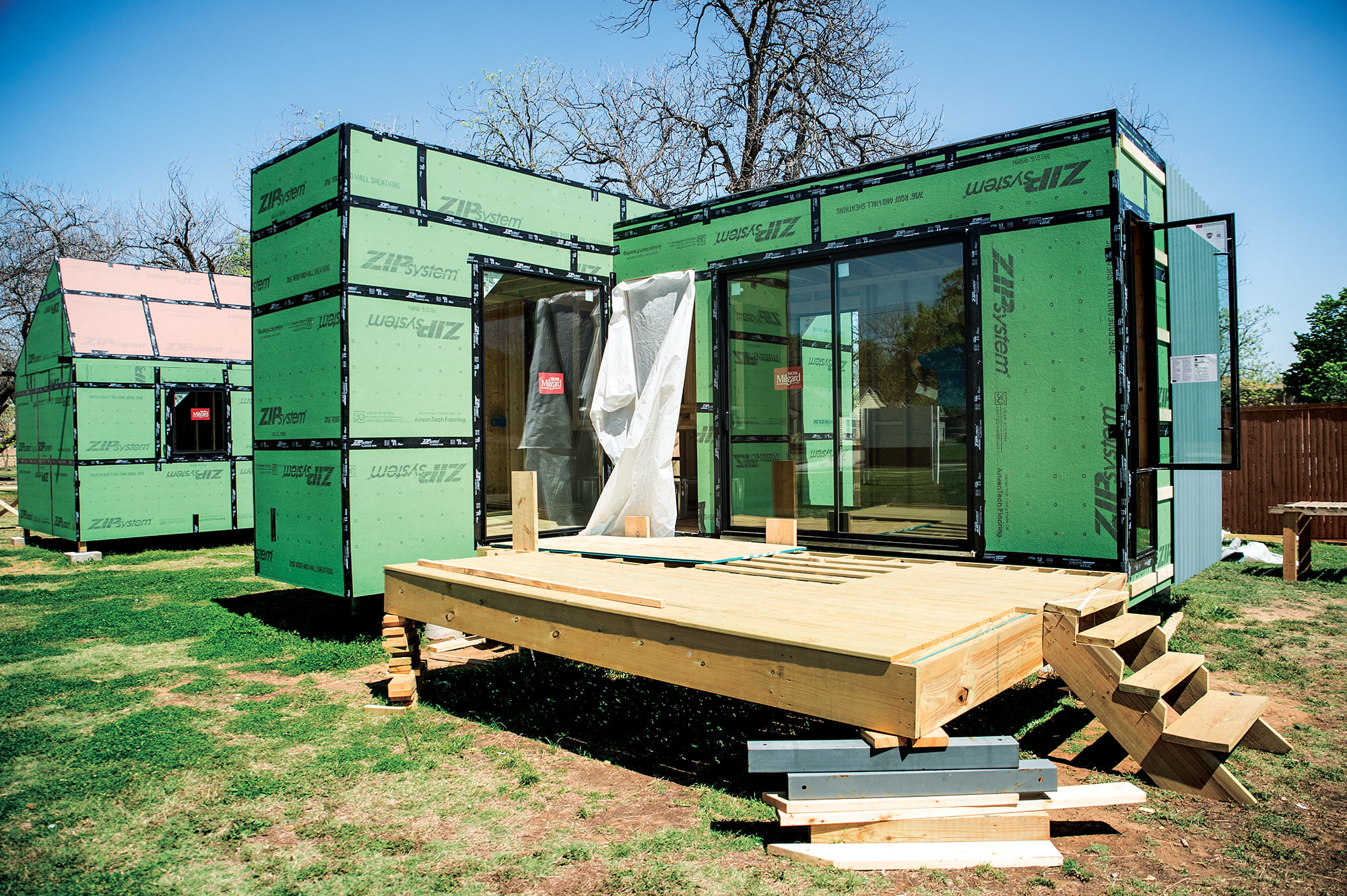 Students from the College of Architecture, Planning and Public Affairs are building tiny houses as their senior design projects on Davis Street, between Greek Row Boulevard and UTA Boulevard.
How small?
One house is only 360 square feet and the other dwarfs the first coming in at 390 square feet. In their coursework, faculty and students are calling the structures micro houses.
"I've always wanted to do this kind of project with the students," said Brad McCorkle, a UTA architecture lecturer for the last two years and an alumnus. "It's the first time UTA has done something like this. We hope to sell these two units once they're completed and fund future projects for Parallel Construction."
Parallel Construction is the name of CAPPA's design/build program, now in its fourth semester, offering students the opportunity to literally get their hands dirty, as they design and build projects.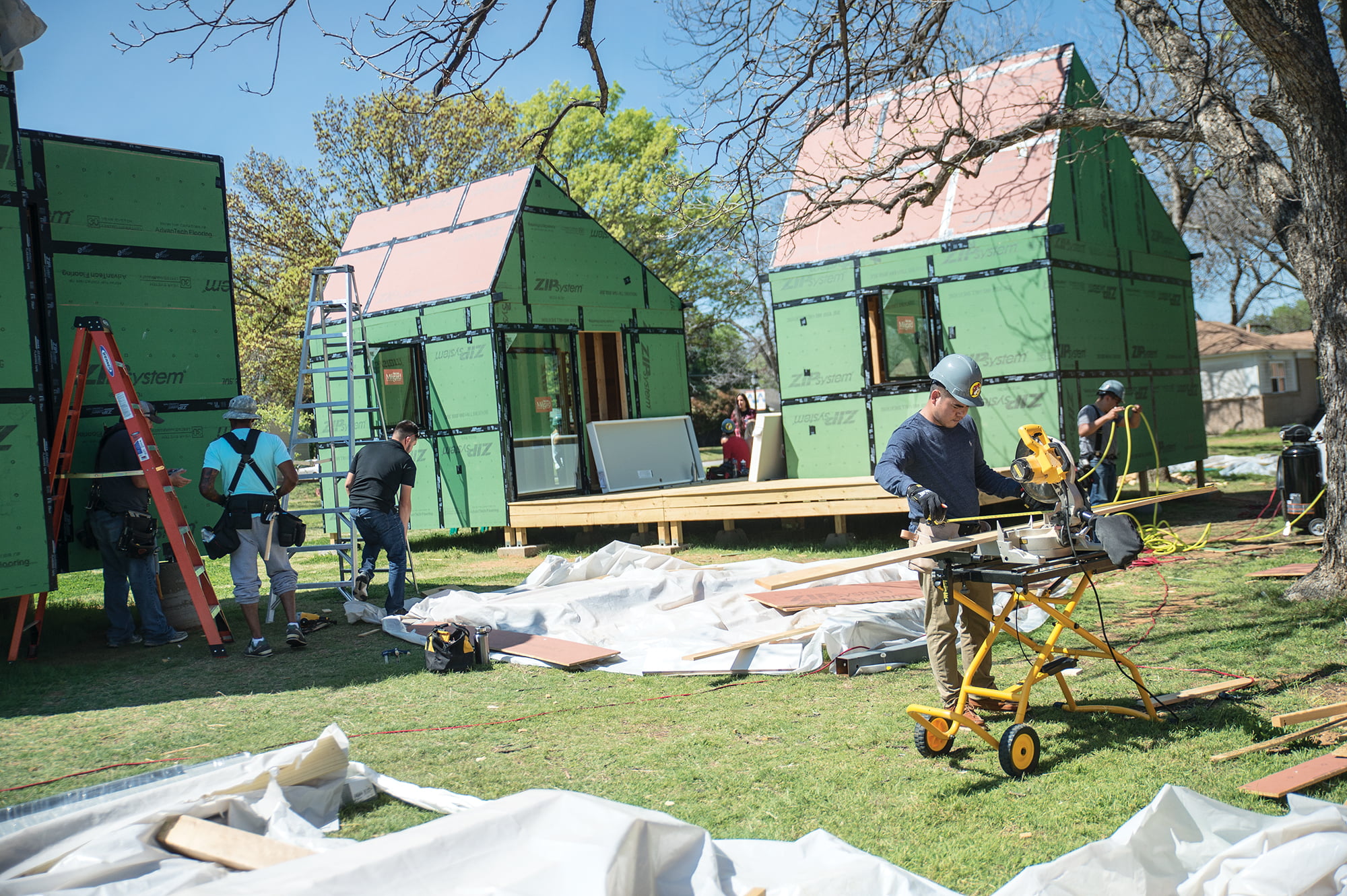 McCorkle said the tiny houses have received some interest from non-profit organizations and private individuals who have odd-sized residential lots where structures like these make sense.
Tiny houses are the rage, due in some part to cable television shows that have promoted the trend. HGTV has Tiny House Builders, Tiny House Hunters and Tiny House, Big Living. FYI, the cable network, started Tiny House Nation and Tiny House World. Other networks have run several specials on the phenomena.
What the students like about the project is that it translates to real-world experience.
As seniors, architecture students have several options for their senior year: a traditional design studio, a research studio or the design/build studio.
"We have to take this project and have a design, construction documents, a budget and then build it," said Omar Soto, a project manager on one of the tiny houses.
Cosette Meyer, a co-project manager with Soto, said being involved through each phase of project from design to construction is vital experience for the professional world.
"There are real-world implications with each decision we make," Meyer said. "Deciding on certain hardware has an impact on the bottom line. We need to take all of that into account."
Adam Fogel, the project manager for the other tiny house, said students learn on this job site what works and what doesn't.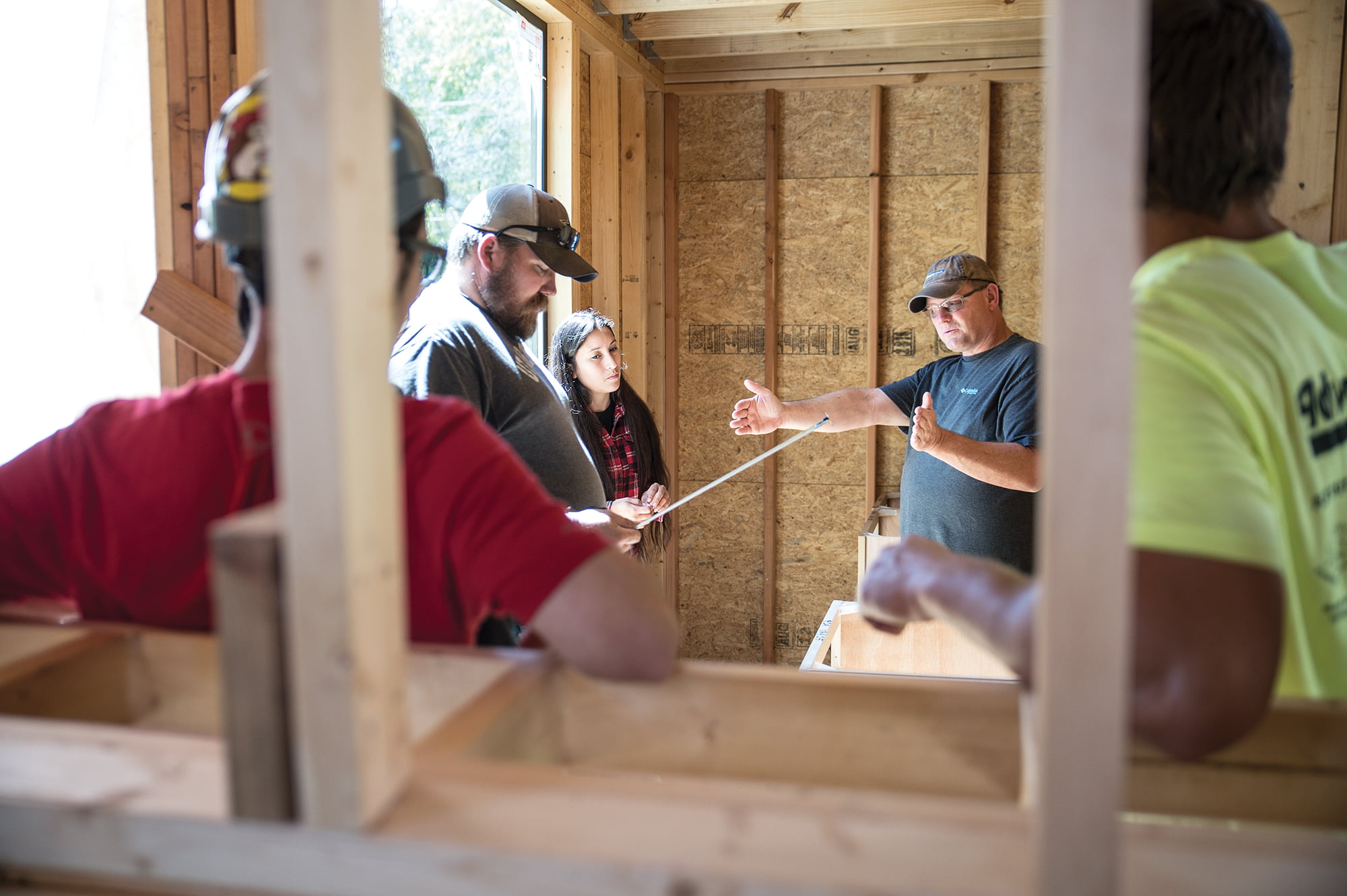 "In the lab, you can change things on the computer until it works," Fogel said. "Out here, you should be fairly certain what will work before you start nailing or putting in insulation or something else that is permanent. You have to answer questions like: 'Where do you make sacrifices?' 'Is your design for the sake of cost?' and 'What impact will locating an electrical outlet here have?'"
CAPPA Dean Nan Ellin said the design/build studio has been popular. She said next year, CAPPA is working with the Tarrant County Housing Authority to design and build a single-family home in Arlington.
"These kinds of projects help students understand certain elements of building sustainable urban communities, one of the pillars of UTA's Strategic Plan," Ellin said.
McCorkle also said the two tiny houses use high-efficiency HVAC units and will be sprayed with a high rated insulation. The units also have metal skins that reflect a large amount of radiant heat. Those metal roofs allow for the addition of rainwater harvesting and solar energy, he said.
McCorkle said the units are mobile, too.
"You can take off the roofs and transport them," McCorkle said. "In fact, we're seeing if we can afford to get them to the Earth Day event at Fair Park in April. Even if we can't move them there, we will have some sort of presence at the event."
While CAPPA is still looking for sponsors or donors to help move one of the units for Earth Day or purchase the tiny houses, vendors have already contributed a lot for the projects.
Audrey Poole, senior specifications project manager for Architectural Lighting Alliance or ALA, was giving presentations to the student teams last week on lighting options in the tiny houses.
"I sure wish a program like this was around when I was a student here," said Poole, who has her undergrad and master's degrees from UTA.
Besides ALA, other vendors donating time or materials include: Milgard Windows and Doors, Daikin, Huber Engineered Woods, Tom's Mechanical Inc., ABC Imaging, Delta Millworks and Topping Out.
About The University of Texas at Arlington
The University of Texas at Arlington is a Carnegie Research-1 "highest research activity" institution. With a projected global enrollment of close to 57,000, UTA is one of the largest institutions in the state of Texas. Guided by its Strategic Plan 2020 Bold Solutions|Global Impact, UTA fosters interdisciplinary research and education within four broad themes: health and the human condition, sustainable urban communities, global environmental impact, and data-driven discovery. UTA was recently cited by U.S. News & World Report as having the second lowest average student debt among U.S. universities. U.S. News & World Report lists UTA as having the fifth highest undergraduate diversity index among national universities. The University is a Hispanic-Serving Institution and is ranked as the top four-year college in Texas for veterans on Military Times' 2017 Best for Vets list.