UTA graduate programs ranked among the best for excellence and affordability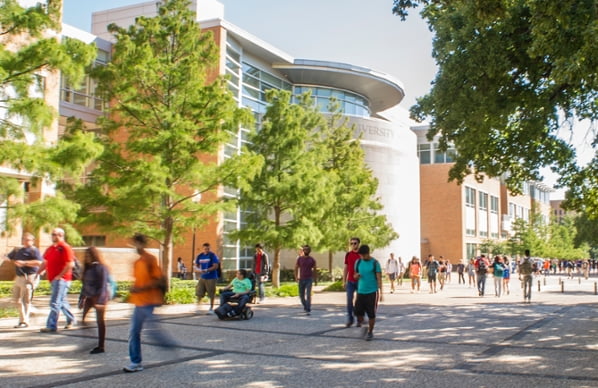 The University of Texas at Arlington's commitment to providing the highest quality education at an affordable cost is gaining national recognition as new rankings list two UTA graduate programs among the best for excellence and affordability.
College Values Online ranked UTA's online master of education in educational leadership and policy studies No. 3 in the nation among accelerated online educational master's programs. The website ranked UTA's online master of science in nursing administration No. 6 in the nation among accelerated online MS in nursing degrees.
"The College of Education continues to be recognized for its excellence in preparing exemplary education professionals," said Teresa Doughty, dean of the College of Education.  "The nation is taking notice that UTA-prepared teachers, principals and administrators are highly skilled and making a positive difference in PreK–12 education in Texas and beyond. Even more exciting is that our high quality online programs are accessible nationally at an affordable cost."
College Choice recently ranked UTA's College of Education No. 5 in the nation, No. 2 in Texas and No. 1 in the Dallas/Fort Worth metroplex for undergraduate teacher preparation programs.  The National Council on Teacher Quality listed UTA's programs in the top three percent of the nation.  Eighty-nine percent of the college's graduates are hired in the Dallas/Fort Worth area, according to the Center for Research, Evaluation, and Advancement of Teacher Education.  The Center also found that the attrition rate for UTA-prepared teachers is below the state average, with 82 remaining in the classroom after five years.  The state average is 72.5 percent.
The College Values ranking of the online master of science in nursing administration is proof of the unmatched excellence of UTA's College of Nursing and Health Innovation, the largest producer of registered nurses with bachelor of science in nursing degrees in Texas and the nation's second largest nonprofit nursing program.
UTA is a Center of Excellence in Nursing, one of only four institutions in Texas designated as such from the National League for Nursing.  U.S News and World Report's 2018 "Best Graduate Schools" list ranks the college's master's program and online graduate program among the top 100 in the nation. The pass rate for students on the advanced practice certificate exam is typically higher than 90 percent, above the national average for all programs.
"These rankings are a wonderful recognition of our efforts to fill a critical need for advanced practice nurses in Texas and across the nation," said Anne Bavier, Dean of the College of Nursing and Health Innovation.  "The rankings also validate the hard work of our talented faculty, students and administrators to create a comprehensive nursing program that is a symbol of excellence and accessibility."