UTA faculty member connects with blockchain provider Komodo to support student competition, projects, scholarships
UTA Computer Science and Engineering students will be eligible to compete for funding for scholarships and senior design projects because of a new agreement between Sajib Datta, a senior lecturer in the Department of Computer Science and Engineering, and Komodo, a leading provider of blockchain technology.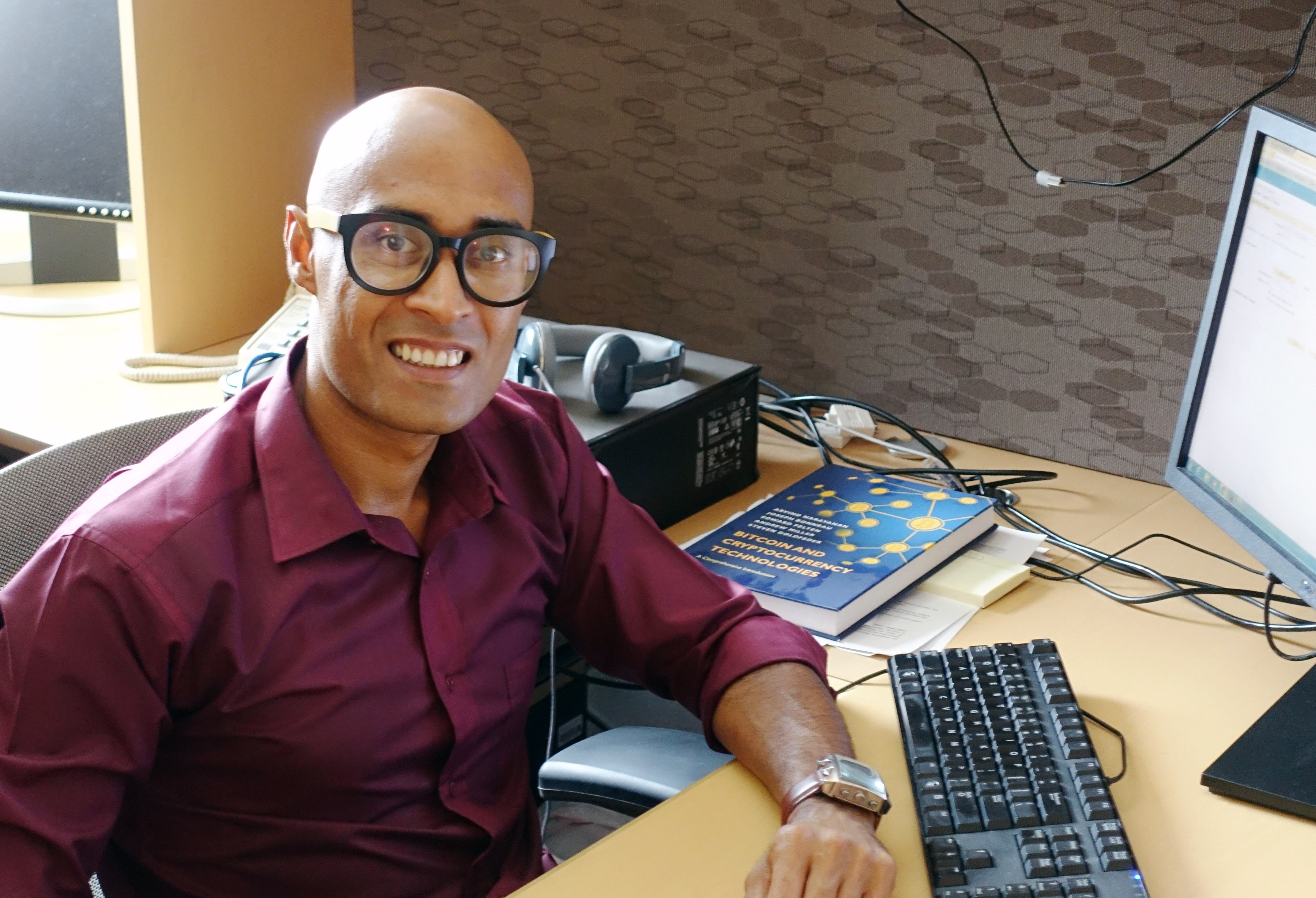 The agreement provides funding for an annual blockchain competition at UTA, funding for two senior design projects, and scholarships for two undergraduate and two graduate students for two semesters. Komodo also will provide a supporting material and resources for a new course on blockchain and cryptocurrency that Datta will teach starting in Spring 2019. These resources will allow UTA students to create apps on the Komodo blockchain as part of course projects.
A blockchain is a growing list of data, arranged in groups called blocks, which are linked using cryptography. It is a highly secure, distributed system, with data stored across millions of computers. A majority of the computers in the system must agree with any changes, so if someone hacks into a single computer in the system and changes something, the change is only made on that computer because the rest of the system will reject bogus information. Blockchains are widely used by cryptocurrencies because of their high level of security.
"I've been investing in cryptocurrency for a while, and as I started to research where blockchain and cryptocurrency technology is going. I saw that some Wall Street firms and big banks were beginning to set up teams to invest in blockchain technology and were developing their own blockchain infrastructures," Datta said. "The more I looked into it, the more I saw potential for widespread use that would impact my students. The technology needs more developers to make it more scalable and affordable, and this is an opportunity to fill a need and give UTA students an edge in the marketplace,"
Blockchains can run apps in a similar manner to those on a typical cell phone. Potential applications of blockchains include creating a transparent, secure election process that makes it easier for the entire U.S. population to participate from their own homes; improving the tax system by creating a cashless society that takes away loopholes and makes it impossible to hide cash-based income; and the secure sharing of medical records among doctors, who could ask for multiple opinions on a diagnosis.
Blockchains also give users control over their own data, so if an individual wants to sell his information, he can control who he sells it to and keep the profits, rather than being unable to benefit or control where the data is sold if an outside company holds the data.
Senior design teams funded by Komodo will develop applications for use in the company's blockchain. The students on the teams will work closely with Komodo representatives to respond to areas of need within the company, such as performance enhancement or testing.
The blockchain competition will be open to local high schools, community colleges, and four-year colleges and universities across North Texas. Students will develop apps in their blockchains to mirror popular apps in mainstream use that will make blockchains more visible and useful to casual users.
Komodo is making this investment as an investment in itself, explained Steve Lee, the company's chief marketing officer.
"Often, when an emerging technology comes to the market, it's extremely difficult to find developers with experience in the field— it's all brand-new. That's why Komodo believes it's so important to engage the young developer community by focusing on education," Lee said.
"Partnering with UTA will give students the opportunity to gain valuable experience while also allowing Komodo to benefit from the innovative mindset and creative problem-solving skills young developers bring."
Datta's work with blockchain technology is an example of data-driven discovery, one of four themes in UTA's Strategic Plan 2020: Bold Solutions | Global Impact, said Hong Jiang, chair of the Department of Computer Science and Engineering.
"Computer Science and Engineering is a constantly changing field, with new technologies emerging all the time. We owe it to our students to keep abreast of these emerging technologies and provide the students with opportunities to learn to use them. I am happy that Sajib pursued this opportunity with Komodo, and that it has turned into a mutually beneficial partnership that could establish us a national leader in blockchain education," Jiang said.
-- written by Jeremy Agor