UTA civil engineer to develop a tool to track water movement, storage and use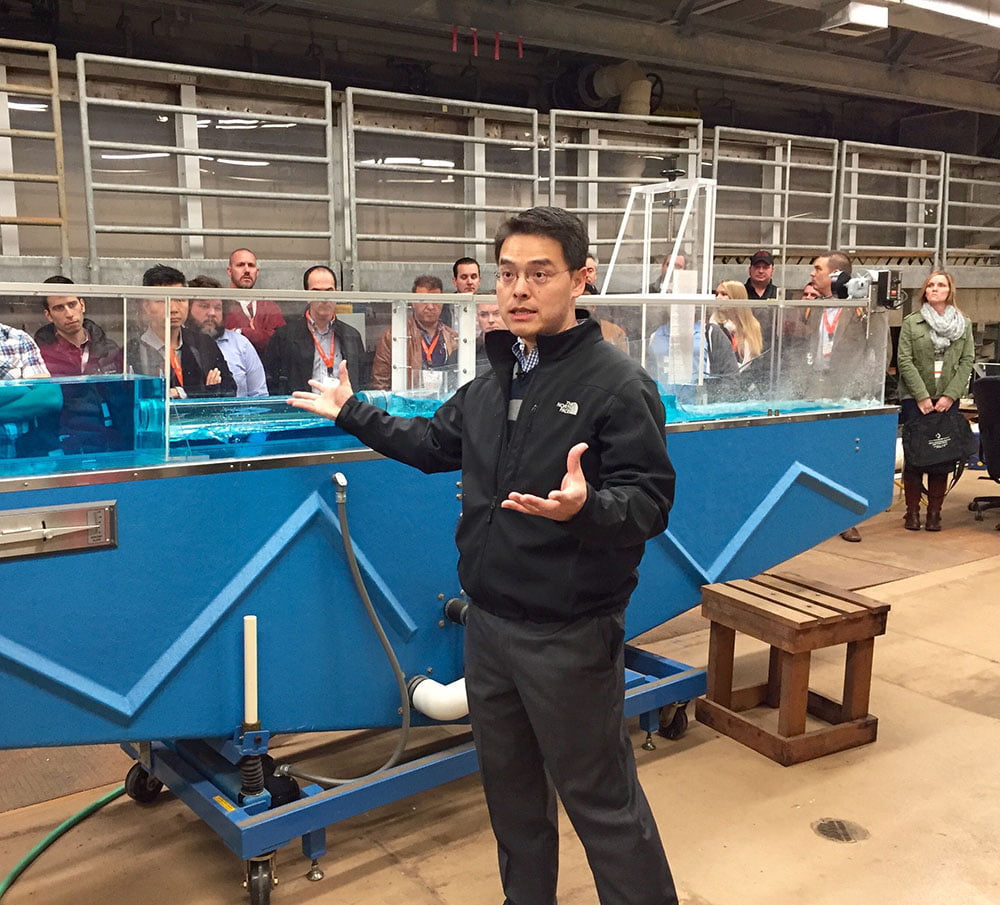 Researchers from The University of Texas at Arlington are creating a water resources modeling tool that the Trinity River Authority of Texas will use to plan water movement, storage and use.
Nick Fang, a UTA assistant professor in the Department of Civil Engineering, who received a $60,000 TRA grant for the project, will develop the water management and planning tool by using RiverWare, a modeling platform for operational decision-making and long-term planning for water reservoirs, rivers, lakes and watersheds.
Fang's research team received the same funding from TRA to start the project in 2018. The current research to continue developing the tool is funded for 2019.
The TRA, established in 1955 by the Texas Legislature, provides services to more than 60 cities in the Trinity River basin. The basin is a multi-county area with millions of residents that runs from northwest of Dallas-Fort Worth to east of Houston. The TRA's mission is to promote conservation, reclamation, protection and development of the natural resources of the river basin for the benefit of the public.

"The work that Dr. Fang and his graduate students are doing for TRA is helping to build the future of water supplies for the Metroplex," said Glenn Clingenpeel, Executive Manager of Planning and Environmental Services at the TRA. "Gone are the days of prolific reservoir-building; the future will depend upon smart, multi-agency optimization of existing supplies, and that requires a sophisticated understanding of water supply allocations and operations."
Fang said he hopes to assist in developing "short- and long-term strategies in water management and planning for the demanding needs caused by the rapid growth of the Dallas-Fort Worth region.
"Our goal is to make this tool to assist the decision-makers in water authorities like the TRA so that the process will become less of a challenge than in years past," he continued.
In addition to the research endeavors in water resources management and planning for TRA, Fang has previously worked to help Houston's Medical District stay operational through Hurricane Harvey's devastating rains with an advanced flood warning system that he developed. He has led a number of other projects encompassing a wide range of expertise, including:
Investigating the impacts from land subsidence and sea level rise on urban flooding for the Galveston-Houston region, through a grant from the National Science Foundation.
Using unmanned aerial vehicles to evaluate seashore erosion.
Producing hydrologic and hydraulic models for the U.S. Army Corps of Engineers to better cope with changing climate and land use.
Using unmanned aerial vehicles to measure ground moisture and crop growth with a U.S. Department of Agriculture grant.
Conducting in-situ soil moisture and infiltration tests for the Harris County Flood Control District (HCFCD).
Developing an advanced information dashboard for natural disaster mitigation and recovery planning with a grant from the Texas General Land Office.
The TRA project fits in with two of UTA's strategic plan themes: sustainable urban communities and global environmental impact, said Ali Abolmaali, professor and chair of the Department of Civil Engineering.
"Dr. Fang is plugged into so many hydrological projects," Abolmaali said. "Water has become the staple by which all development occurs. Without water and properly managing that resource, it's difficult to do anything. Dr. Fang's research will continue to gain momentum and funding as long as there is a need for water in Texas."