UTA research addresses evolving learning needs
As technology transforms the education landscape, The University of Texas at Arlington is on the leading edge with the development of new technologies, tools and instrumentation to better support continuous upgrading of knowledge needed to succeed in the workforce.
George Siemens, UTA professor of psychology, has received a grant from The Boeing Company to construct an integrated data infrastructure that will centralize digital learning and engagement tools. The goal is to enable a better understanding of both learning in digital environments and the personalized learning constructs needed by workers.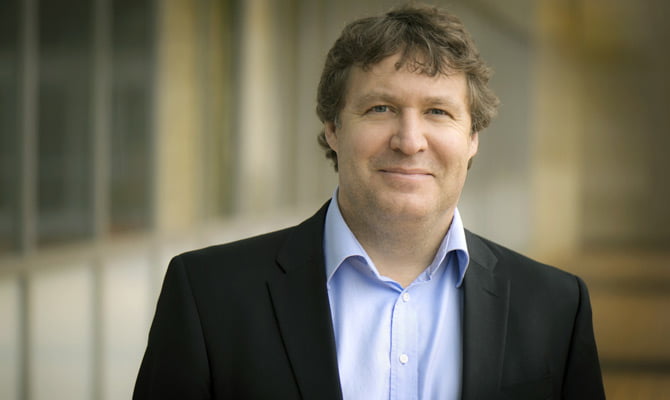 Siemens said his research endeavors to discover how people interact with technology as a cognitive peer to build knowledge and solve problems in both higher education and corporate environments.
"Technology is no longer something we just use. It has become something that thinks with us," Siemens said. "That changes almost all aspects of the learning system. We're trying to understand what the impact of cognitive technology, or artificial intelligence, is on the human knowledge development process."
The data from this eight-month research project will be used to visualize learning patterns and uncover student engagement patterns of course materials at institutions such as Indiana University and the Massachusetts Institute of Technology, as well as in professional development at The Boeing Company.
The growing need for timely and personalized learning requires broadening the type of data collected during knowledge-building processes. But existing data sources are fragmented, which can lead to lost insights.
Siemens' delivery of the integrated data infrastructure will alleviate the disconnectedness of data environments, contribute to effective profiling of learners and effectively integrate human and artificial cognition.
UTA President Vistasp Karbhari said this project is an example of UTA's focused efforts in further developing the field of learning analytics and is an important next step in the University's partnership with The Boeing Company in advancing personalized learning.
"An educated workforce is essential to the vitality of our economy, and we are committed to being on the leading edge of education as it evolves with technology," Karbhari said. "The information discovered by this project has significant potential to change how higher education balances skills development and academic knowledge transfer, as well as the consideration of post-degree learning in the workforce. Our goal is to be at the forefront in the establishment of the continuum of knowledge transfer and learning from K through Gray."
Siemens said this project comes at a time when universities and corporate organizations are adapting to the lifelong learning needs of people in the workforce.
"The need for ongoing education in a work environment driven by technology is significant," Siemens said. "However, much of our standard university structure isn't built for ongoing learning. We're trying to recalibrate our university enterprise to better understand what employees require to learn so we can meet the needs of that population."
The integrated environment created by Siemens will centralize learning platforms edX and YellowDig with the engagement platform Mattermost and other platform data sources. Data derived from the integrated infrastructure will be supplemented by user surveys, demographic data, psychological instruments and follow-up interviews to assess the integration of learning back into the work environment.
The new digital environment will contribute to the future development of interventions, adaptive learning profiles, as well as career and trajectory recommendations for professional and student users.
The new project is part of Siemens' ongoing work investigating how humans work alongside technology and how it directs student behaviors. This grant comes on the heels of Siemens' completion of a prior project funded by The Boeing Company.