UTA brings unique hypersonic wind tunnel online
The University of Texas at Arlington has brought its new arc-heated, hypersonic wind tunnel online, marking a new era in the University's long history of aerodynamics innovation and discovery.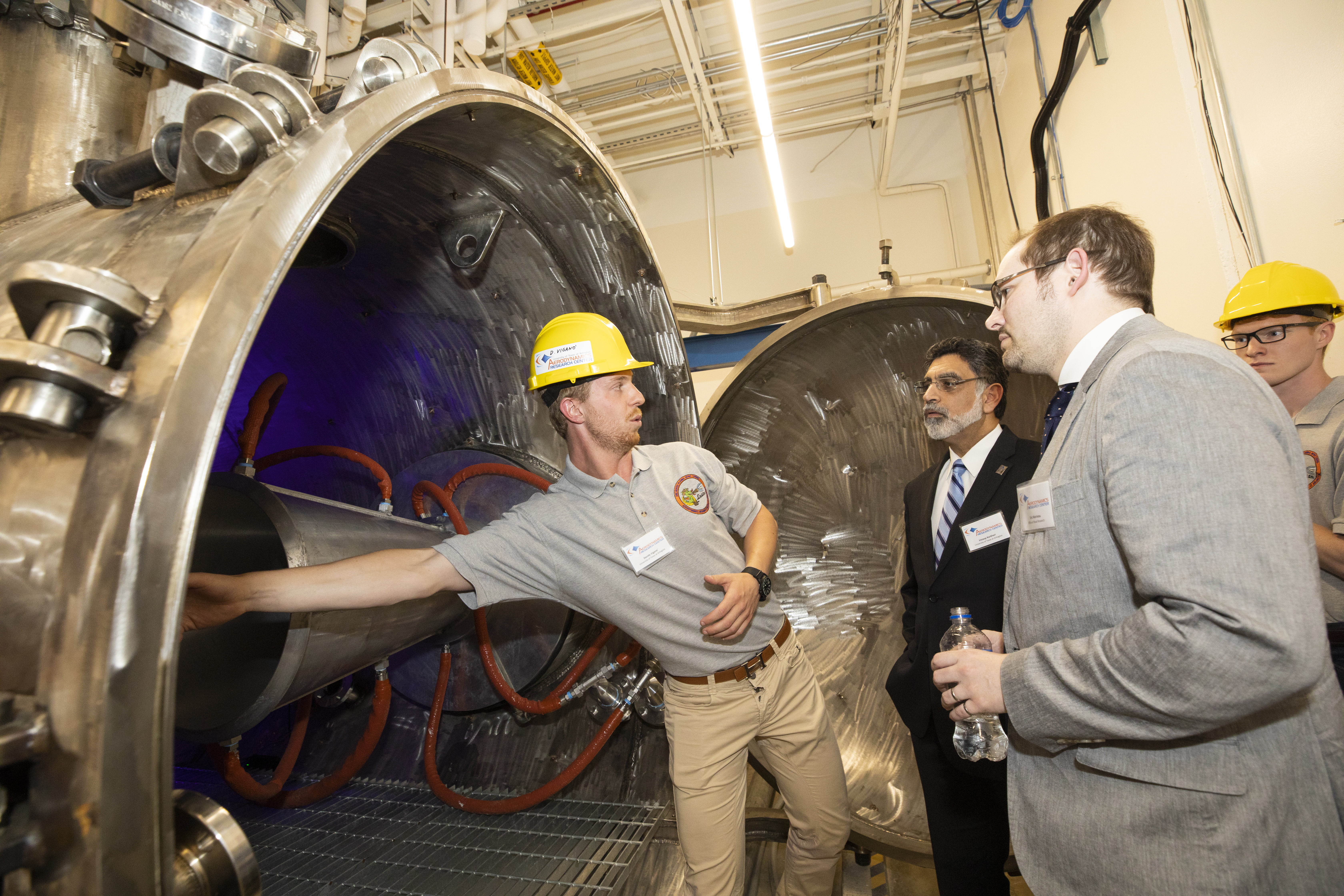 The wind tunnel, the only one of its kind in the nation at a university, underwent successful testing in June, said Luca Maddalena, UTA aerospace engineering associate professor and director of the Aerodynamics Research Center. It will immediately be put to use for research funded by $1.5 million in grants from the Office of Naval Research to develop advanced laser-based measurements of plasma flow for the study of heat shields for hypersonic vehicles,
"I'd like to congratulate Professor Maddalena and his team on reaching this milestone," UTA President Vistasp Karbhari said. "This facility will enable pioneering research to be conducted in support of national priorities in hypersonics and plasma flows stretching the boundaries of knowledge in the fields of aerodynamics and materials, and I'm thrilled to see us continue to build on the work of Professors Wilson and Lu, maintaining our position as a national leader in this area."
The wind tunnel, dubbed "Leste" after hot winds in the Canary Islands, was designed and built with a $1.01 million Defense University Research Instrumentation Program, or DURIP, grant, as well as substantial funds provided by UTA.
An additional $690,000 DURIP grant was awarded in early 2019 to purchase a femtosecond laser system, which will be the only one of its kind to be used in an arc-heated wind tunnel in the United States. A femtosecond is one quadrillionth, or one millionth of a billionth, of a second. An $818,000 grant was also awarded to develop the laser system and characterize the arc-jet flow.
Because the wind tunnel is unique, Maddalena and his students had to design nearly all of its parts, then run computer simulations to ensure that they would function as expected. A greater challenge was finding manufacturers to produce the heavy components because of the extreme conditions they must withstand. He also had to find a company to build the facility, eventually hiring APS Industrial Service Inc.
Maddalena's team included post-doctoral researchers Stefano Gulli, Fabrizio Vergine and Davide Vigano; doctoral students Vijay Gopal and Daniel Palmquist; master's graduate David Campbell; undergraduate students Cooper Green, Ian Raybon, Rachel Weeresinghe and Skyla Westphal; and lab manager David Carter.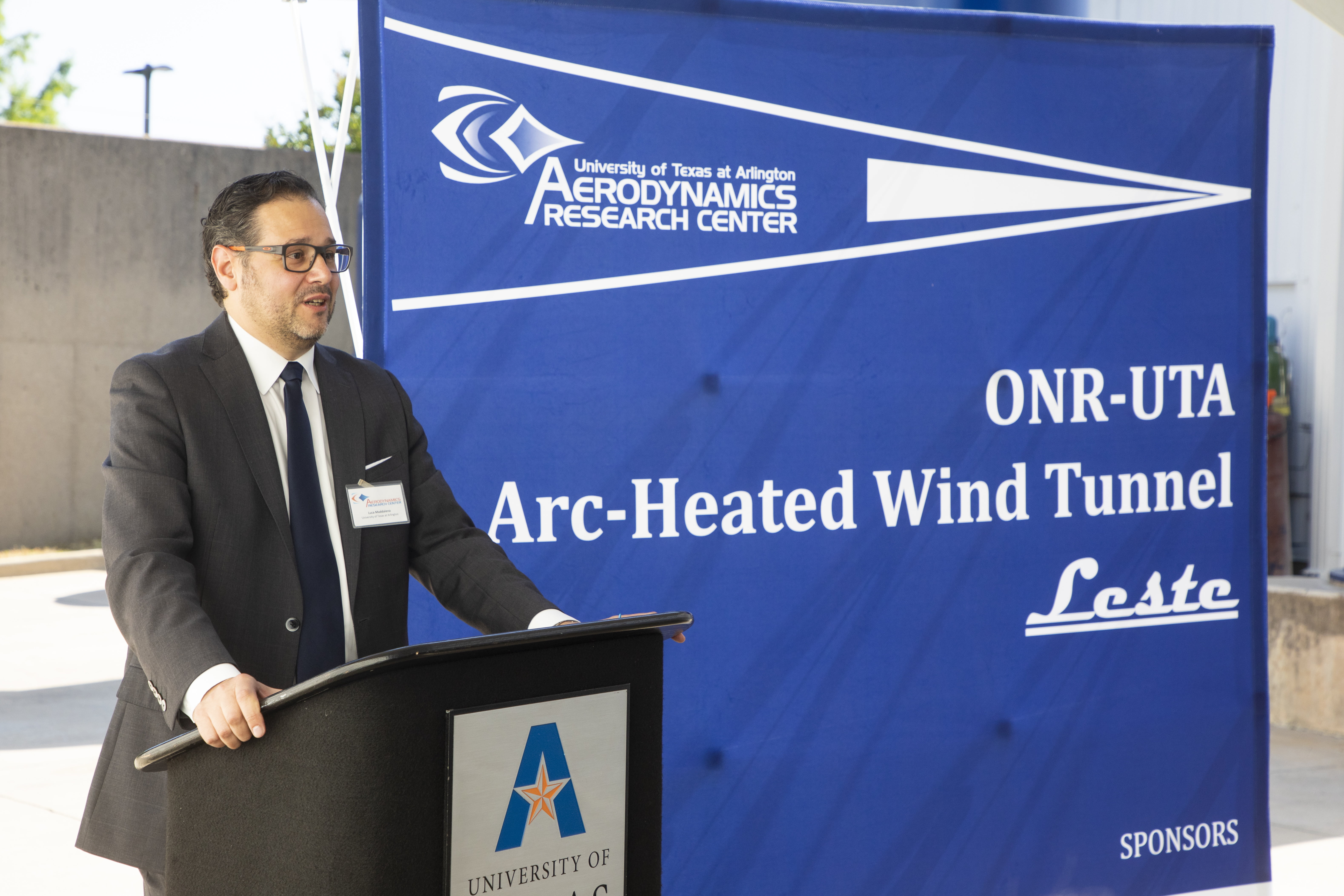 "I'm very proud of my students, who helped every step of the way," Maddalena said. "No one was on the team just to pass around a screwdriver or a hammer. They performed real research and were instrumental in the successful launch of this new tunnel."
The wind tunnel is housed in UTA's Aerodynamics Research Center, which also boasts low-speed, transonic and supersonic wind tunnels and a hypersonic shock tunnel.
When hypersonic vehicles cruise through the atmosphere at 3,500 miles per hour or faster, friction causes them to heat up to more than 8,000 degrees Kelvin, or about 15,000 degrees Fahrenheit. At these temperatures, superheated air, or plasma, flows around the vehicle and evolves as it does so, making it necessary for engineers to calculate simultaneously its chemistry and fluid dynamics to develop an effective heat shield.
Current models are not able to accurately predict what will happen in every situation, so Maddalena and his team will use a research grant from the Office of Naval Research to develop diagnostic techniques to characterize the plasma flow, thereby improving the understanding of the relationship between arc-jet test and flight environments.
"It generally takes about 10 years to develop a new heat shield for a hypersonic vehicle, and part of it is due to the uncertainties associated with the arc-jet plasma flow," Maddalena said. "In other words, you don't know at what exact conditions you're testing."
For the Navy's specific applications, air density and skin friction on the hypersonic vehicle come into play, which can drastically change the performance of the thermal protection system. According to Maddalena, UTA is the only U.S. university with the ability to reproduce significant skin friction with its facility.
"The Office of Naval Research is proud to be associated with the only arc-jet facility based at a university in the United States," said Eric Wuchina, program officer with the Office of Naval Research. "This facility will allow researchers to develop a deeper understanding of the boundary-layer chemistry and physics under simulated flight conditions of high shear and high enthalpy flows. This will provide valuable data for the aerothermodynamics community and help materials scientists understand the thermochemical response of thermal protection materials in hypersonic flight conditions."
Since the flow in the wind tunnel will be heated beyond temperatures that an un-cooled physical measurement device could survive, Maddalena and his team will use the femtosecond laser system to capture the temperature and composition of the plasma flow. The laser system is so advanced that it has never been used in an arc-jet facility and is still being built.
"Thanks to Dr. Maddalena and the successful birth of his brainchild, 'Leste,' UTA will significantly contribute to development of a qualified workforce in hypersonics—a critical need to our national security," said Erian Armanios, chair of the Mechanical and Aerospace Engineering Department. "From the foundations laid over time by such leaders and researchers as Dr. Don Wilson and Dr. Frank Lu, Dr. Maddalena has built a unique capability that will allow us to reach new frontiers in fundamental and applied research."
Maddalena's research continues UTA's long history of leadership in aerodynamics and is an example of data-driven discovery, one of the four themes of the University's Strategic Plan 2020, said UTA engineering Dean Peter Crouch.
"Dr. Maddalena's success in designing, building and launching the only university-based arc-heated hypersonic wind tunnel in the United States is a critical step forward in UTA's leading role in developing fundamental understanding that is critical to U.S. leadership in the field," Crouch said.
-- written by Jeremy Agor