A recognition of Texas Tier One
Students, faculty, staff celebrate UTA's achievement of prestigious Tier One milestone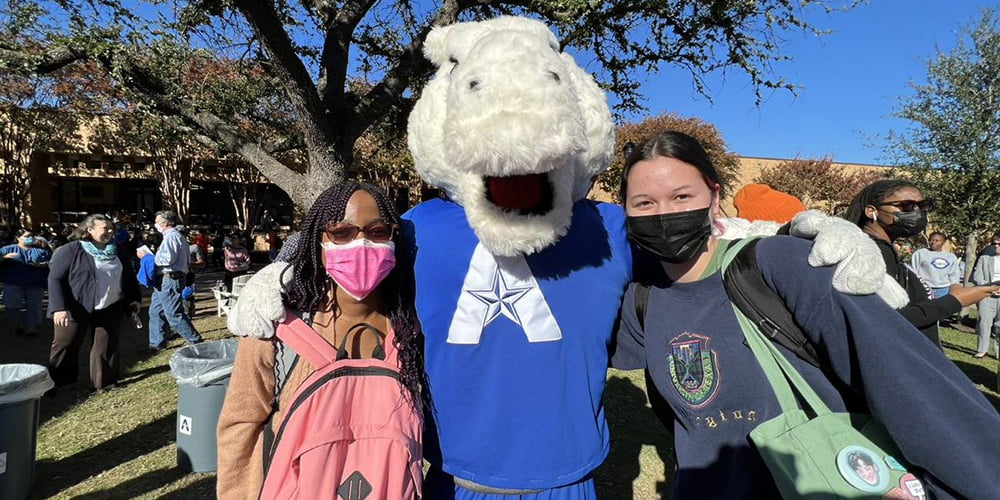 Hundreds of faculty, staff and students gathered in Brazos Park in the heart of campus to recognize The University of Texas at Arlington achieving the Texas Tier One designation, which signifies excellence in academics and research.
"Texas Tier One is a big deal," said Jarious Johnson, a communications major. "It makes me proud to know that UTA is on the same level as other top universities in the state."
Earlier this year, UT Arlington became the first university to achieve Texas Tier One designation in more than three years. The designation gives UTA access to the National Research University Fund (NRUF), which was established in 2009 to provide a pathway for emerging research institutions to become national leaders in research output.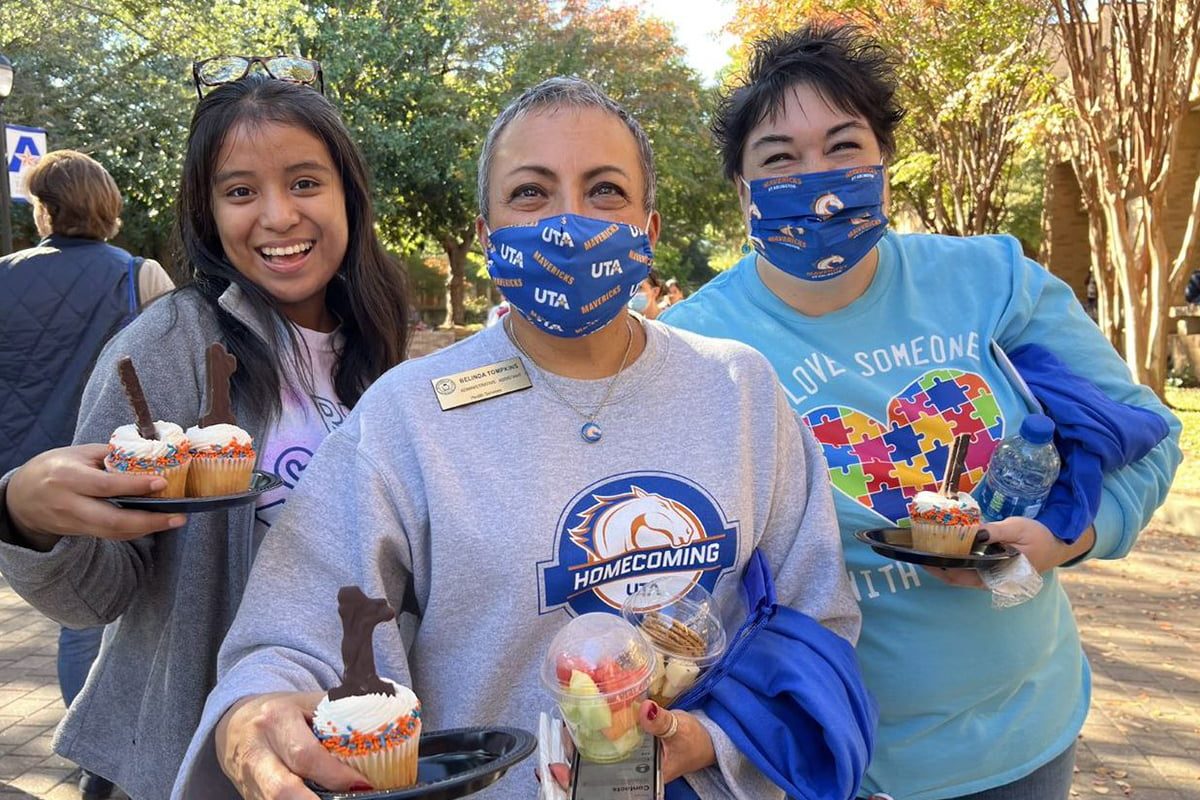 Malu Devadasan, a civil engineering doctoral student and STEM graduate teaching assistant, said the Tier One designation will provide additional research opportunities for students.
"Having UTA reach Tier One is awesome," she said.
UTA achieved Tier One status by reaching or exceeding rigorous benchmarks of quality established by the Texas Higher Education Coordinating Board for at least two consecutive years. Those benchmarks include:
surpassing $45 million in restricted research expenditures;
awarding more than 200 Ph.D.s each year, which UTA has done for six years in a row;
being designated a member of the Phi Kappa Phi Honor Society;
enrolling a freshman class of high academic achievement, a criterion for which UTA consistently ranks the highest among universities in the running for NRUF designation; and
having high-quality faculty, as illustrated by the increase in National Academy members, who are considered the foremost authorities on impactful research in the U.S. and who achieve membership only through significant contributions that advance their fields of study.
The designation brought hundreds of Mavericks to a balloon-festooned Brazos Park on Nov. 12. The Maverick Drum Line served as an energetic warm-up act and attendees received Tier One-themed cupcakes and T-shirts.
Undergraduate and graduate students alike said the Tier One designation signifies that UT Arlington is one of the leading research universities in Texas.
"The recognition and resources that accompany Texas Tier One status will increase the value of my degree," said Fabiola Jaimes, who is majoring in mechanical engineering.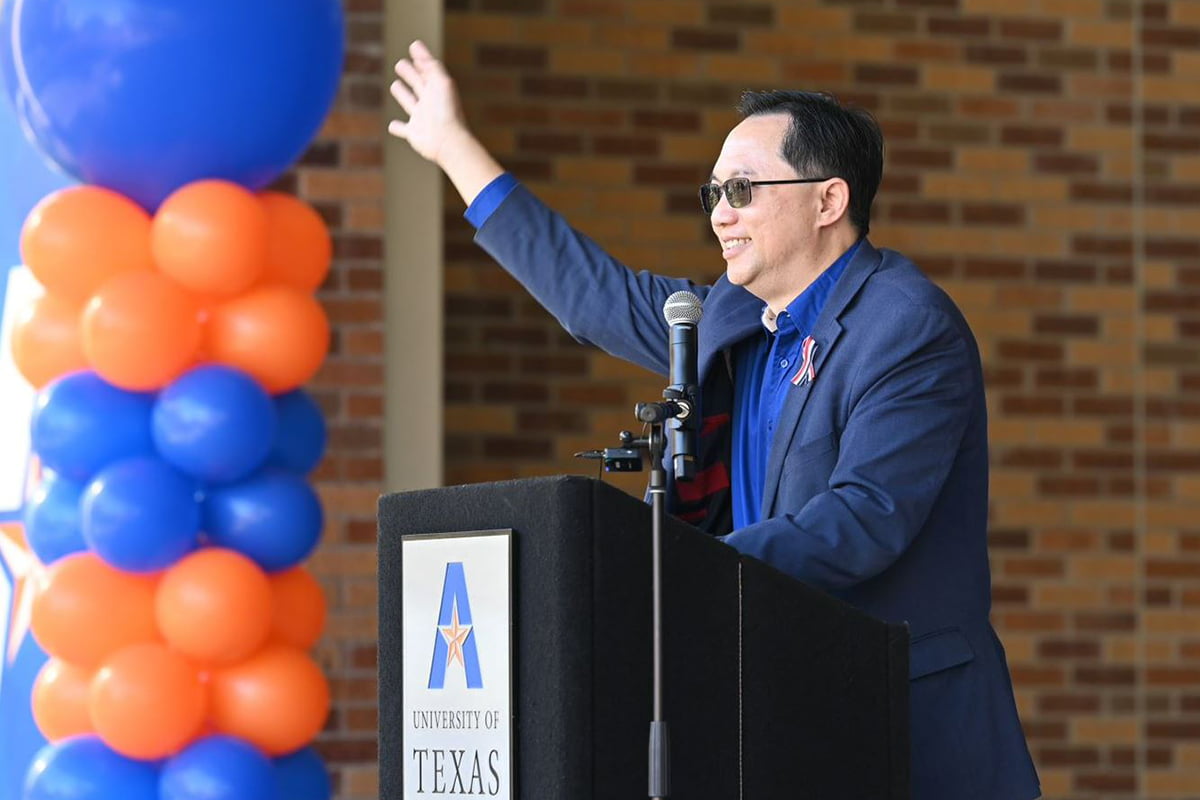 UTA Interim President Teik C. Lim said the Tier One milestone was "like winning the NCAA championship," capping off a year that included a record number of incoming freshmen and the most degree conferrals in University history. He thanked the students, faculty, staff and campus leaders whose "sweat and blood" helped get UTA across the finish line.
"I am extremely proud of this accomplishment, and I know you all are, too," Lim said. "I am excited to see our campus advance further in research as a result of projects and resources that will stem from Tier One designation."
Lim said the achievement is an opportunity for prospective students, faculty members and future employers to take a fresh look at UTA.
"Companies and other universities will look at you with a different lens," Lim said, "a lens that your degree is so much more valuable because of the academic and research excellence of this institution."