A Maverick sweep at engineering conference
Materials Science and Engineering students earn three Presenter Awards at TECHCON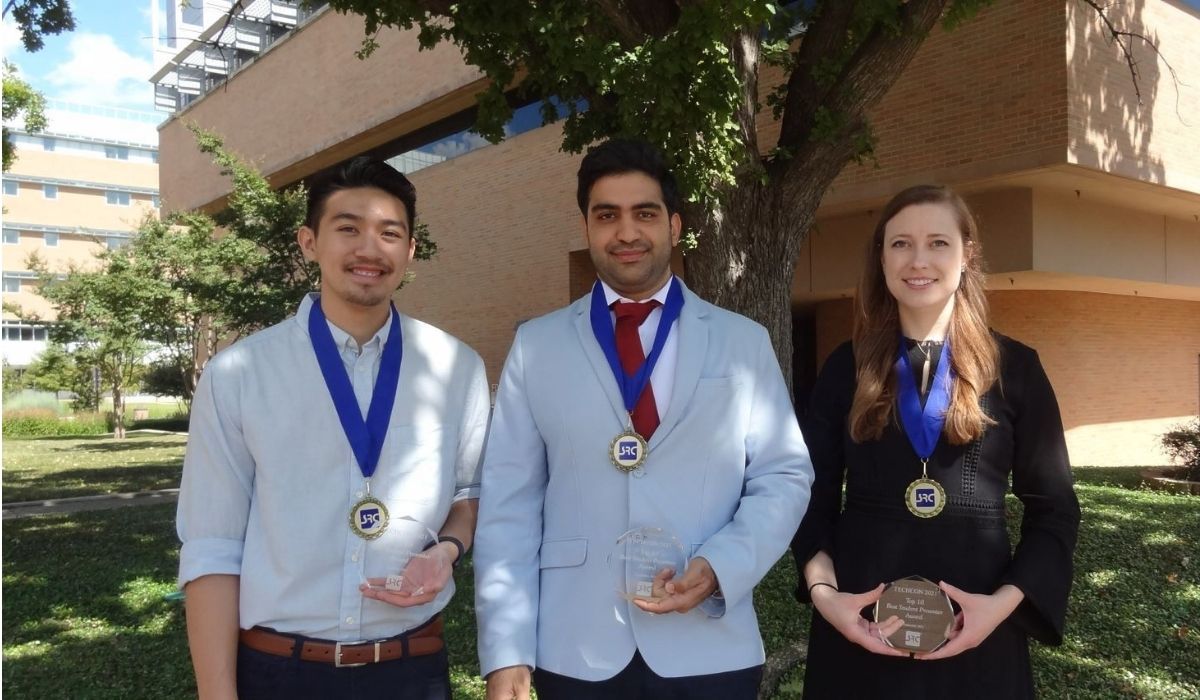 Three Materials Science and Engineering doctoral students—Allison Osmanson, Mohsen Tajedini and Jimmy-Bao Le—earned the Best Student Presenter Award at TECHCON 2021, the flagship technical conference of the Semiconductor Research Corporation (SRC).
The Top Student Presenter Award is granted to the top 10 presenters out of 160 total. It's the second straight year all three of UTA's presenters earned this prestigious award—the first time this has happened in TECHCON history. Osmanson earned the award both years.
All three students are conducting research supported by three SRC grants. They are working with Materials Science and Engineering Professor Choong-Un Kim, who has engaged in semiconductor packaging research for more than 25 years. The students' focus is on reliability engineering and electronic materials.
"Having one paper picked for a Presenter Award among all those submitted is very tough; three awards for the second time in two years is a first," Choong-Un Kim said. "Especially impressive is the fact that a first-year graduate student, Jimmy-Bao, was picked for the award. He joined the team as a BSME-MSE fast track student and has shown stellar performance. His future achievements will be not only a reflection of his capabilities but will also reflect the success of our training program, which helps our students gain valuable skills and leads them along a pathway of success.
"We hope to see more students like Jimmy enter into a successful professional career through special routes available to them."
Osmanson, Tajedini and Le were each presented with a certificate, a medal and a plaque for their achievements. The students' presentations were:
• Low Frequency Impedance in Detection of Interconnect Damages (Le)
• Stress Development in WCSP Solder Joints During Electromigration (Osmanson)
• Comparative Study of Electromigration in Wirebonds Formed by Cu, Palladium Coated Cu, and Au Wire on Al Pad (Tajedini)
SRC is a world-class technology research consortium whose members include the semiconductor industry's biggest companies, such as Texas Instruments, IBM, Intel and Micron, and national organizations, such as the National Institute of Standards and Technology and the National Science Foundation. With its highly regarded university research programs, SRC plays an invaluable role in the research and design strategies for the industry's most influential entities.
- Written by Jeremy Agor, College of Engineering