FabLab expansion opens new opportunities for UTA students
With 3D printers, laser cutters and more, FabLab is crown jewel of UTA's makerspaces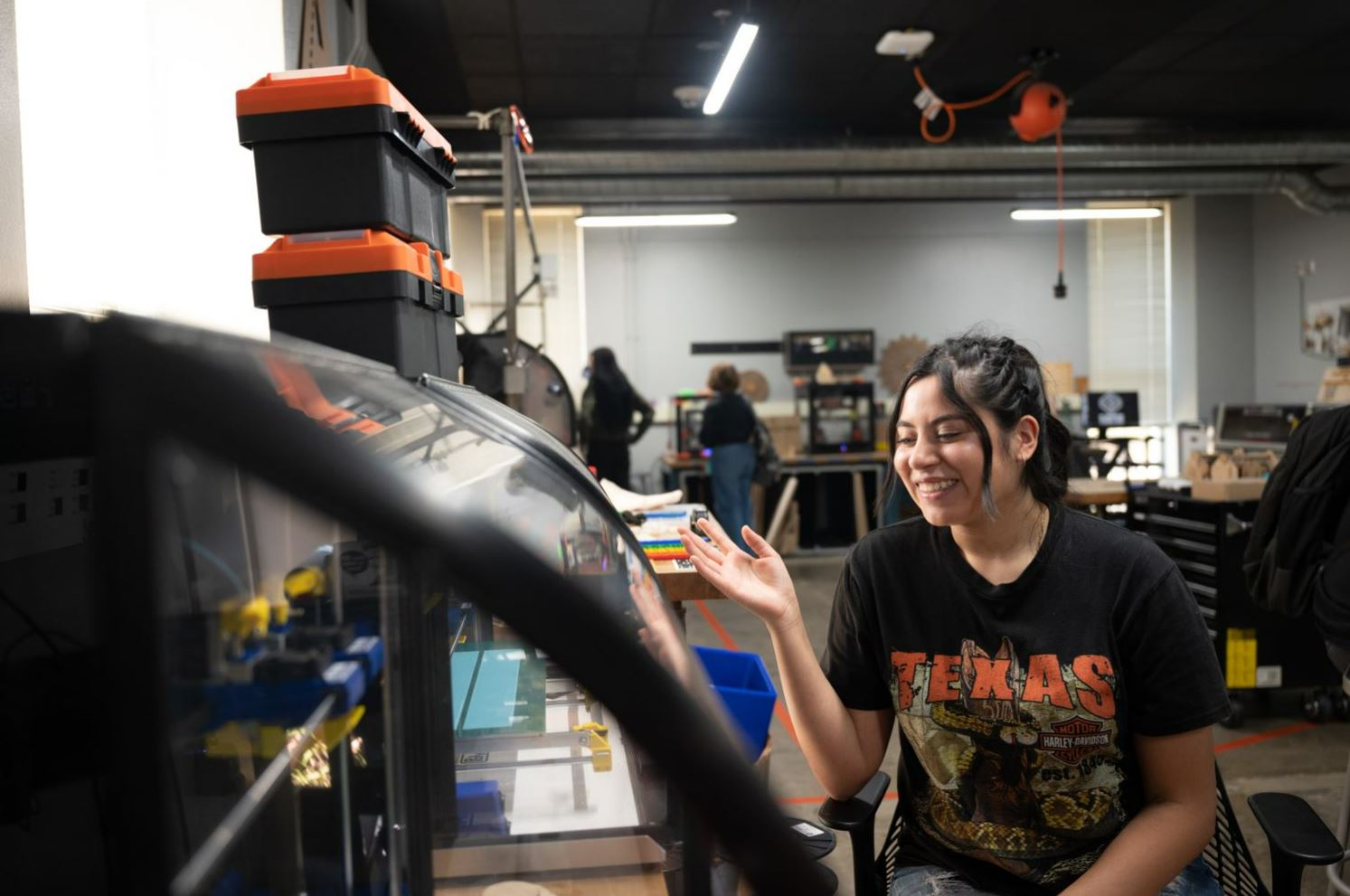 As an English major minoring in pre-law, Jacqueline Morales admitted she was unsure whether she would use the services provided by the FabLab, the crown jewel of UTA's makerspace ecosystem. But after touring the facility with her peer academic leader her freshman year, she got excited about the possibilities the makerspace opened up for her.
"I was immediately intrigued by all the resources it has to offer," she said. "The workers there are energetic, and I could tell they had a passion for making, which made it really fun to learn."
Located in the Central Library, the FabLab is open to all students, faculty and staff. The 8,000-square-foot makerspace contains 3D printers, laser cutters, screen printers, kilns, sewing machines and more. Unlike other makerspaces on campus, the FabLab doesn't necessarily prioritize academic use over recreational use.
"Our goal is to democratize the access to some of these tools so students can explore," said Katie Musick Peery, director of the FabLab. "Our primary focus is to be a teaching space in a teaching lab so you don't have to have any prior experience with any of the tools when you're coming in."
Since the FabLab opened in 2014, UTA Libraries' creative spaces have grown extensively to encompass nearly the entire first floor of the Central Library. Most recently, the FabLab expanded its shop room to contain more wood- and metalworking equipment, including traditional hand tools and computer numeric control (CNC) equipment, like a plasma cutter.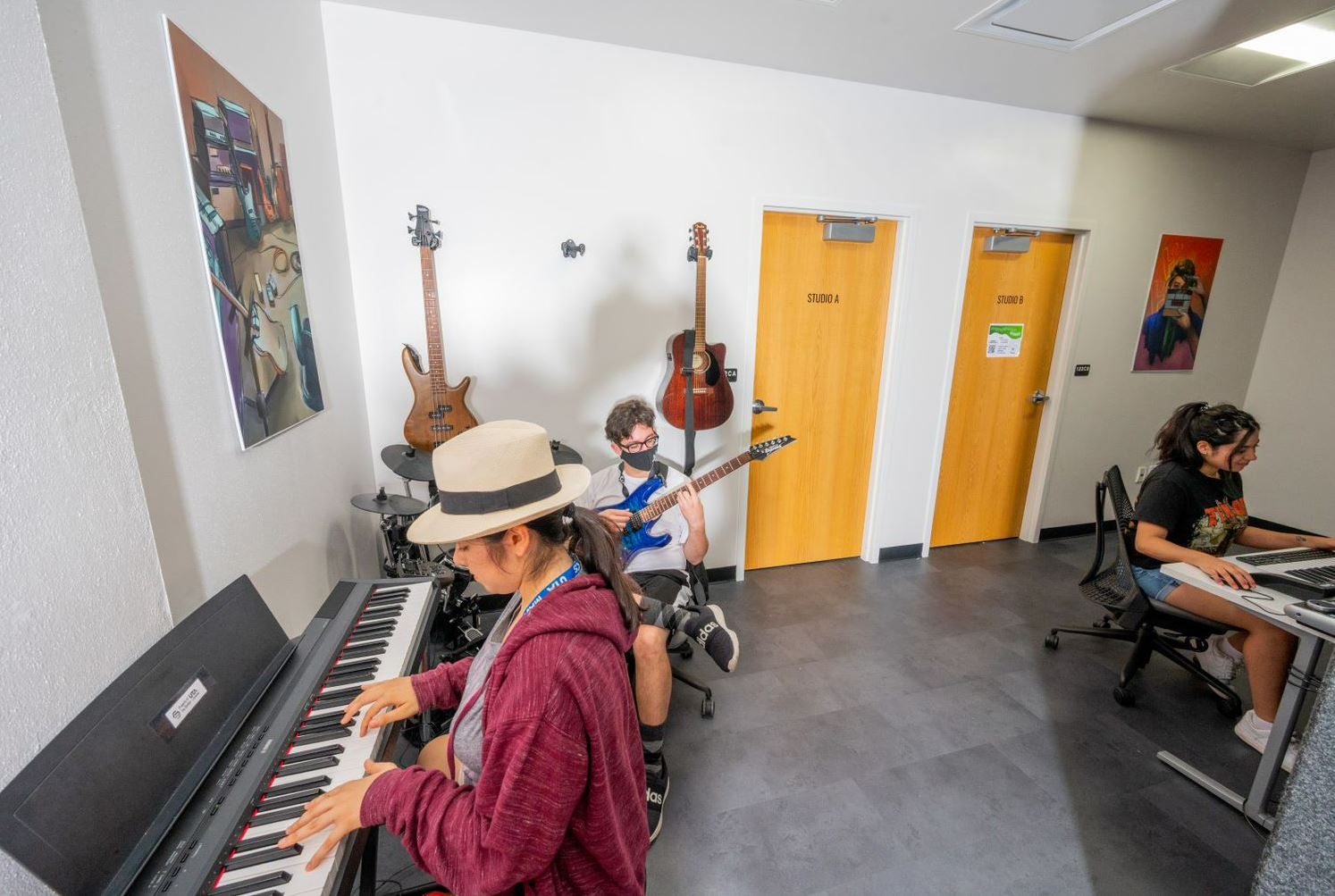 The first floor expansion also includes the Studios, which adds an additional 8,000-square-feet of making and learning space. The Studios features:
whisper booths for recording instrumentation and vocals

musical instruments like MIDI keyboards, guitars and microphones

photography studios that can be utilized as green screen rooms

a motion-capture studio that allows students to do animation work and special effects

a robotics and electronics studio with a drone cage and soldering equipment for electronic materials
In addition to the Studios, the expansion includes the Basement, which features a gaming-focused space and adds a social component to the area.
Tushar Saini, a mechanical engineering doctoral student, has worked at the FabLab since it opened as a tiny space occupying one corner of the Central Library. He said the growth of the FabLab has provided a phenomenal benefit for the Maverick community.
"As a community-operated workspace, the FabLab allows people with different backgrounds to come together, share ideas and build something new," he said. "With the new expansion, we can offer a lot more in terms of equipment and knowledge-sharing opportunities. The expansion has allowed us to keep up with the demands of a growing campus."
Joshua Richey, an industrial engineering undergraduate student, said having access to the FabLab has meant being able to further his studies with hands-on learning. Richey first used the shop room of the FabLab to complete a classroom assignment. He now works as a student assistant there.
"The FabLab has helped me work toward my degree by showing me the design process and all the steps needed to turn an idea into a physical or virtual object," he said. "As an industrial engineer, it's important to understand the concept of efficiency, and the FabLab helps you create your idea in the most efficient way possible."
After her initial visit to the FabLab, Morales said she has been back several times to participate in ongoing maker workshops. For International Women's Day, she took some of her sorority sisters to tour the lab.
"I can't wait to go back next semester, but this time with my own designs," she said.
These moments of connection through learning are exactly the point, said Gretchen Trkay, associate university librarian and head of experiential learning and outreach.
"People often wonder why we have these creative spaces in libraries. They think libraries and they think of books," she said. "But libraries have always been a place for building community and getting access to resources that may not be affordable or accessible to you in your home."
- Written by Amber Scott, University Advancement