From military veteran to Maverick biologist
Biologist recognized for research contributions to post-traumatic stress among veterans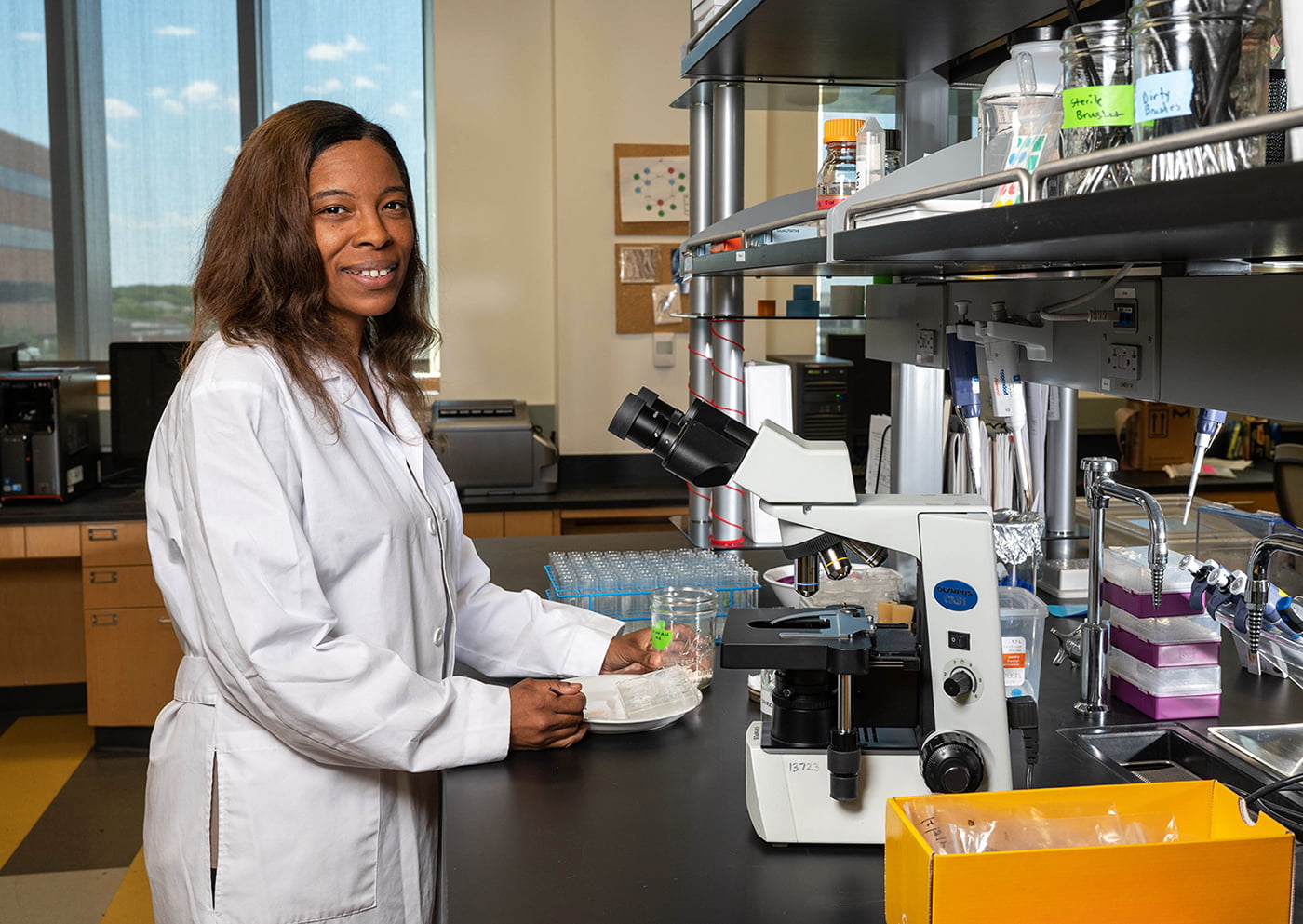 At first glance, behavior exhibited by beetles after losing in a competition for mates might not seem to have much in common with the trauma experienced by soldiers exposed to combat or facing severe and life-altering injuries.
But looking deeper at a genetic level reveals surprising similarities. Marquerite (Maya) Herzog has worked for years to better understand what happens to the insects genetically after they fight, in hopes that this knowledge can be used to better assist military service members and veterans affected by the horrors of combat.
Herzog, a veteran who served for nine years in the United States Navy, completed a six-year journey to earn her doctoral degree in August when she received her Ph.D. in quantitative biology from The University of Texas at Arlington. She earned her doctorate while raising her young son as a single mom.
For her efforts to make a difference for military personnel and veterans, Herzog was recently named a 2022 Ford Proud to Honor Hall of Heroes honoree. Ford Motor Co., in partnership with the Pro Football Hall of Fame, created the Hall of Heroes to honor veterans who go above and beyond the call of duty to help active-duty military, veterans and military families deal with serious physical and emotional trauma.
Herzog learned that she was to receive the award last spring, when Charles Haley, a former All-Pro defensive end for the San Francisco 49ers and Dallas Cowboys and a member of the Pro Football Hall of Fame, visited Herzog's house in Arlington with a film crew to give her the news.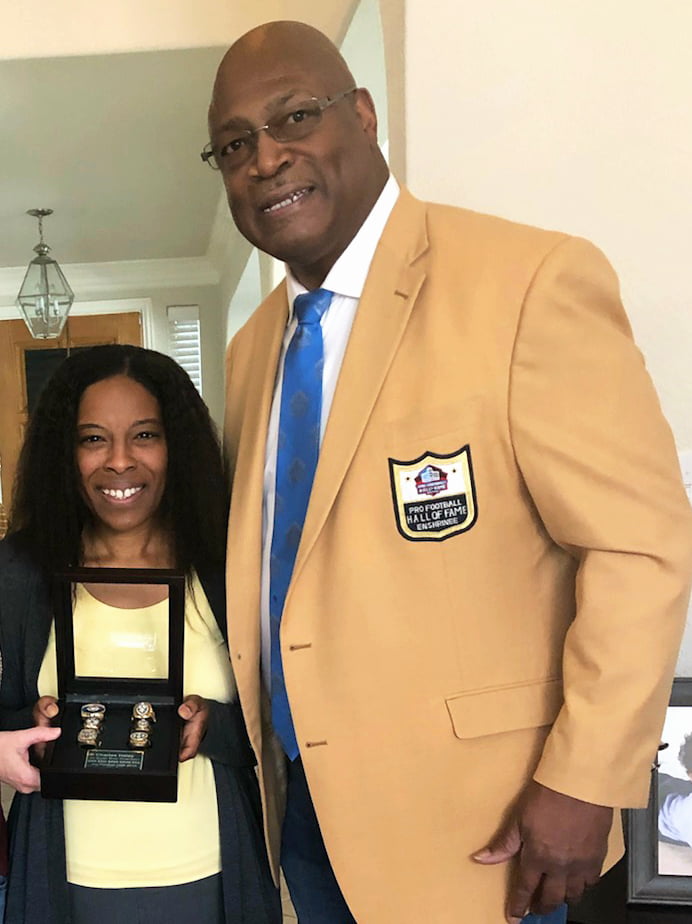 "When he knocked and I opened the door, at first I didn't know who it was," she said. "I was really thankful and didn't think I deserved it, but I'm honored that they chose me."
Herzog was a special guest of the Pro Football Hall of Fame at its annual induction ceremony in Canton, Ohio, in August. While there, she received an oversized trophy football helmet in a glass case to commemorate the award. She attended the induction ceremony and the NFL's Hall of Fame game between Jacksonville and Las Vegas and met numerous Hall of Famers—a big thrill for a serious football fan.
"It was so much fun to be able to be there and see all those things in person," she said. "Then to be honored to receive this award, it's really been an amazing experience."
Ford made a $10,000 donation in Herzog's name to the Pat Tillman Foundation, an organization that identifies remarkable military service members, veterans and spouses and presents them with academic scholarships, lifelong leadership development opportunities and a global community of mentors and peers.
The foundation was created in honor of Pat Tillman, a former NFL player who enlisted in the U.S. Army following the Sept. 11, 2001, terrorist attacks and was killed in Afghanistan in 2004. Herzog was named a Tillman Scholar in 2017, not long after she began her doctoral studies at UTA. Tillman Scholars possess a "high potential for impact as demonstrated through a proven track record of leadership, the continued pursuit of education and the commitment of their resources to service beyond self," according to the foundation's website.
Jeff Demuth, UTA associate professor of biology and Herzog's faculty mentor on her doctoral journey, accompanied her on the trip to Canton. He says Herzog is an inspiration for what she accomplished in the lab and for the hurdles she overcame along the way.
"Her journey is a lesson in perseverance," Demuth said. "Due to lack of opportunities, there aren't a lot of role models for women and underrepresented groups in this field, but she never let that stop her. She will now be a role model for others."
Herzog's desire to serve others started early in her life. She grew up in Arlington and graduated from Sam Houston High School. After the events surrounding Sept. 11, she was moved by a deep sense of patriotism. Her father served in the U.S. Navy for 23 years, and several other relatives also served in the Navy. She enlisted and left for boot camp on Mother's Day, 2003. The next time she saw her mom, she was a sailor.
During her naval career she was stationed in San Diego and Japan. While still on active duty, Herzog enrolled at National University, just outside of San Diego, to study biology. She also took a position as a research assistant in the neuroscience lab at Marine Corps Base Camp Pendleton, north of San Diego, where she worked with military personnel as they returned from deployments in Iraq and Afghanistan. With a team of behavior and neuropsychology specialists, she conducted investigations on patients dealing with combat induced post-traumatic stress disorder (PTSD) and traumatic brain injury (TBI). These studies gave her a unique perspective on the physical and emotional challenges service members undergo when returning to civilian life.
"From that, I became interested in human behavior and wanted to see how it works on a genetic level," she said. "I also wanted to know on a molecular level what's going on with individuals when they experience a traumatic event."
Herzog completed her service in the Navy in 2012 and earned her B.S. degree in biological science from National University in 2016. She returned home to Texas and started looking around at graduate programs. She checked out UTA, found Demuth's lab website and was intrigued by his research with beetles. After talking with him, she applied to UTA and joined Demuth's lab.
For her doctoral studies, Herzog began working with the tiny broad-horned flour beetle. As is the case with many species, male beetles fight aggressively with other males to win favor with potential mates. When these insects experience social defeat, they go into a malaise for a few days and then return to normal activities, including continuing to fight for mates.
Herzog saw similarities between the behavior of the defeated beetles in the aftermath of their battles and that of veterans suffering from PTSD, TBI and depression.
"Convincing people of the connection between beetle and human behavior isn't easy, but Maya has done a great job of showing those connections," Demuth said. "Her research especially connects behavior to genetics and physiology, and I think that's where her dissertation will make a lot of contributions to future research."
The same week that Herzog went to Canton, Ohio, to receive her Hall of Heroes award, she successfully defended her dissertation, which is titled "Elucidating the Molecular Genetic Basis of Behaviors Related to the Loser Effect." It is dedicated to her parents (her father passed away three years ago), her brother, and her son, to whom she writes: "You were in diapers when we started this journey together! Your hugs provided all the motivation that I needed to reach the end. I love you."
Herzog's long-term goal is to become a faculty member at a university where she can help veterans, active-duty military personnel, and their families with her research, as well as set an example for women and underrepresented communities pursuing STEM careers.
"By studying these genetic components of behavior, I want to provide answers not only for the biological sciences but potentially for other disciplines such as psychology and sociology, environmental science, resource management, and education," she said.
- Written by Greg Pederson, College of Science