'I needed to save my family'
UTA student paused her schooling to save family members from conflict in Ukraine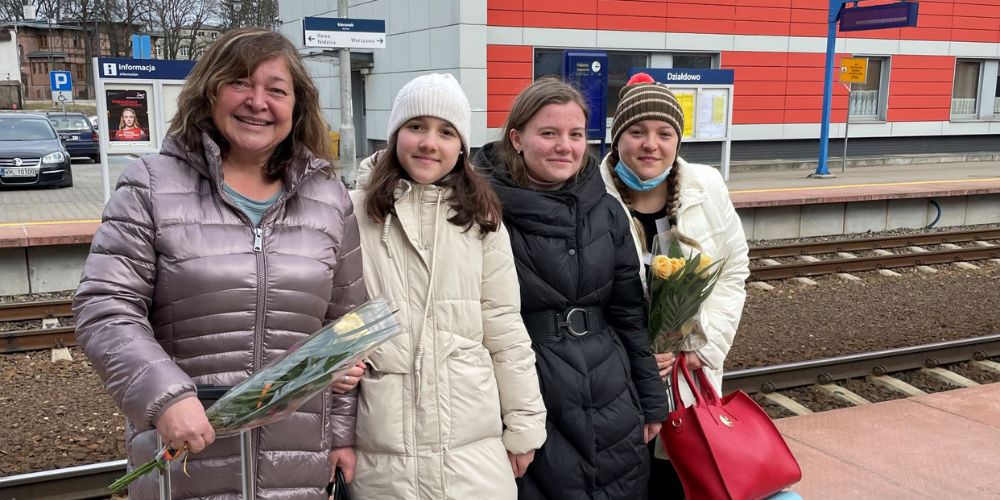 For Olexandra Shevchenko, a registered nurse on the cardiovascular floor at Houston Methodist Hospital and a student in The University of Texas at Arlington's Family Nurse Practitioner program, her job and her studies usually came first.
But in February 2022, her focus turned elsewhere: her home nation of Ukraine, which had been invaded by the Russian military. One week into the war, it became personal for Shevchenko. Her aunt and uncle in Ukraine called, asking for help in getting their two daughters out of the country and to safety.
"They called my mom and I and said, 'Please get the girls out,'" she said. "It was a horrible experience that you can't prepare someone for. It's physical stress. You don't sleep. You don't eat. You talk to your loved ones, and they tell you that they hear bombs."
The girls, then 12 and 20, needed to leave, but their parents could not. Shevchenko's aunt is an anesthesiologist and her uncle is a surgeon; both were obligated to stay in the event of a military draft. They put their daughters on a train to Poland, where Shevchenko and her mom would meet them.
"I emailed my teachers and my job and said, 'I'm so sorry but this is something I have to do,'" Shevchenko said. "This is one of those things in life where I had no second thoughts. I needed to save my family."
Shevchenko had some reservations about withdrawing from UTA, but she said the university went above and beyond to make sure she had everything she needed as she focused on her family. She praised Elizabeth Fuentes, clinical assistant professor and her advisor, for checking in and sending her mental health resources.
"She was always asking how I was doing and if there were any resources I needed, because I would tell her my emotional state was not the best," Shevchenko said.
It was Fuentes, along with Clinical Associate Professor Lynda Jarrell, who reassured Shevchenko that she would not lose any progress while she was away, providing her additional peace of mind. She said they were with her every step of the way upon her return after more than two months away, helping her make a weekly plan to get back on track while making sure she prioritized her mental and emotional well-being.
Even before the conflict, Shevchenko said she was already appreciative of her Maverick experience. She first found out about UTA after asking her co-workers for recommendations on a graduate program. The one-class-at-a-time structure allows students to learn while maintaining a full-time job, which was important to her.
"I started asking my co-workers about the nursing schools they attended, and I kept hearing UTA," she said. "It is a program that is different from any other."
While Shevchenko is now back on her path to graduation, her mind remains on her family. Her cousins, missing their parents and their home country, decided to return home. At that point, the conflict had stabilized, and their parents were able to build a bomb shelter. They remain safe, staying home most of the time while continuing their schooling online, despite attacks from Russian forces.
But Shevchenko remains grateful for the support that poured in, including from other UTA students and faculty who have sent her many messages of support during the ordeal.
"I felt so taken care of and surrounded by such kind people that genuinely cared and were interested in me succeeding in this program," she said. "They were a shoulder I leaned on. I needed them more than they know."