UTA oral history project shares voices of Afghan women refugees
Afghan evacuee: 'I'm a witness to the hardships of Afghan women refugees'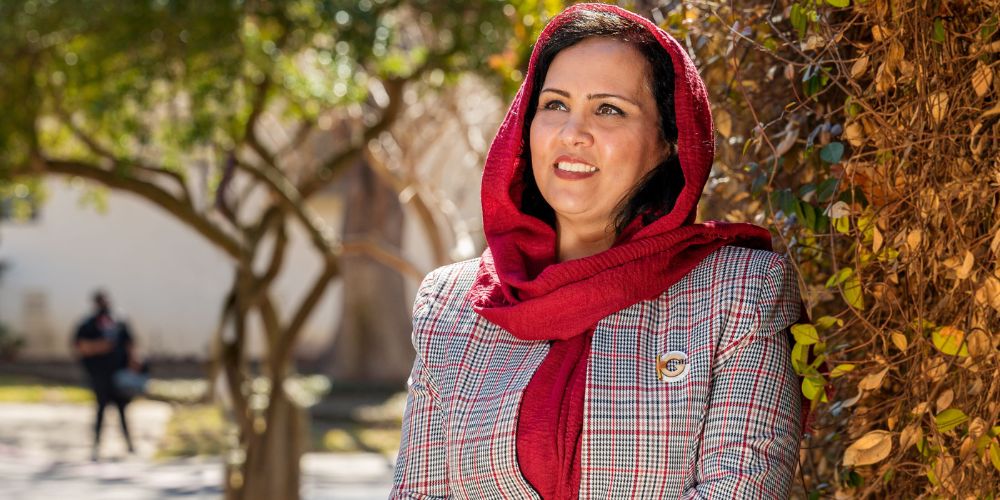 A University of Texas at Arlington educator who was forced to flee Afghanistan when the Taliban regained control two years ago this month is leading an oral history project that elevates the voices of fellow Afghan women refugees.
Roshan Mashal, a specialist in UTA's Gender, Women and Sexuality Studies (GWSS) program, is co-leading The RUG Project, which recognizes the resilience of Afghan women, promotes global unity and guides efforts for social change. With support from the GWSS program, faculty members from the Department of Communication – Dustin Harp, Chyng-Yang Jang, Brian Horton and Andrew Clark – the Rockefeller Brothers Fund, Mina's List and the Afghan American Foundation, The RUG Project spotlights the stories and experiences of Afghan women refugees to guide educators, activists, policymakers and journalists working to advance women's rights as human rights.
"I'm a witness to the hardships of Afghan women refugees and how they lost all their lifelong achievements when they left our country," Mashal said. "Through this project I aim to illustrate that Afghan women, who have endured over 40 years of war, conflict and sacrifice, once again became victims on Aug. 15, 2021, falling prey to peace negotiations and political dealings."
For over a decade, Mashal has advocated for women's and gender issues, including access to education and participation in elections in Afghanistan. Last year, she was honored with the 2022 Exceptional Service Award by the humanitarian organization Refugees International.
"Women from Afghanistan are facing all types of restrictions and limitations, whether they have fled or are still in Afghanistan," Mashal said. "All their freedoms have been taken, so it's hard hearing their stories. It's very hard for me, but I'm a committed women's and human rights defender, and it's my responsibility to raise their voices and support them."
RUG stands for "Resilience," Unity," and "Guidance" and is meant to invoke traditional Afghan rugs, which are renowned worldwide for their beauty and craftsmanship.
Dustin Harp, GWSS director, associate professor in the Department of Communication and co-lead of The RUG Project, said the project is important for Mashal and "all Afghan women."
"As The RUG Project continues, we plan to expand it and include the stories of immigrant and refugee women facing injustices across the globe," Harp said.
The RUG Project is just one step in Mashal's current mission to secure freedom, security and support for Afghan women who are seeking refuge in the U.S. and elsewhere. Her hope is that The RUG Project serves as a global lesson and a call to action—women's rights must be protected as human rights.
Watch Mashal's interviews of Afghan women refugees recounting their losses and the hardships of rebuilding their lives here.