About the Department of Bioengineering
For over forty years, UTA has offered bioengineering studies in a program conducted jointly with the University of Texas Southwestern Medical Center in Dallas.
Students in UTA's Bioengineering Department earn broad skills in bioinstrumentation, biomaterials and tissue engineering, medical imaging, biomechanics, and nanomedicine and nanotechnology. The department is on the cutting edge of technology and research, with multiple current grants funded by the NIH, NSF, and others for work related to traumatic brain injuries, cancer, imaging and biomedical technology
Undergraduate students have many opportunities to participate in transformational research with many of the department's faculty members.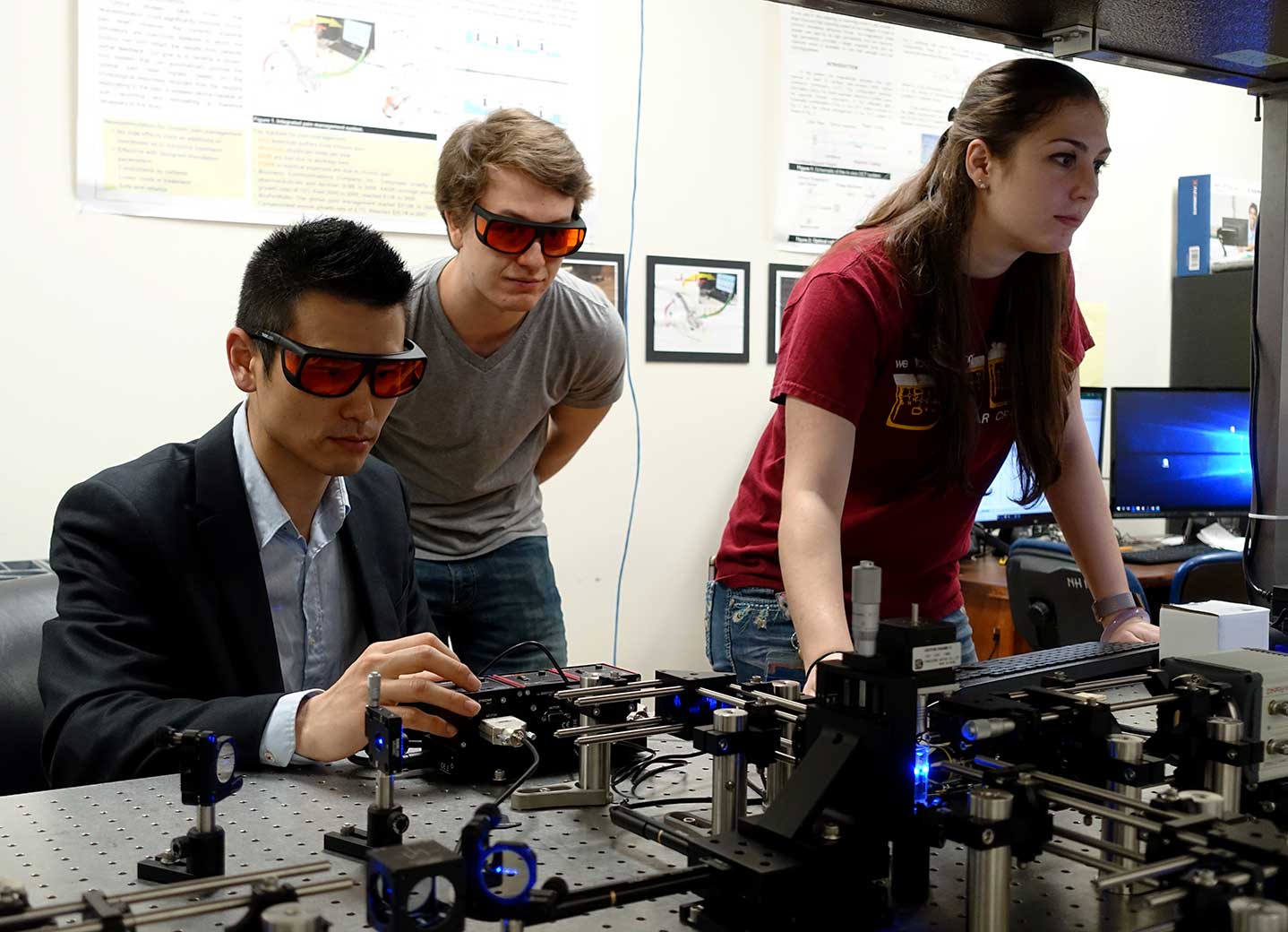 Our faculty and graduate students enjoy an association with nearby UT Southwestern Medical Center, one of the top medical schools in the nation. Students can take engineering and life science courses and conduct research at either campus. Graduates of the program may receive a diploma bearing the seals of both UTA and UTSW if requirements are satisfied. The combined faculty, staff and facilities of the two campuses provide tremendous resources and opportunities for biomedical engineering students. Highly-qualified graduate students may apply for UTA's NIH T32 doctoral training program in nanomaterials, nanoengineering and nanomedicine, focused on cardiovascular and lung diseases, which supports tuition and fees, a generous stipend, and travel.
More than half of our undergraduate students complete a co-op or internship to gain practical work experience prior to graduation, and they are often hired by the companies they intern with. You can find your own opportunity, or the Engineering Co-op/Internship Office can help you.
Students may work alongside faculty on funded research, doing real lab work and gaining valuable skills. Qualified students may use federal work-study funds to participate in such research, and the College of Engineering sponsors more than 40 undergraduate research projects each year.
Finally, all undergraduate students complete a capstone course prior to graduation, finding solutions to real-world problems, often with financial support from an industry partner.
Mission
The mission of the Bioengineering Department is:
To contribute to the advancement in medical knowledge and diagnosis, treatment and prevention of disease through excellence in biomedical engineering research.
To provide excellent undergraduate and graduate education to prepare students for leadership in the biomedical engineering industry and academia.
To participate in service to the community and the biomedical engineering profession.
Undergraduate Program Educational Objectives
The goal of the Biomedical Engineering undergraduate program is to promote intellectual development of those interested in the bioengineering profession, and to produce graduates who possess the knowledge, tools and traits necessary for a successful career, and for assuming a leadership role in the bioengineering profession. With that goal, our Program Educational Objectives (PEOs) are to produce graduates who:
Possess a broad-based bioengineering education to successfully obtain professional positions, and practice bioengineering in a wide range of professional settings including industries, healthcare facilities, and consulting firms.
Exhibit professional growth throughout their careers by taking on increasing professional responsibilities and pursue life-long learning by participation in job-related advanced training activities, and/or attending graduate school, or professional school (e.g. medical, dental school).
Demonstrate success and leadership in the practice of engineering by contributing to the economic well-being of their employers and society, and by dedicated service to professional societies.
Undergraduate Student Outcomes
From the Program Educational Objectives the department designed its baccalaureate program to offer its graduates with:
an ability to identify, formulate, and solve complex engineering problems by applying principles of engineering, science, and mathematics.
an ability to apply engineering design to produce solutions that meet specified needs with consideration of public health, safety, and welfare, as well as global, cultural, social, environmental, and economic factors.
an ability to communicate effectively with a range of audiences.
an ability to recognize ethical and professional responsibilities in engineering situations and make informed judgments, which must consider the impact of engineering solutions in global, economic, environmental, and societal contexts.
an ability to function effectively on a team whose members together provide leadership, create a collaborative and inclusive environment, establish goals, plan tasks, and meet objectives.
an ability to develop and conduct appropriate experimentation, analyze and interpret data, and use engineering judgment to draw conclusions.
an ability to acquire and apply new knowledge as needed, using appropriate learning strategies.
Further, we prepare graduates with training and experience in:
applying principles of engineering, biology, human physiology, chemistry, calculus-based physics, mathematics (through differential equations), and statistics;
solving bio/biomedical engineering problems, including those associated with the interaction between living and non-living systems;
analyzing, modeling, designing and realizing bio/biomedical engineering devices, systems, components, or processes; and
making measurements on and interpreting data from living systems.
Accreditation
The undergraduate program in biomedical engineering is accredited by the Engineering Accreditation Commission (EAC) of ABET
Administration/Staff
Dr. Michael Cho
Professor and Chair
817-272-2965
michael.cho@uta.edu
Dr. Cheng-Jen Chuong
Professor and Associate Chair
817-272-2348
chuong@uta.edu
Undergraduate Applicants
Graduate Applicants