The Honors Degree
Students who complete our program receive an Honors Bachelor's of Science or Art in their chosen discipline, which will set them apart from other applicants regardless of them wanting to go to graduate school, medical school, law school, or directly into the workforce. All Honors coursework will also be designated on your official transcript.
Honors-Designated Courses
Each semester several honors-designated courses are offered so that students can enroll in smaller class-sizes while earning honors credit upon completion the course with an A or B.
Scholarships
Honors Students have the opportunity to apply to over 20 exclusive scholarships during their time at UTA.
Priority Registration
Our students can earn the opportunity to select their courses on the first day of registration if they attend three registration reward events during the semester.
Honors Events
The Honors College hosts a variety of events throughout the school year to enhance community within the college. All Honors events fall into one of three categories, academic, social, or just pure fun. Honors students work hard every semester and events are not only a time to enhance their learning outside of the classroom, but also unwind from a busy week of classes and get to know their Honors peers. Most events have a Registration Reward designation. If students attend three of these events during the semester they are eligible for priority course registration.
Honors Student Organizations
Every Honors College student is also a member of the College's student organization, the Honors College Council. HCC meets every other Wednesday and hosts speakers, organizes Service Saturday events, and fosters a sense of community within the Honors College. Students can also get involved with the Honors Advocates, Student Programming Board, and the Veneratio Newsletter Staff.
Carolyn A. Barros Reading Room
Named for our founding dean and affectionately known as the CAB, this is a study lounge and computer lab located in College Hall. The CAB provides a place on campus for Honors students to study and work together, as well as use their free printing privileges.
Research Fellowships
The Honors College strives to provide students with research opportunities, like the Undergraduate Research Fellowship, which connects them with research faculty for an enhanced, one-on-one educational experience. Read more about Research Fellowships here.
Award Winning Faculty
Honors courses are taught by experienced faculty known for excellence in the classroom, research in their academic fields, and community service.
Extended Library Borrowing Periods
Honors College students may check out library books and keep them for the duration of the semester, rather than just a month at a time.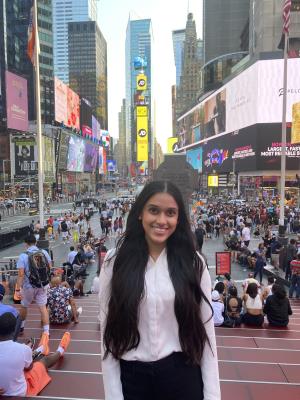 Student Profiles
Meet Ashni
"I chose UTA for the diversity and scholarship opportunities it afforded me."