The Honors Degree
Honors Graduates receive an Honors Degree in your chosen discipline. All Honors coursework will also be designated on your official transcript.
Special Honors Courses
Honors scholars study together in interdisciplinary courses, Honors sections of lower division requirements, advanced Honors courses in disciplinary majors, and Honors seminars and colloquia. Small classes provide opportunity for student discussion and participation and facilitate student/faculty interaction.
Scholarships
Honors College students annually receive numerous scholarships and individualized help in searching for private funding. Over 80% of Honors students hold local, state, national, and international scholarship awards.
Priority Registration
Beginning in the second-semester of their freshman year, Honors College students have the opportunity to select their courses on the first day of registration.
Honors College Learning Community
Honors students are trained to be leaders as they develop their management and conversation skills through service in Honors and University student organizations.
Extended Library Borrowing Periods
Honors College students may check out library books and keep them for the duration of the semester.
Honors College Council (HCC)
Every Honors College student is also a member of the College's student organization, the Honors College Council. HCC meets every other week and hosts speakers, organizes academic and social events, and fosters a sense of community within the Honors College.
Honors Study Lounge
A study lounge and computer lab located in College Hall provide a special place for Honors students to study and work together.
Study Abroad Program
The Honors College provides affordable summer study abroad experiences. Members of the Honors College enrolling for Honors Study Abroad courses receive generous support from the Amon Carter Endowment.
Research Fellowships
The Honors College strives to provide students with research opportunities, connecting them with research faculty for an enhanced, one-on-one educational experience. Read more about Research Fellowships here.
Award Winning Faculty
Honors courses are taught by experienced faculty known for excellence in the classroom, research in their academic fields, and community service.
Preparation for Graduate School
The Honors College offers individual assistance in making the transition from undergraduate to graduate school.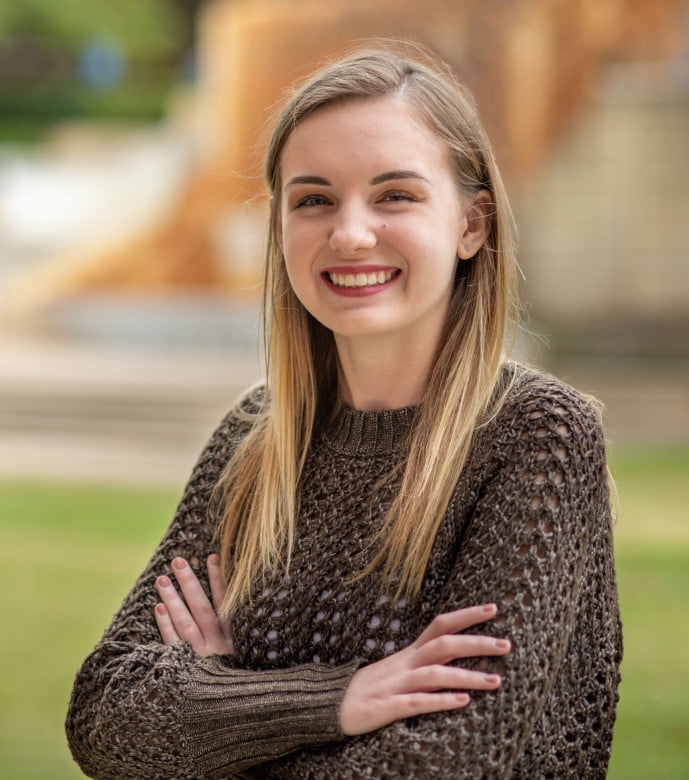 Student Profiles
Meet Carrington
"The Honors College is the perfect place for high-achieving students to get the most out of their undergraduate experience at UTA."