Phi Kappa Phi @ UT Arlington

Founded in 1897, Phi Kappa Phi is the nation's oldest, largest, and most selective collegiate honor society for all academic disciplines. Its chapters are on more than 300 campuses in the United States, Puerto Rico, and the Philippines. UT Arlington's chapter, 300, was installed on April 19, 2007.
Because membership to Phi Kappa Phi is by invitation only, there is no mechanism by which an individual can request entry into the Society. Instead, invitations to membership are extended once a year to qualified juniors, seniors, and graduate students (as defined in the Chapter 300 Bylaws), as well as select faculty, staff, and administrators. It should be noted, however, that an invitation does not automatically confer membership in the Society; to claim membership, the individual invited must explicitly accept the call to join Phi Kappa Phi.
Unlike other collegiate "honor societies," Phi Kappa Phi is not a student organization. Rather, it is a campus-based community of scholars drawing its members from among our university's students, staff and faculty. As such, Phi Kappa Phi is not listed as a student organization, nor does it have a faculty/staff advisor. Instead, the UT Arlington chapter is housed in the Honors College and is led by an executive committee that is comprised of faculty, staff, and students. For more information about Phi Kappa Phi, visit http://www.phikappaphi.org or contact Dr. Rebekah Chojnacki at rebekah.chojnacki@uta.edu.
Chapter 300 achieved Circle of Excellence Platinum status for the 2019-2020 year.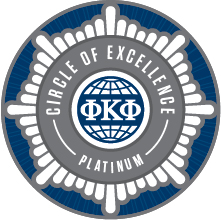 Chapter Meetings
Thursday, September 26, 2019, 12:30 pm – 1:20 pm
Linguistics Department Computer Lab Room--014 Trimble Hall (in the basement)
Thursday, October 24, 2019, 12:30 pm – 1:20 pm
Linguistics Department Computer Lab Room--014 Trimble Hall (in the basement)
Fall 2020 New Member Inductions
Friday, November 20, Induction time: TBD, Carlisle Suite in the University Center
Officers
Dr. Rebekah Chojnacki, President
Dr. Holli Slater, President-Elect
Dr. Laurel Stvan, Treasurer
Dr. Sandra Laird, Secretary
Dr. Charla Markham Shaw, Director of Communications
Dr. Emmanuel Garcia, Public Relations
Amber Raley, Student Vice President
Madison Ray, Student Vice President
Dr. Laurel Stvan, Past-President